Actor Brian Posehn Considers His Wife The Best Thing That Ever Happened To Him
Brian Posehn has been married to his wife Melanie Truhett for 16 years now. He still calls her the best thing that ever happened to him. And they don't seem to have any problems in their marriage as they raise their son, Rhoads Posehn.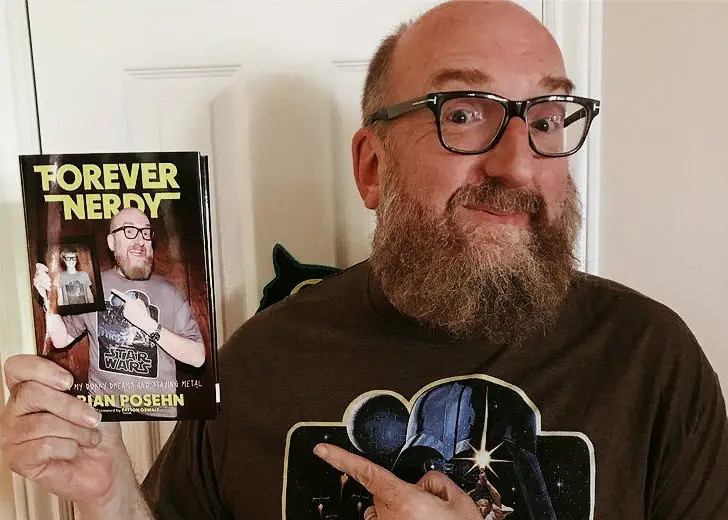 The last time The Big Bang Theory (2007-2019) and Steven Universe (2013-2020) actor Brian Posehn celebrated Valentine's Day as a single person was in 1998. Ever since then, he has got to spend Valentine's Day each year with his wife, Melanie Truhett.
The couple has now been married for almost two decades, and Brian, judging his social media posts, pouring his love and adoration for his long-time partner, couldn't be happier.
Brian Posehn Is Happily Married To Melanie Truhett
Brian Posehn first met his wife Melanie Truhett sometime around 2000.
After dating for four years, they decided to tie the knot in a small event on a hotel's patio in Santa Monica On September 4, 2004.
During an anniversary post in 2020, Brian described the event, writing, "Sixteen years ago today, my best friend and I held an event on the patio of a hotel in Santa Monica where we told a bunch of our favorite people we would be together forever. So far, so great! Happy Anniversary, @melanietruhett!"
In the same post, he also said that his wife was the best thing to him.
You're the best thing to ever happen to this 3xl dork.
And this isn't the only post where he has expressed how he feels about his wife. His Instagram is filled with occasional posts with appreciative outpourings for his wife. On Valentine's Day in 2019, Posehn wrote about how his wife gave him reasons to celebrate Valentine's Days since 1999.
1998 was the last Valentines Day I celebrated alone. And by celebrate, I mean I didn't. Every year since though, I have had a reason to celebrate a holiday dedicated to romance and love.
Then he again called her the best thing that ever happened to him and talked about how she has been since their initial days.
Her name is @melanietruhett and meeting "the prettiest pretty to ever pretty a pretty" and eventually getting her to love me was the best thing to ever happen to me. Sweet Melanie, you know me better than anyone and you've made me better every day just by being the beautiful, smart, funny burst of sweetness and joy you've been since our first dates.
So, with all these posts and words considered, it would be safe to say that Brian and Melanie have been enjoying each other's company for the last 16 years.
Melanie Truhett Is A Talent Manager In Los Angeles
Brian's wife Melanie Truhett is a Los Angeles-native. Born on 31 March, she attended Reedly High School and went to California State University, Fresno.
Upon graduation, she started working as a Talent Manager at Messina Baker Entertainment. In fact, she had been working for about two years there when she first met Brian.
After 15 years at Messina, from 1997 to October 2012, she started her own company in 2012, Truhett Garcia Management, where she works as a Talent Manager.
Brian And Melanie Have A Adorable Son
A couple of years after their marriage, Posehn and Truhett decided to start a family, and on May 19, 2009, welcomed their son, Rhoads Posehn.
Rhoads, just like his father, is a fan of comic books, superheroes, and metal music. Brian's Instagram contains many pictures of the father-son duo going to comic book stores, music concerts, and movie premieres together.
The family of three also takes vacation trips to various ranches and other places like Tahoe and Yosemite.
Even after being parents and the responsibilities that come with it, Brian and Melanie try and ignite the flames of their youthful love every once in a while. In an interview with Conan, Brian mentioned that he and his wife liked to secretly sneak to Disneyland without their now 11-year-old son to ride Space Mountain. 
Perhaps, such occasional fun indulgences have also contributed to the couple's long-standing relationship.