Brett Hull Remains Amicable With First Wife Despite Being Divorced
Brett Hull is an inductee in the U.S. Hockey Hall of Fame who is known for representing the USA in many Olympic Games. He is currently married to his second wife. He remains in good terms with his first wife and has been an active parent to their three children.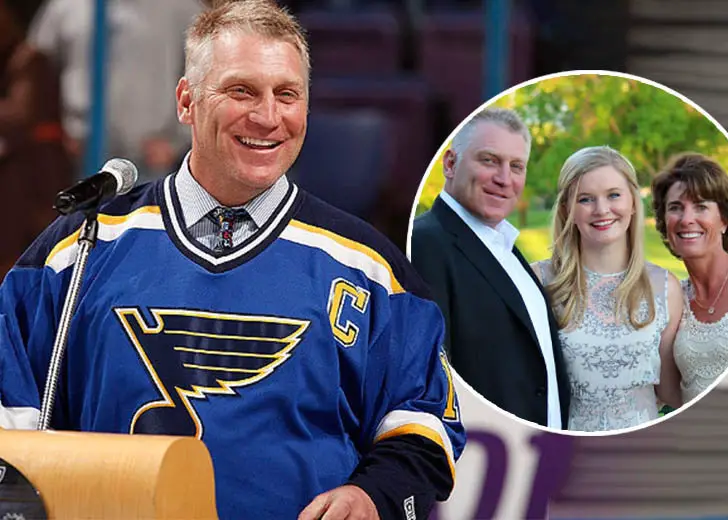 Legendary Ice-Hockey player Brett Hull has been accredited as "The Golden Brett" after his father's nickname, "The Golden Jet Bobby Hull".
The Canadian-born American sportsperson is currently living with his second wife. Even after the divorce from his first wife, Hull is on good terms with her and is close to their daughters as well. Their son has even taken up the same career as Brett. Let's find out more about his relationship with his ex-wife and kids.
Brett Hull Remains On Good Terms With His First Wife Alison Curran
Brett Hull was once married to his first wife, Alison Curran. The couple reportedly began dating in May 1996. They met in Duluth's small-town when Brett was a UMD freshman at the age of 20. The couple got married on 23rd May 1997.
Together, the couple had three kids—two daughters Crosby and Jayde, and a son Jude. They were together for a long time until 2005, when they decided to call it quits. Despite getting divorced, the two have been on good terms. 
In June 2014, Alison Curran shared a photo in her Facebook account where we can see her and Brett together with their daughter Jayde Hull. They remain amicable even after the divorce.
Brett Hull Is Close With His Daughters And Is A Role Model To His Son
Brett Hull remains close to the family that he created with his first wife, Alison. He is seen hanging out with his now full-grown daughters, who are gorgeous. 
Alison also posts pictures of her daughters on her Facebook account.
The surname 'Hull' is synonymous with ice-hockey as the three generations have made an excellent career out of it. Brett's father, Bobby Hull, is to date remembered as Canada's finest ice-hockey player. With the same gene, Jude, Brett's son, is becoming a third-generation ice-hockey star in America.
Jude shared in an interview with USA Hockey Magazine that he admires everything his father and grandfather have achieved during their ice time. However, he also mentioned that his mom was his anchor when his father was out on the road for his games.
Alison was a tomboy growing up and also played pond hockey in Duluth with her brother. So she also enjoyed going for pick-up games with her son. Both parents have been invested in Jude's development as a player.
Alison and Brett have kept aside their relationship status, made peace for their children, and actively supported them.
Brett Has Moved On After His Divorce  
Brett Hull has moved on from the divorce with his first wife, Alison. He is now married to Darcie Schollmeyer. The pair tied the knot on July 21, 2006.
He is currently living with Schollmeyer in Dallas. The couple does not have any kids together as both of them have never shared any such posts or been vocal about children.
While Brett has been married for the second time, there has been no reported news that Alison got married. By the looks of Alison's social media ordeals, she has not been married since her divorce from Brett. She seems to be currently engaged in raising her children in Minnesota.