Is Brett Gray Gay? Actor's Sexuality Addressed By His Past Tweets
On My Block actor, Brett Gray actor's dating portfolio or a lack thereof led to queries if the actor was gay. But Gray isn't gay. This is something that ​— while the actor did not address ​— he certainly implied it by actively letting the world know he was looking for a girlfriend.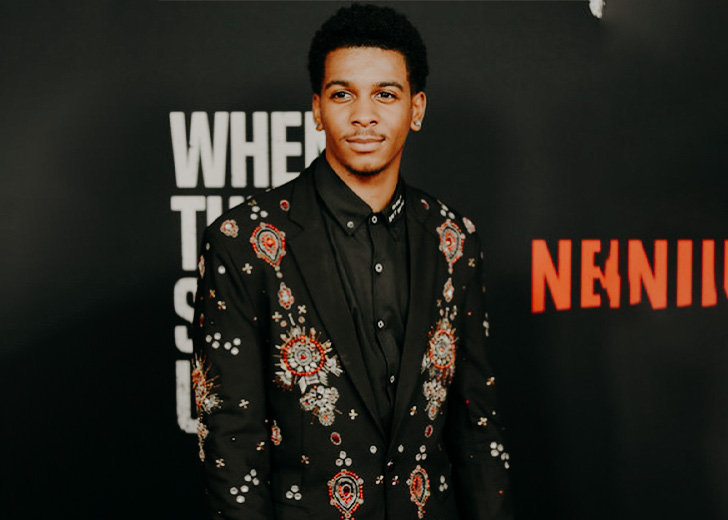 Brett Gray is an American actor and singer who gathered the limelight with the 2018 coming of age Netflix comedy On My Block.
He's a rising star who has a charming persona, so no doubt that many eager people are curious to know about his personal life, but Gray has shown no signs of having a girlfriend so far.
The young actor's dating portfolio, or a lack thereof, has even led to queries of whether the actor is gay.
But Gray isn't gay. This is something that — while the actor did not address himself — he certainly implied it by actively letting the world know he was looking for a relationship.
Why isn't he still in a relationship? Well, as it turns out for him, things are not as simple as actively advertising for a girlfriend.
Gray Was Actively Looking for a Girlfriend
Despite his lack of relationships, the 24-year actor made it quite clear that he was actively looking to be in one of his tweets. 
Based on Gray's Jun 28, 2018, tweet, it looked like the actor was actively seeking a girlfriend. In the tweet, the actor wrote, "Who got a crush cuz I'm hella single."
No sooner had he posted that, his tweet flooded with comments from his fans and followers alike. Most of the comments were girls announcing their vacancy to the actor's seeking. Some of the comments that followed even confessed to having a crush on him and were actively looking to get with the actor themselves. 
That tweet didn't seem to have progressed further than that as 6 months later, on Dec 24, 2018, the actor again tweeted about his need for a girlfriend. 
In the post, Gray tweeted, "I need a gf." with two grimacing emojis to emphasize that his struggle was real. 
That December tweet of his got similar attention as his June post, and many women expressed eager interest in becoming his 'gf' and, at the same time, frustrations on not being able to. 
The Actor Himself Explained Why He Might Be Single
Being the humble actor that he is, Gray often goes on a one-on-one session with his fans. Although the actor was actively looking for a relationship, he himself knows just why he might be single. 
In an Instagram live stream, the actor had a one-on-one session with a fan to answer her queries. When the fan asked how his love life was going, the actor replied with a straight face that he "does not have a love life" and instead has a work-life. Adding to that, he said that he was in love with the 'cheques.' 
In a later live stream, the actor then went on a rant about just why he was single. Right off the bat, he started by mentioning that girls say one thing but mean another.
"Girls say that they want that then they see people like me and they just don't want that because I'm sweet….I'm not going to argue with you, I'm not going to cuss you out...I'm going to buy your stuff."
Gray further let his bewilderment known, saying, "I've had girls come over to my house and be like 'oh you're too clean.' What? Is that not what you want?"
Gray Is Actually Put off by Modern Day Dating
You'd think that since the On My Block actor was actively seeking a relationship, he'd be open to what the game offered. But on the contrary, that does not seem to be the case.
The young actor has a distaste for the modern dating culture that is so rampant in his generation. In particular, he hates the fact that in modern-day dating, people are not clear with their intentions.
This was particularly stated by Gray again on his Twiter handle. The actor addressed this issue by going live on Instagram, which the actor himself later tweeted. 
The actor seemed to be going on a long rant about his vexation with the current dating game in the post. In particular, the actor felt annoyed about any lack of intention the current dating game offered. The actor immediately added, "Either we're going to be cuddy buddies, and we're both going to know that...and that's cool. There's nothing wrong with that."
While he did make it known that he was okay for other people in casual relationships, he himself wasn't so fond of it.
"If I meet you and I like you, and we've been texting every day...after about four to five days of that, I need to see you because that's about time for a first date."
Many of his followers applauded his rant and even agreed with what he had to say.
As for the actor's current relationship status? It seems that Gray really meant it when he said to his fan that he was in love with the cheques.
After wrapping up the third season for On My Block, the actor is now busy with his music. His Instagram feed is filled with posts of his latest songs and the actions happening behind those works.