Batdad Co-Parents Children with Ex-wife Jen Wilson While Dating Someone New
BatDad has a new woman in his life!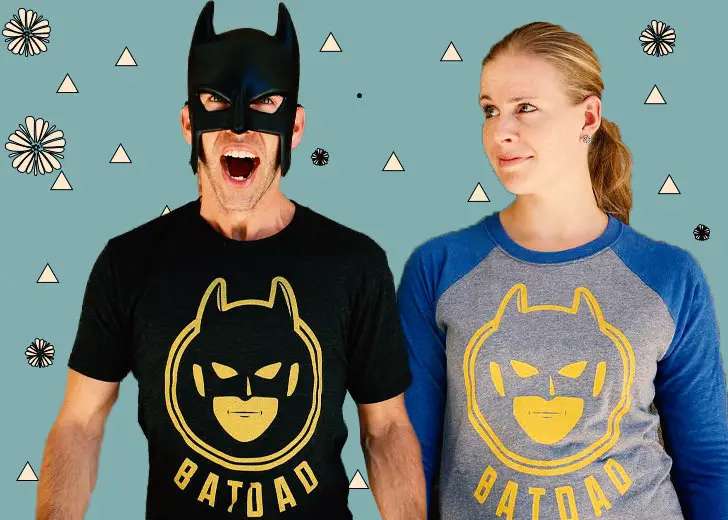 BatDad, real name Blake Wilson, is an internet sensation who came into the limelight with his funny videos on the now-shut down Vine. He kept his reputation alive by uploading videos on YouTube, impersonating the famous comic character, Batman. 
BatDad, however, is not only popular for his family-friendly comedy sketches. The American content creator is also known for his adorable relationship with his children, whom he co-parents with his former wife Jen Wilson.
Was Married To Jen For A Long Time
The popular comedy video creator, BatDad, and his now-ex-wife, Jen Wilson, were together for a very long time. However, none of them had disclosed any information about where and when they shared the wedding vows.
It is known that they were blessed with four adorable children, three daughters named Taylor Wilson, Kaya Wilson, and Sienna Wilson, plus a son named Ben Wilson.
Their first-born is Taylor Wilson, whom they welcomed on December 21, 2004. Almost two-and-a-half years later, on June 18, 2007, they got blessed with Kaya Wilson. Likewise, on June 26, 2010, the now-separated couple were blessed with their twin children, Sienna and Ben Wilson.
BatDad considered his partner as an important force to help him in parenting. In an interview with PBS back in March 2014, he stated that the superpower behind parenting kids needed both father and mother. 
With his wife, his family life seemed to be happy. All his family members used to be featured in almost every video BatDad made and uploaded. However, things always don't go the right way, and the same situation happened in the YouTuber's life.
They Separated In Early 2019
Life was going pretty well for the popular content creator. He was uploading comedy videos, making his fanbase happy, and enjoying his time with his family. But little did BatDad know what time had stored for him.
The Wilsons amicably got separated in early 2019, and to date, they have kept the reason behind their divorce up to themselves only. However, during an interview with TODAY, in 2013, BatDad had stated that his 'Batman' character often annoyed Jen, and he felt bad for her.
As the statement was almost six years ago from their separation, it can not be said it was the exact reason which made the duo part their ways.
The Ex-Couple Co-Parent Their Children
Following BatDad and Jen's marriage dissolution, the custody of their children was to be decided.
By looking at the American Viner's recent Instagram posts, it seems he was handed the responsibility of his twin children, Ben and Sienna Wilson, and the custody of his two daughters, Taylor and Kaya Wilson was given to Jen.
Even though BatDad and Jen got separated, the ex-pair seems to have maintained a grudge-free friendship between them to raise their children in a suitable environment.
On March 9, 2019, the YouTuber uploaded a video of him and Jen through his Facebook account and captioned it as "Funniest Jen and BatDad Moments!"
Moreover, after their divorce, the father of four was asked by a fan if he and Jen were still together. While replying to that, he said that they are not together anymore but are still friends and are trying their best to be the world's co-parenting champions.
BatDad Is Back To Dating
BatDad has moved on from his divorce and is back to dating.
Revealing his relationship status, he mentioned his girlfriend in an Instagram post uploaded on March 10, 2021. The post featured a mother cat named Lil Silly, whom the comedian had adopted. In the caption, he disclosed the cat had six kittens nine months ago, and he gave three to his ex-wife and three to his girlfriend.
Despite revealing his relationship status, BatDad didn't expose the identity of his girlfriend. But by the tone of it, it seems that his girlfriend is pretty close to his family, including his children.