Ann Marie LaFlamme Credits Boyfriend for Being Her Best Friend & an Inspirational Figure in Her Life
Ann Marie LaFlamme appreciates her Boyfriend Jake Gidell and calls him her best friend, inspiration, and the love of her life.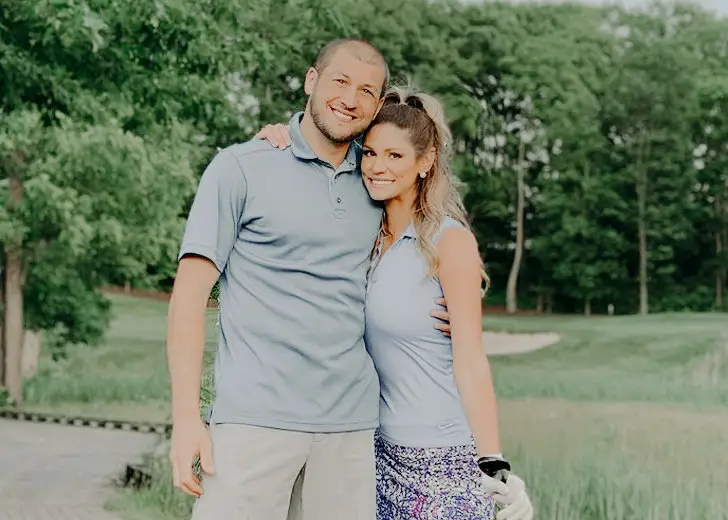 Emmy Award-winning anchor and reporter Ann Marie LaFlamme posted a picture of herself with her boyfriend Jake Gidell on Instagram, calling him her best friend and inspiration. The post quickly gathered the admiration and likes of many of LaFlamme's followers.
Laflamme Showed Appreciation to Boyfriend via Instagram
On June 14, 2020, LaFlamme posted a picture on Instagram showing appreciation to her boyfriend. The posted picture was taken on WestWynd Golf and Grille's golfing grounds, a fitting setting as both LaFlamme and Gidell adore being in the outdoors. In the caption, LaFlamme expressed how good friendship is the foundation of love between them.
She also said how caring Gidell was towards her and her family. All these traits of his inspire her, all the while making her laugh in joy. The loving pose and caption show the couple is quite smitten with each other.
She wrote, "My best friend and the love of my life. Words will never be able to describe how absolutely incredible this man is- how he's cared for me and my family, inspires me daily, and makes me laugh endlessly. I love you @jake_gidell."
The picture garnered nothing but compliments from their followers, currently standing at 1.9k likes. 
The next picture of them together was posted on July 4, 2020, on LaFlamme's Instagram and Twitter, showing the couple celebrating Independence Day's festivities together.
Together since Early 2020
The relationship between LaFlamme and Gidell seems to have started around early 2020. 
Gidell was the first to post about the relationship publicly. On May 13, 2020, he tweeted a picture of them in matching tracksuits with their dog, Jacob. Gidell introduced LaFlamme as the love of his life, family, future, and everything. LaFlamme retweeted the picture as well.
Talking about their marital status, on March 1, 2021, LaFlamme took to Instagram to share her excitement and happiness on Gidell's proposal. 
Similarly, the soon-to-be-married Gidell, too, shared a photo from his proposal. He considered himself the luckiest man on earth when his reporter girlfriend said 'yes.'
With skateboards and hikes, it's evident Gidell is a man of the outdoors. His Instagram is full of videos and pictures of him snowboarding and playing ice hockey.
When he's not hitting the slopes, he takes journalistic images for WXYZ TV Channel 7, where he has been working since May 2015. He also runs his own production company called Knotch! Production and works at Pink Jeep Tours as a guide.