Andrew Santino and His Wife Did Not Want to Get Married When They First Started Dating
Comedian Andrew Santino and his wife did not want to get married when they first started dating. However, now, they have been married for more than four years.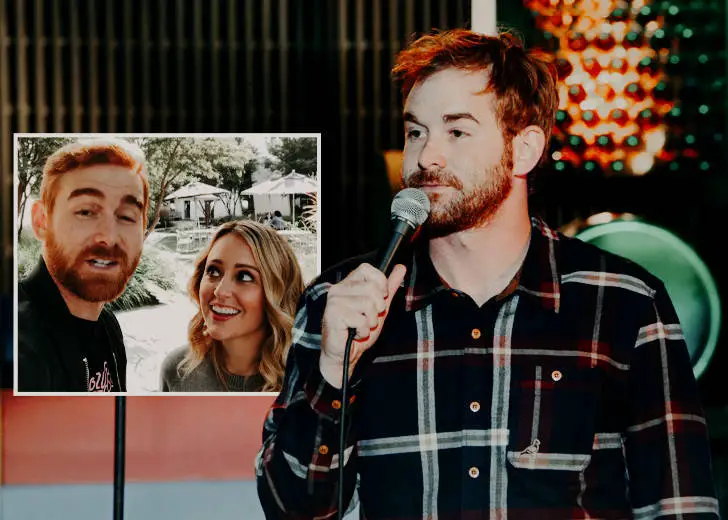 In April 2019, American stand-up comedian Andrew Santino talked about how he and his wife had no plans of getting married when they first got into a relationship. 
Santino and His Wife Both Hated Their Therapist
Santino is a married man who keeps his relationship very private. That being said, he still dwells in a lot of conversations about her in interviews. 
In the Good For You Podcast with Whitney Cummings, which aired in April 2019, the stand-up comedian talked about his relationship with his wife.
Starting as friends, they now have been married for over four years. He claimed that they still have a stable relationship with no awkward silence in each other's presence after all these years.
In the podcast, when Cummings asked him when he knew his wife was the one for him, he said he had a particular moment when he knew she was the one.
Initially, Santino never wanted to get married, and neither did his wife. They both neither cared nor had any plans of starting a family since both of them were very invested in their careers.
Because of certain issues, Andrew Santino and his girlfriend had started going to couples' therapy during their relationship. He said they both hated their therapist since they didn't like his 'vibe' and joked that they would bond over it.
One particular instance made him realize she was the one, and it happened when they were at therapy.
The moment he knew they would work out was after a heavy session pouring their heart out. After two minutes of dead silence between the three of them, the pair started laughing at the sudden sound of workers incoherently shouting outside their window. With the sudden change in atmosphere, he realized she got his humor, and that she was the one.
Talking about fights in their relationship, the comedian said he and his spouse only fought because of miscommunication, which gets resolved when he apologizes.
He said the key to their relationship working out till now without a single dull moment and conversations running out is that they both are invested in their careers and have interests different from each other. 
Rumours About Santino Being Gay
Santino, known for his role in the comedy series comic I'm Dying Up Here, has had many speculations about him being gay going around.
In the podcast, The Joe Rogan Experience, the comedian told Rogan that his favorite rumor on the internet about himself was him being gay. The rumors sparked after Santino jokingly posted a picture with his friend Chris D'Elia, with the caption stating they were running away to get married. 
Since then, both Santino and D'Elia have mocked the situation by playing along with the assumption. 
However, D'Elia has been under public scrutiny as multiple women have come forward with allegations of sexual abuse against the actor. While that remains a topic worthy of independent exploration, it clarified, beyond doubt, that Santino and D'Elia were not gay partners—it was an elaborate joke.