Andrea Tantaros' Brief Rock-and-Roll Summer Romance
TV personality/former Fox reporter Andrea Tantaros dated Red Hot Chilly Peppers former drummer, Dave Navarro briefly in 2015. They ended their romance after a few months and started seeing other people. Dave was married to Carmen Electra from 2003 to 2007. Andrea Also Filed A Lawsuit Against Her Former Employer Fox and several of its executives. The case was however dismissed.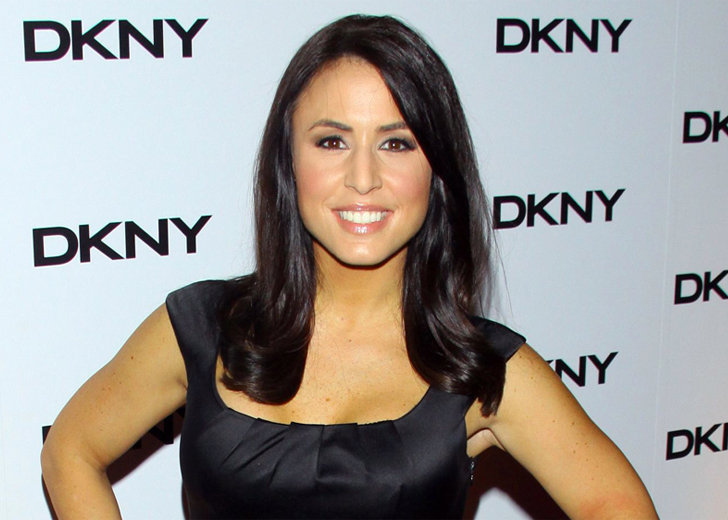 TV personality and Fox reporter Andrea Tantaros became a household name as a conservative political analyst and commentator. She was a co-host of Outnumbered on Fox News Channel and an original co-host of The Five.
In 2015 however, she was in the news for being caught up in an unusual romance with Red Hot Chilly Peppers former drummer, Dave Navarro. US Weekly caught the wind of the romance in April 2015, when Navarro, who was married to actress Carmen Electra from 2003 to 2007, was seen strolling around New York with Tantaros. 

Dave Navarro with ex-wife Carmen Electra in 2005. (Source: Dailymail) 
A "Romeo and Juliet rock n' roll" Romance
Andrea Tantaros and Dave Navarros had all the ingredients to make an unlikely coupling. No one could have foretold a conservative political commentator and a libertarian guitarist romancing around New York. However, it turns out they had more in common than their shared love for dark eyeliner.

Dave Navarro playing for his current band Jane's Addiction circa 2014. (Source: Dailymail) 
When US Weekly first broke the news of their relationship back in April 2015, they revealed through a source close to the couple that they had already been dating for a couple of months after being introduced by a mutual friend. The couple was also spotted together strolling and kissing around New York where Navarro was shooting season 7 of Inkmaster.
The article also reported that Dave Navarro had earlier tweeted in January that he loved Andrea and her show, Outnumbered.
The source also claimed that they had a lot in common, despite being seen as opposites.
"Even though they seem like opposites, they have a lot in common. They both have a wicked sense of humor and share a love of politics and dark eyeliner." 
The opposites attract romance in New York sadly failed to reach the climax worthy of a Rom-Com. Their unlikely liaison had fizzled out as quickly as it bubbled up. By June 2015, both were seen leading summer romances with different people.
Tantaros and Navarro Called It Quits After a Few Months
Although their courtship seemed promising along with its charm of being labeled "unusual", they went their separate ways, only after a few months of dating.
In June of 2015, the ex-husband of Carmen Electra already had a mystery brunette in his arms. Daily Mail reported that he was seen wearing a T-shirt with the words, "Lie Down I Think I Love You" while putting on a flirtatious display with his new love interest in the streets of New York.

Dave Navarro with a mystery brunette in New York. (Source: Dailymail) 
Andrea Tantaros, too had moved on as she was spotted in Bermuda with a British rugby player but didn't respond to Daily Mail's request for comment on the purpose of their visit or the nature of their relationship.
At present, Tantaros's relationship status is unknown, and she seems to have disappeared from the limelight. Last she was in the major news was when she filed a lawsuit against Fox News for harassment.
Dave Navarro currently plays for the alternative rock band Jane's Addiction after splitting with Red Hot Chili Peppers, citing creative differences.
Andrea Tantaros's Lawsuit Against Her Former Employer Fox was Dismissed
In 2016, Andrea Tantaros filed a lawsuit against her former employer Fox News and several of its executives, including former CEO Roger Ailes, Bill Shine, and Irena Briganti. The New York Times reported that the lawsuit also came after Fox accusing Tantaros of breaching her employment contract by writing a book without receiving network approval.
Politico.com reported that Andrea Tantaros primarily accused Roger of sexual harassment and inappropriate comments and blamed the channel's toxic environment with a culture of "misogyny" and "intimidation" allowed for Tantaros to be sexually harassed. She complained that Ailes also arranged for her to be illegally surveilled and that the network's executives created fake social media accounts, known as "sock puppets," to defame her online. In the suit, Tantaros claimed that Fox News is less Smallville and more Playboy.
Fox News masquerades as a defender of traditional family values, but behind the scenes, it operates like a sex-fueled, Playboy Mansion-like cult, steeped in intimidation, indecency and misogyny.
Earlier that year, in July, former Fox News anchor Gretchen Carlson made the allegations of sexual harassment against the cable news public, and months later, Tantaros followed suit. In Tantaros's lawsuit, filed in New York State Supreme Court, she alleged that she was forced to "twirl in front of Ailes" and was reportedly threatened by other show executives when she tried to complain. Following the lawsuit, Mr. Ailes resigned but denied all allegations against him.
She also claimed that she was fired from her weekday show "The Five" in retaliation for speaking up. She also accused Bill O'Reilly and John Roberts of sexual misconduct but didn't file any lawsuits against them.
Later in May of 2018, a federal judge dismissed the lawsuit, writing that Tantaros's allegations were "based primarily on speculation and conjecture." The Judge, George B. Daniels of the United States District Court for the Southern District of New York, also deducted that reason for the dismissal was that Andrea Tantaros failed to make out the basic elements of her claims adequately.