Adia Barnes Had Husband's Support In Her Journey To Become NCAA Legend
Adia Barnes becomes one of the two Black head coaches in history to coach a team into the Final Four of the women's NCAA tournament.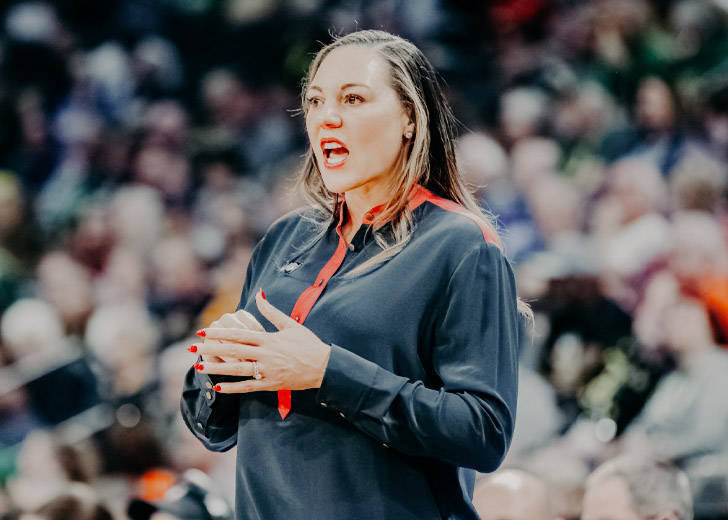 Adia Barnes has been the talk of the town in the world of basketball since she became one of the two Black head coaches in history to coach a team into the Final Four of the women's NCAA tournament.
Her team, Mercado Region third-seeded Arizona [Arizona Wildcats], secured its first women's Final Four place by beating fourth-seeded Indiana with a 66-53 in the Elite Eight at the Alamodome.
"I think there needs to be more WNBA players coaching women's basketball. I want to see more," Barnes said after achieving the historic milestone.
Made to the Final Four in Her Fifth Season as a Head Coach
Barnes, who was once a WNBA player herself, started her coaching career as an assistant coach for the University of Washington [Huskies] when the team's head coach Kevin McGuff persuaded her to join the coaching staff in 2011.
As an assistant coach at Washington, she successfully helped her team reach the Final Four in 2016.
The San Diego, California native took a big step in her coaching career when she signed up to serve as the head coach to the women's basketball team at the University of Arizona [Wildcats] on April 4, 2016.
However, her stint as head coach didn't start well. Many even told her that it was a bad move, and she shouldn't have taken it.
But she didn't take nonsense from anyone. Instead, she surrounded herself with a group of top athletes, led by Pac-12 player of the year Aari McDonald.
Guided by Barnes, Wildcats won the WNIT title in 2019 with a victory over Northwestern in the finals. They finished the season [third] with 24 wins, the most since the 2003-04 season.
That season was followed by another successful season for Barnes, as Arizona finished the season with a 24-7 record, tied for the second-most wins in the school's history.
But all records tumbled when Arizona made it to the Final Four of the women's NCAA tournament in her fifth season as head coach. 
The achievement really meant a lot to her. Speaking with ESPN, she said, "I'm so proud, because I'm looking in their [team] eye now, and there's a fire, there's a belief, there's a confidence."
Barnes' Husband Assisted Her to Her Success
Yes, the saying goes, "Behind every successful man, there is a woman," but that is not always the case. On the contrary, behind this successful woman, there was a man.
When Barnes was leading the team as their head coach, her husband Salvo Coppa worked hand-in-hand with her as the assistant coach.
The two first met in Italy and slowly turned into best friends and later a couple. On July 4, 2012, they walked down the aisle.
Presently, Barnes and Coppa are parents to two children: a son Matteo and a daughter Capri Adia.
She Knew Her Father For Mere Five Months
Born on February 3, 1977, Barnes is the daughter of former NFL linebacker Peter Barnes and actress Patricia McRae. Her father, Peter, spent his 11-year playing with four different teams in NFL.
Interestingly, the women's basketball coach never got a chance to know her biological father until she received a phone call from Lee Thomas, Pete's old teammates, in 2018. He informed her that her father was living in Texas and struggling to survive.
The reason behind that was because Barnes' parents divorced when she was only three-year-old. Following that, her mother Patricia tied knots with Bruce McRae — and Barnes happened to live with her mother and her second husband.
As a child, she never questioned anyone about her biological father, and upon being an adult, she was more focused on her career.
However, that call from her father's old friend met the long-separated father and daughter. After meeting her father, she realized that her father was diagnosed with dementia, and her father's landlord had been charging him multiple times a month for expenses.
She immediately shifted her father out of that apartment, stating, "I'm sure there was paperwork, but I wasn't going to go through anything."
Barnes further added, "I was just so upset about the situation. I bought him all new clothes it wasn't worth taking. Everyone was taking advantage of him."
After that, she lived with him for a brief time before shifting him to the Copper Canyon Alzheimer's Special Care Center.
All that was short-lived, as her father Peter passed away on May 3rd, 2018, in the Tucson hospice care facility, i.e., five months after Barnes met him.
"I didn't think he was going to decline so fast," Barnes said after her father passed away. She added, "I think God did this for a purpose, for me to spend the rest of his life with him."