Celebrated Chef Ming Tsai's Wife, Polly Talbot, Battles Cancer
Ming Tsai and his wife Polly Talbot have enjoyed marital bliss for over two decades.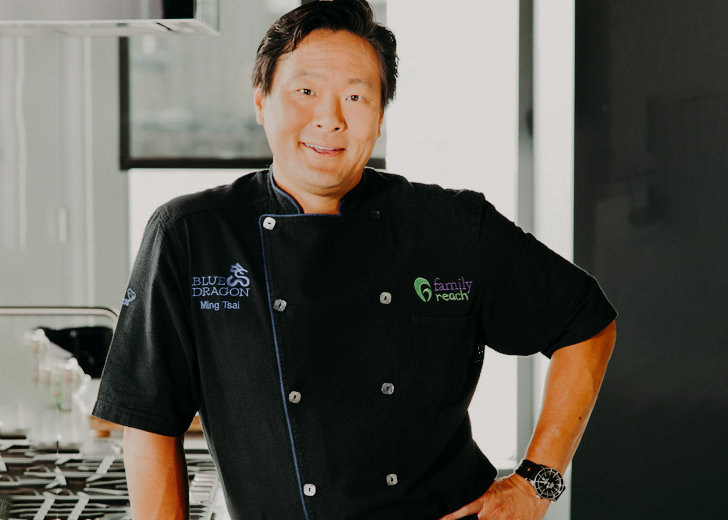 From cookbooks to winning an Emmy Award, Ming Tsai had everything going right for him until his wife's cancer took precedence over everything in his life.
His wife Polly Talbot's diagnosis of lung cancer was an emotional blow to Ming and their sons. They all stood by her and vowed to help her fight it, no matter what the survival chances.
And despite the numerous speculations about her imminent death, Tsai's wife made a remarkable comeback — and is still alive.
Ming's Wife Was Diagnosed with Stage 4 Lung Cancer
In 2018, Tsai was awarded the 'Impact Award' at the 'American Cancer Society's California Spirit 33 Gourmet Garden Party' for his relentless work with Family Reach, a national organization that helps families through their financial crisis when struck by cancer.
It was on that occasion he broke the news about his wife's condition. He revealed that his wife was also diagnosed with stage 4 lung cancer in October 2017.
He further stated that the Tsai family stood shoulder to shoulder with Talbot to ensure that she felt normal.
Tsai's wife Talbot is currently undergoing a pill treatment that costs $17,000. Though she has to take only one pill a month and is recuperating well, the financial impact is there for all to see.
Polly Talbot Is Alive and Healthy
The award-winning chef's wife, Talbot is currently alive and seems very healthy, going by a recent post that Tsai shared on his Instagram.
On May 10, 2021, he posted a picture with his wife and sons.
This post was also an answer to many who were curious to know the health condition of Talbot after being diagnosed with cancer.
More importantly, the Tsai family has shown that one could bear the fight against cancer with the love and support of their family.
The couple has been married since 1996. Their two sons are David and Henry.
Ming Tsai Is a Man with a Mission
With thousands of followers on his social media handles and many eminent awards that adorn his home, Tsai continues to be a humble and down-to-earth person.
His wife's illness made him realize the financial challenges that others face in similar situations. Therefore, now, he strives towards helping such individuals through Family Reach, hoping that it will offer them immense succor and help them tide through it bravely.
In addition to that, he also launched 'MingBings,' a range of highly nutritious vegan patties to benefit cancer initiatives. Some of the profits from this initiative go to the Dana-Farber Cancer Institute. This is the same institute where Tsai's wife has been undergoing treatment for three long years.

Chef Ming Tsai at his restaurant Blue Ginger. (Source: The Cornell Club Of Boston)
A portion of the profits even goes to Family Reach.
Born in a family of food enthusiasts, Tsai is a philanthropist and believes deeply in human values. In 2010 he came across Darlene, a cancer patient who had expressed a desire to dine at his restaurant, Blue Ginger.
He cooked the meal for Darlene and her family and personally attended to them. Through Family Reach, he realized the impact of cancer, and when his wife, was diagnosed with lung cancer, he knew exactly what she would have to endure.
Despite the challenges thrown at him, he continues with his gourmet offerings and hopes that at least one of his two sons chooses to wear the Chef's hat. After all, it runs in the family!