Meena Harris Shares Cute Holi Pictures with Partner Nikolas Ajagu and Kids — a Look at Their Relationship and Family
Meena Harris shared the cutest photos from her Holi celebrations with her partner Nikolas Ajagu and kids.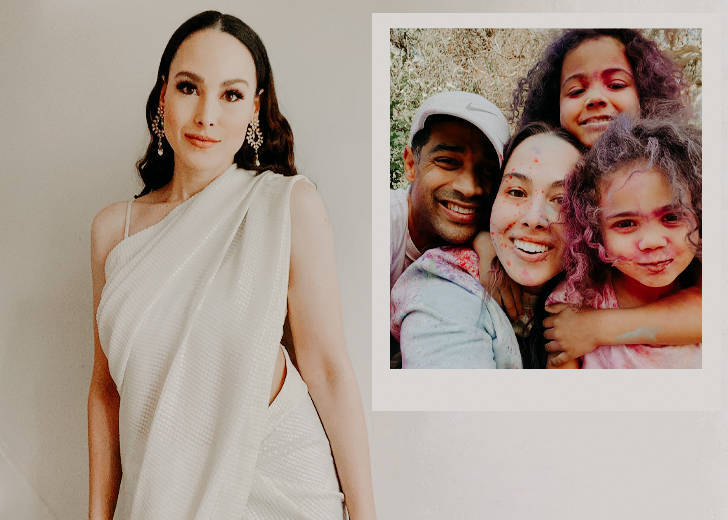 Harvard Law School graduate, former Uber employee, and women's activist, Meena Harris is of Indian heritage and often makes references of it on social media platforms. 
On March 29, Meena took to Instagram and Twitter to wish her followers a happy Holi. She shared pictures of her daughters and husband smeared in Holi colors.
Those of you who are not aware, Holi is a Hindu celebration that marks the arrival of spring after a long winter. The festival of colors symbolizes the triumph of good over evil.
Meena often gives glimpses of her relationship and family life on Instagram. Let's take a look at it.
Meena Harris and Her Family
The activist regularly shares pictures of her husband and daughters with her fans. She and her husband, Nikolas Ajagu, have been together for over six years. 
The duo first met in 2007 when they were both employees at Facebook. In September 2016, Meena confirmed their engagement on Instagram, but it is still unclear if they have tied the knot yet.
The couple has two daughters, Amara, 4, and Leela, 2. 
On January 23, Daily Mail Online reported Ajagu left his job as the Global Head of Partnerships at Facebook to be a full-time father.
However, it is still unclear since Ajagu's LinkedIn page says he still works for the company. Before joining Facebook, he founded a wine company called Barrel & Ink and Code and Canvas, which is a creative coworking space.
"We do not ascribe to the traditional gender role thing in our house," she said.
Harris Grew up With Powerful Women 
Harris was raised by strong women.
Her grandmother, late Shyamala Gopalan Harris, graduated from the University of Delhi at 19, and to avoid an arranged marriage, she went to Berkeley and received her doctorate in nutrition and endocrinology.
She stayed on at Berkeley to become a breast cancer researcher and served on the US President's Special Commission on Breast Cancer.
After divorcing Donald J. Harris, she raised her daughters Kamala and Maya as a single parent. Meena's mother, Maya, 53, was a single mother at 17.
 She graduated from Stanford Law School in 1992, served as a senior policy adviser on Hillary Clinton's 2016 presidential campaign, and now works for Kamala Harris. 
Meena's aunt Kamala Harris who, among many other firsts, is the first black person, the first South Asian, and the first female vice president. 
Growing up with such impressive women, Meena too is carrying on that legacy. In a Glamour interview, Meena reflected on her unique upbringing. 
"I grew up surrounded by these strong, brilliant women who showed me what it meant to show up in the world with purpose and intention. I just idolized them—these incredible women who were all around me," she said.