Maneet Chauhan & her husband are changing Nashville's food scene
Celebrity chef and television personality Maneet Chauhan has been contributing to the food scene in Nashville alongside her husband and business partner, Vivek Deora.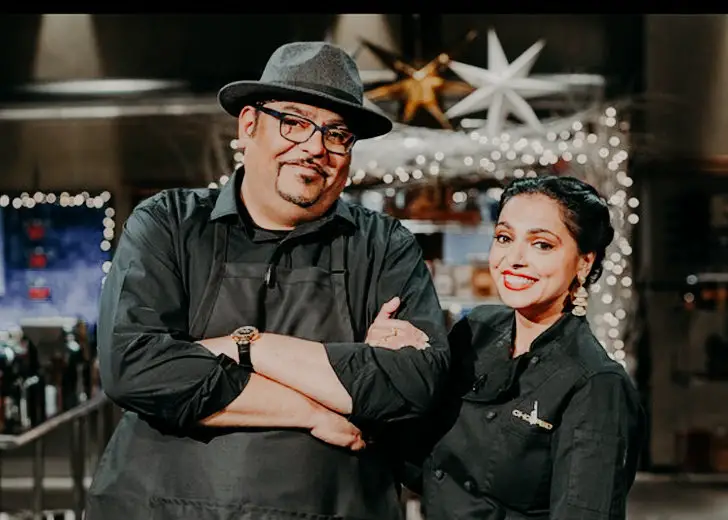 Celebrity chef Maneet Chauhan has had an illustrious career, both in the kitchen and on television. Having left an indelible mark on the food scene wherever she worked, Chauhan and her husband Vivek Deora are now contributing to Nashville's culinary culture.
The couple is involved in Franklin's Mantra Brewing and Steel Barrel Brewing, the largest craft brewery in Nashville. Further, the two are also responsible for four hugely successful restaurants in the state. 
Business & Life Partners
Chauhan is a renowned Indian American chef. The India-native has solidified her position as a reputable chef with her 'James Beard Award of Excellence' and hugely popular TV show, Chopped. 
She is not the only one in her family involved in the food business, though; her husband and business partner, Deora, is equally involved in many of her restaurants. 
Deora is the CEO of Morph Hospitality Group, the team behind Chauhan's restaurants Chaatable, Chauhan Ale & Masala House, Tansuo, and The Mockingbird.
Chaatable, Chauhan's most recent venture, serves dishes based on Indian street food and offers a unique experience. The inspiration behind the restaurant come from places and memories dear to her. 
In an interview with Nashville Eater, the couple shared that each dish on the menu had a story and was influenced heavily by the food she and Deora grew up eating.
Diversifying The Food Culture In Nashville
Aside from Chaatable, Chauhan's other restaurant, Chauhan Ale & Masala House, offers dishes born through the fusion of Indian cuisine and traditional Southern dishes. Unlike Chaatable, which focuses on the different flavors from street food all across India, Chauhan Ale & Masala House features globally influenced Indian cuisine.
However, the couple's contribution to the food scene in Nashville doesn't end there. They are also responsible for Tansuo and The Mockingbird — a Chinese restaurant and a modern diner, respectively. On top of these, they also have three breweries in Nashville.
The COVID-19 Outbreak Hit Chauhan Hard
Like most other food businesses, Chauhan's were also forced to shut down in 2020 because of the pandemic. The situation got so bad that she had to lay off 200 employees.
The chef shared her experience regarding the lay off with Tennessean. Initially, two of her employees had fallen ill, and she had shut down her restaurants amid growing government restrictions. She further emphasized how hard the decision (lay off) was for her and her husband.
That's our family, and that's our community. The fact that it took us five years to build this family of 250 people… and in five hours we had to tell all of them we didn't have a job for them. We are scarred.
Fortunately, she pulled through, and Chauhan entered 2021 with all four of her restaurants intact.