Katharine McPhee Son Rennie's 'Only Screen Time' Involves Dancing On His Mother's 'Country Comfort' Beat
Katharine McPhee Foster recently took to Instagram to share an adorable glimpse into her life as a new mother.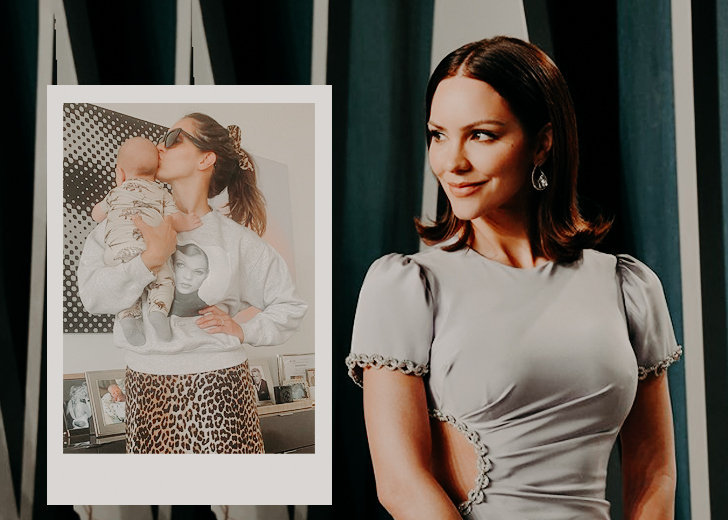 Katharine McPhee Foster recently took to Instagram to share an adorable glimpse into her life as a new mother. By the looks of it, her baby boy Rennie is learning the performing arts early on and from the very best, no less. The adorable Rennie was born to Katharine and her husband David Foster, 71, in February 2021. 
The post featured a short clip of Katharine carrying Rennie in front of the TV and dancing to a country jam. It wasn't just anyone singing onscreen, either. The catchy country tune was taken out of her Netflix show Country Comfort where she was the one performing. 
"The ONLY screen time my baby is allowed to have," the 37-year-old baby mama quipped in the captions. 
Not long after, her 38-year-old step-daughter Erin Foster commented, "Ugh, he's gonna be so musical and make us look like real disappointments." Country Comfort's official Instagram does seem to agree with that opinion too. 
However, Katharine replied, "@erinfoster hahaha nahh you are building an empire and we all know it."
The mother of one is not shy when it comes to sharing her journey as a mother with her followers over on Instagram. As such, she often shares the special moments of motherhood for all to see. But then again, her bio reads, "No life is perfect. Don't let Instagram fool you." So a pinch of salt is advised. 
She has also opened up about motherhood on national television. For instance, in conversation with Kelly Clarkson on The Kelly Clarkson Show, she admitted that being a mother was the greatest job she could have. 
I'm a little bit tired here and there but I find time to nap and he's such a good little baby and I'm so in love.
Earlier this year, the American Idol alum also revealed the baby's name on the Today Show. "My husband probably will kill me for saying it, but his name is Rennie David Foster," she said. 
Rennie had been a name in the Foster family for generations. It was the name of David's great-grandfather and his great uncle. So when his sisters suggested they go with an old family name, it was met will little resistance. 
They were finally sold on the name when the baby was born, and David greeted his son, saying, "Hi, Ren Foster." The couple acknowledged that it was a good, strong name and the rest, as they say, is history. 
Katherine and David have been together since 2017 and tied the knot two years later in 2019. She is David's fifth wife. Prior to her, the Hollywood veteran was married to the Real Housewife Of Beverly Hills star Yolanda, who is also the mother of his children Gigi and Bella Hadid. 
Although Rennie is Katherine's firstborn, her husband has five daughters from past relationships, and four of them are older than their current stepmother.
Katharine, on the other hand, was only married once before David to one Nick Cokas, 55. Their relationship turned sour after she was spotted kissing Smash director Michael Morris.