Grimes Reveals Snippets of New Back Tattoo on TikTok - Insights into the Singer's Various Tattoos
The Canadian singer took to her Instagram to show off her new tattoo.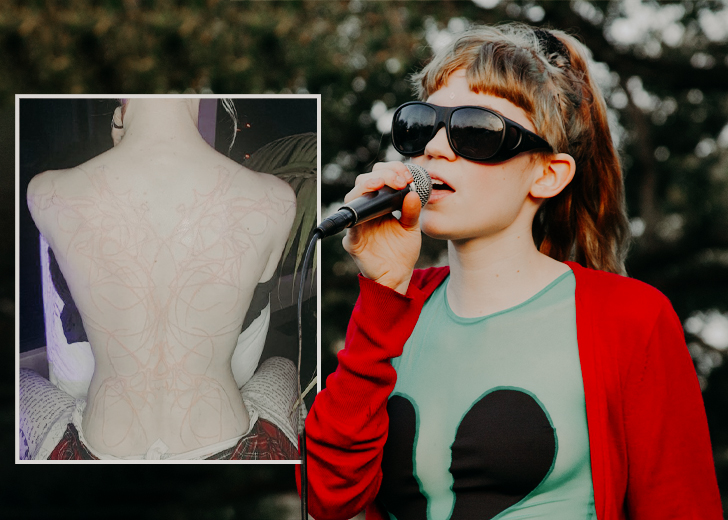 Canadian musician Claire Elise Boucher, professionally known as Grimes, took the internet by storm when she revealed her latest tattoo. On April 11, 2021, she took to her Instagram to show off her bare back laden with tattoos, which Grimes called 'alien scars.' 
The singer's 'alien scars' are white tattoos that extend from her shoulder blades to her lower back. The tattoos looked red. But as Grimes claimed, they would go away in a few weeks. 
The very next day, Grimes uploaded a brief clip on her official TikTok account to share behind-the-scenes of her getting her new extraterrestrial tattoo. 
Grimes' New Tattoo on TikTok
On April 13, 2021, Grimes uploaded a new video on her TikTok after a month of being inactive on the platform. With the audio of Telepatía by Kali Uchis, Grimes showed the process of her extraterrestrial tattoo from its digitized version to it on her back. 
The 33-year-old started the video showing off her tattoo laden back and then showed the behind-the-scenes of her getting it. For about the next four seconds, she showed the digitized version of her tattoo that she helped design. 
While Grimes was getting her back done, her friend Hana Gabrielle Pestle, better known as HANA, was also present. The 'Kill V. Maim' singer shared an adorable moment of HANA feeding her. 
The rest of the video is of her getting tattooed with close-up shots of her back and she ended the TikTok with her showing off her freshly done tattoos. 
Reaction To Grimes' Alien Scars
When Grimes uploaded her back and showed it off to the internet, many people had various opinions about it — both positive and negative. 
Many people liked the singer's tattoo and her love for the extraterrestrial aesthetic. 
However, many people roasted her and her tattoos. A Twitter user, @RealYungCripp compared it to ringworms.
Another Twitter user, @mariaadimii compared it with a rash caused by shiitake mushrooms. 
There have been many other comparisons — a jellyfish sting, scratches from a cat, a pattern on a damaged sofa, shower wall art with hair, and many more. 
Grimes' Other Tattoos
The bold alien scars on her back are not the only tattoos Grimes has. She has many eccentric tattoos, from the Elvish script on her hands to the brush strokes on her legs. 
On her left hand, the singer has the word 'Beautiful' tattooed on the top of her left hand. Her middle finger has a geometric-shaped tattoo, while her fingers have The Lord of the Rings inspired Elvish script on them.
Grimes also has the number 8 tattooed, which is her lucky number, and a song on one of her albums - Visions. She also has an alien head and an unknown symbol below her thumb. She has a homemade tattoo on her wrist of lines and chains. 
The singer has various symbols inked on her palm, out of which one is an alchemy symbol for the planet Jupiter. She also has a series of symbols on her knees, ribs, and right hand. 
Grimes seems to be a fan of brush strokes like tattoos since she has two large ones on her left leg and right arm. The tattoo on her left leg spells out 'quiet' in Russian, while the one on her right arm is a simple cross. 
She also has an outline of a heart on her left biceps and The Legend of Zelda tattoo on her left forearm, dedicated to her favorite video game.