Cole LaBrant, Got Married To Wife At Age 21. Welcome New Son
Cole LaBrant is an American YouTuber who is renowned for his youtube channel, The LaBrant Family. He is in a marital relationship with a TikTok star, Savannah Rose LaBrant. The pair got married on the 9th of July, 2017. As of 2020, Cole LaBrant is 24 years old and was 21 years old when he got married. Cole is three years young than his wife, Savannah.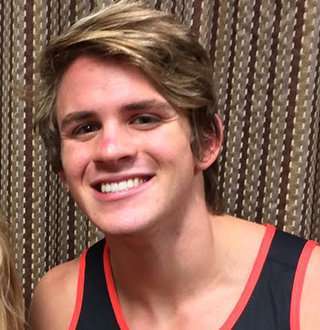 American Youtuber Cole LaBrant gained fame as one of the three members of the vine collaboration channel Dem White Boyz. He also competed in the reality game show The Amazing Race 28 alongside his mother in 2015.
The Viner started his own YouTube channel that later changed into a collaborative channel with his wife Cole&Sav in 2012 and then to The LeBrant Fam as their family grew from three members to five. 
Currently, their Youtube channel has become a massive success having over 12.8 million subscribers. But there's one more thing he got blessed with just at the age of 24 and that is becoming a father to three adorable children. The YouTuber seems to have all the blessings when it comes to his relationship with his Musical.ly star partner, Savannah Soutas.
Contrary To Popular Belief, Cole And Savannah Did Not Meet On Social Media
The pair met each other in 2016, and their story is exciting. They posted a video on YouTube on how they met, and it was NOT through social media.
The first time the couple saw each other was on Musical.ly when the American YouTuber was starting new. He sent a direct message to Savannah suggesting that they both share each other's pages as Savannah had millions of followers.
But Cole, being very new to Musical.ly, didn't know how to recheck the messages, so he never saw Savannah's reply. Later when Cole was in California, filming videos with his friend John and brother Luke, he crossed paths with Savannah and her daughter in a mall.
The two were hesitant to interact with each other at first, but after opening up, they eventually formed a special bond.
Eventually, Cole started dating his girlfriend turned wife in 2016 and officially pronounced their marriage vows on 9 July 2017.
How Old Was Cole LaBrant When He Got Married To His Wife?
Cole was born on August 21, 1996, and his wife Savannah Soutas was born on March 2, 1993. So this means that Cole was 21 years old and Savannah was 24 years old when they got married. The youtube-star couple is currently in their 3rd year of marriage. 
While their marriage story is nothing short of fascinating, the most adorable thing about Cole's proposal was that before proposing to Savannah, he brought out a tiny ring and asked Savannah's daughter from a previous relationship, Everleigh, for her permission to be her father.
Having been more than impressed by Cole's fatherly figure, Everleigh accepted the ring and couldn't be happier. The father-daughter duo shares a perfect bonding with each other which is also evident in his social media.
Cole And Wife Savannah Soutas Welcome A New Member To The Family!
On the 30th of December 2018, Cole and Savannah gave birth to a daughter; Posie Rayne LaBrant is the couple's first child. Everleigh, is Savannah's daughter from a previous relationship. 
Before Posie's birth, the couple had posted a special announcement video on Youtube. In the Dec 20 2018 video, the couple was very emotional while revealing their upcoming addition to their family. 
They even posted a video of Everleigh's reaction to finding out that she was going to be a big sister.
On 29 July 2020, Cole and Savannah gave birth to another baby. This time, they blessed Everleigh and Posie with a baby brother named Zealand LeBrant.
The couple have already made an Instagram account. As expected, the account is already starting to pile up with pictures of baby LeBrant from his early birth to 4 months leading prior to that. 
What is Cole LeBrant's Net Worth?
Cole has gained a massive amount of support in his career from his fans and his family, which has led to him earning an impressive amount from his online ventures.
According to Naibuzz, the combined wealth of the internet star and his family amounts to $12 million.
The majority of their earnings come from their Youtube views which have come to a little over 4 billion views. Naibuzz cites that Cole's youtube channel garners an average of 3 million views per day and this amounts to a revenue of around $15,000 per day. 
Cole's wife and 8-year old daughter Everleigh also combine to the family's net worth. 
Wife Savannah got famous from her Tik Tok channel. She has over 23 million followers there. And surprisingly, his daughter Everliegh is also making the family some money!
According to Daily Mail, the child star's net worth is $2.2 million! She reportedly makes that money modeling in children's outfits in her own Instagram handle. 
To top that, she even has her own Youtube channel where she has 3.5 million followers. In the channel, Everliegh is often seen with her mother giving their reviews on various household products and children's toys.