Brent Rivera and His Ex-girlfriend Get Back Together for a Prank
Brent Rivera posted a new video with his ex-girlfriend, Eva Gutowski titled 'We Got Back Together?' on April 11, 2021, to prank their friends into thinking that they started dating again.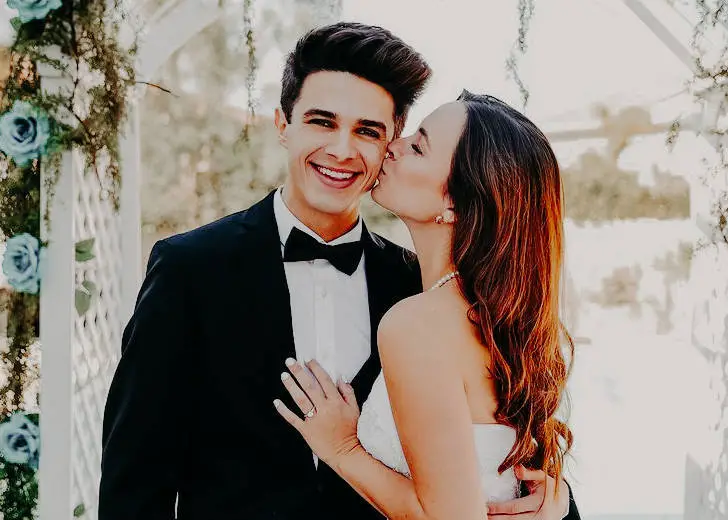 YouTuber Brent Rivera posted a new video with his ex-girlfriend, Eva Gutowski, titled 'We Got Back Together?' on April 11, 2021, to prank their friends into thinking that they started dating again.
The YouTube sensation is known for his on-and-off relationship with Gutowski. They've been friends for over six years, and they've collaborated on several YouTube videos and Instagram posts. Once again, the duo is back to entertain the audience with a new prank video.
In the clip, Rivera and Gutowski plan to flirt and cuddle with each other in front of their friends to get their reactions. The duo first pranks his sister, Alexa Rivera, by talking about going on a dinner date followed by a jacuzzi.
Alexa immediately points out that it's inappropriate since Gutowski has a boyfriend. Rivera replied it doesn't matter, and he's okay with that. Alexa knew it was a joke and called it a "dumbest prank." 
The next target was YouTuber Ben Azelart, who feels uncomfortable sitting together with the ex-couple inside the car. While Rivera and Gutowski flirt with each other, he said, "I feel like I shouldn't be in the car." The two later revealed to Azelart that it was a prank video.
Similarly, they also pranked fellow YouTubers Jeremy Hutchins and Lexi Hensley by cuddling on the couch. However, the most interesting part of the video was when the ex-pair pranked Rivera's crush and rumored girlfriend, Pierson Wodzynski.
While the two set up a cute outdoor date set up in the house backyard, Pierson thought she and Rivera were having a picnic. He then said that it was for Gutowski and himself. 
Wodzynski asked the reason behind showing her the picnic setup for the ex-couple. Both Rivera and Gutowski replied, "Because we love each other." Wodzynski then walked out of the gate while he asked her to join them for a picnic. Eventually, they reveal it was a joke.
Are Rivera and Wodzynski Dating?
It is popular for social media celebrities to collaborate in order to grow their fan following. However, the fans have speculated that Rivera and Wodzynski are not only working together but also dating. The fans have even given the couple a ship name "Brierson." 
Rivera and Wodzynski met in December 2019 in an Awesomeness TV show called Date Takeover, where he let his sister Alexa pick a date for him. 
Wodzynski clearly outshined the remaining five girls and won the episode. She then went on a date with Rivera, and the two soon hit off and started collaborating with each other. However, the dating rumors began when he posted a YouTube video titled "I kissed my best friend" that premiered in May 2020.
The friends decided that a coin toss would decide if Wodzynski would get to either kiss or slap Rivera. When the coin landed on heads, the two had to kiss. However, Rivera clearly said, "We're just friends, me and Pierson are such close friends. For you guys to shut up, we'll kiss."
The rumors have been fueled by several YouTube videos where they acted like a couple. For instance, "I got married to my best friend for 24 hours", "She caught me kissing her best friend," "I went on a Honeymoon withy best friend," and many more videos showed the romantic chemistry between the two. 
However, both of them claim to be single as of now.
Relationship Between Rivera and Gutowski
The two appeared in several videos together, revealing that they dated in the past but wanted to remain friends. However, reports of a romance between the two continued to circulate until Gutowski confirmed dating Olav Stubberud.
In a May 2020 interview with J-14, Gutowski unveiled her relationship with Rivera is complicated and confusing. She said they adore each other and are wonderful friends.
We just love each other so much and we know we're going to be in each other's lives forever.
Gutowski further explained that both are reluctant to make things official because they are afraid of what might happen if they get separated. The two don't want to make decisions that would jeopardize their amazing friendship.