Chef Amanda Freitag Is Working on New Projects in 2021
Currently, the chef is busy with her newly opened restaurant's operations and shooting for new episodes of 'Chopped.'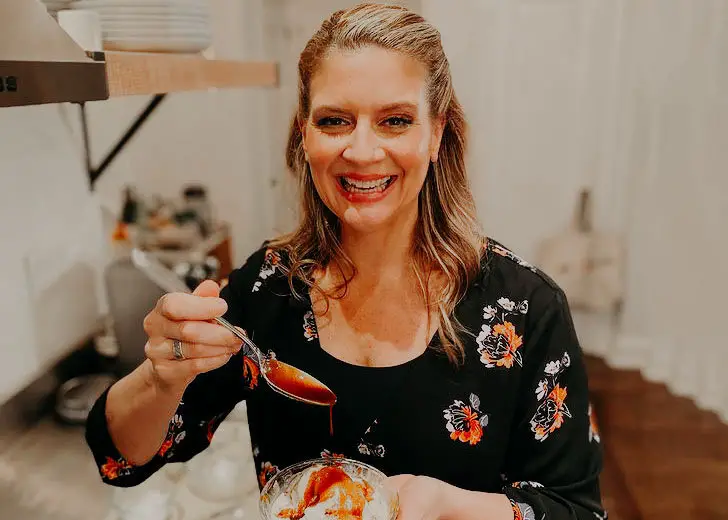 World-renowned American chef, Amanda Freitag, is raising her cooking game and career with new projects after graduating from the Culinary Institute of America (CIA).
Thanks to her busy slate, the chef has no time to even think about getting married.
So, to answer all those asking, "Is Amanda Freitag married?" No. Not as of September 2021 anyway.
Freitag's professional ventures are eclectic, from being a chef to appearing on cooking shows and launching her restaurant chain. 
She Opened Her Dallas Restaurant in September 2020 
The Chopped television chef, Freitag, opened her first Dallas restaurant called 'Rise & Thyme' on September 18, 2020, expressing her enthusiasm for being an integral part of Dallas's culinary culture.

Roasted Chicken French dip sandwich in 'Rise & Thyme.' (Source: Eater Dallas)
The television chef further revealed that despite the change the world had witnessed when she and her team started working on the restaurant and now, her energy and ebullience remain unchanged. 
Clearly, the world has changed in the months since we first started working on this restaurant, but one thing that hasn't changed is how excited I am to be able to open Rise & Thyme in Dallas. This city has given me so many delicious food memories, and I am thrilled to be able to be a part of this unique culinary scene.
The Chopped judge is evidently excited about her new project. A delightful meal can light anyone up - and this is what she intends to achieve through the American bistro-style cuisine.
The chef is also working towards minimizing the carbon footprint by sourcing local ingredients for the menu.
Amanda Freitag's Net Worth & Other Projects 
Thanks to the television and restaurant projects in her apron, Amanda Freitag's net worth is around $3 million.
An amalgamation of consistency, talent, persistence, and diligence has made Freitag the star she is today. Upon finding that her genuine passion for cooking, this 5 feet 8-inch chef took every step, no matter how tough to make it big.
Freitag graduated from the Culinary Institute of America (CIA) in 1989. After that, she worked with top-notch names and brands like Jean-Georges Vongerichten at Vong, Cesca Enoteca & Trattoria, and The Harrison Tribeca.  
The diverse experience that she was gaining helped her build an irresistible portfolio. This ultimately caught the attention of the Food Network. Freitag was invited to take part in Iron Chef America, where she battled with Bobby Flay for the prestigious 'America's Next Iron Chef' title.  
Though she didn't win the show, it ended up opening many television opportunities for her. 
Freitag appeared in the television series Unique Eats (2010-2013). She also co-hosted American Diner Revival in 2015 alongside Ty Pennington. And of course, she was a judge on the popular cooking show Chopped. 
Her other noteworthy project is the first cookbook that she published in September 2015.
Through her cookbook The Chef Next Door: A Pro Chef's Recipes for Fun, Freitag endeavors to make home-cooking more convenient and fun. 
Currently, the chef is busy with her newly opened restaurant's operations and shooting for new episodes of Chopped.
Season 50 of Chopped Premiered on June 2021.