Riverdale Star Tommy Martinez Is Gradually Making a Name for Himself
American actor Tomas "Tommy" Martinez, perhaps best known for the series Good Trouble, not only has a successful modeling career but also has proven himself as one of the emerging acting talents.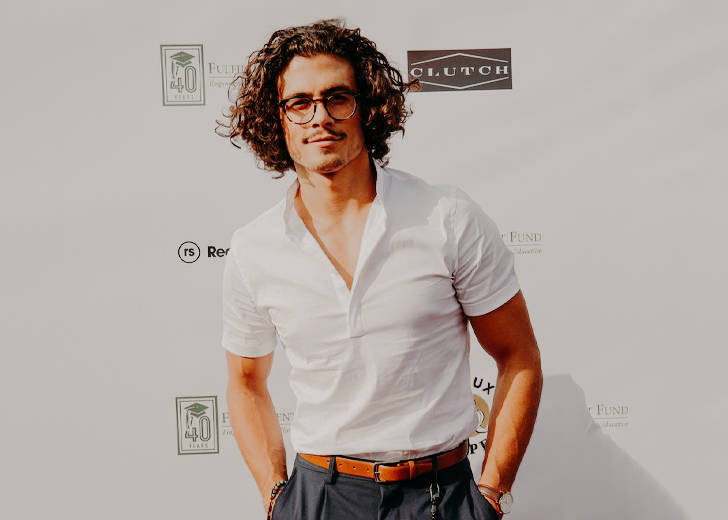 American actor Tomas "Tommy" Martinez, perhaps best known as Gael Martinez in the drama series Good Trouble, not only has a successful modeling career under his sleeves but now has also proven himself as one of the emerging acting talents of the industry. 
Early Life — Where is Tommy Martinez from?
Born on March 20, 1992, Martinez is a model, actor, and social media influencer born in Venezuela. He is one of six children born to his Venezuelan parents who moved to Florida when he was four years old. He was raised with his five siblings in the little suburb town in South Florida, where people knew each other due to limited residency.
The model took to his Instagram handle in December 2015 to appreciate his father's contribution to his family. The father-son duo looked smart, wearing a suit with hands folded in the front. Martinez described his "pops" as an incredibly driven and profoundly disciplined man who made sure to put food on the table and provided a roof to live for his family. Martinez's father gave equal opportunities to all six kids, for which they are extremely grateful. 
Even though he doesn't share the closest relationship with his dad, one of the major life goals is to make him and the family proud, the actor revealed in the caption. "I WILL become something great, that I WILL fulfill these dreams, and I WILL make this man and the rest of my family proud.". he added.
The actor also shared a smiling portrait of his mother, Erika Abudei, in August 2016 and called her his favorite woman. He captioned it, " One of my favorite pictures I've taken just so happens to be a picture of my favorite woman. My mother...AKA Big Mama"

Martinez went to a school in Tallahassee, Florida, where he completed his high school and joined college. The Good Trouble actor confessed in one of his 2018 interviews with A Book Of that he felt lost for a long time during his college days because he never found a sense of purpose in life. Hoping to find the right path, he continued his educational journey. Soon enough, he discovered his love for acting. 
"I was raised in south Florida in a little suburb town where everybody knows everybody. I felt lost for a good part of my life because I never had or found a sort of purpose for life."
Martinez then dropped out of college, went back home, and took a year off to figure out his next move. With the passion for acting and the desire to make it big in the industry, he chose Los Angeles as his next career destination. The 28-year-old described himself as "a kid with big dreams trying to make it in the world." Not only that, but he also opened up about having dreams of becoming a rockstar as a child. 
"I've always had that little kid dream of becoming a rock star."
A Career as a Model and an Actor
The good-looking artist initially began his career as a model for Wilhelmina Agency for two years. With amazing opportunities and work in hand, Martinez could pay off his bills and focus on taking acting classes simultaneously. 
Talking about his journey as an actor, he first acted in a short film in college. And when he moved to LA, he immediately signed into LaCasting.com, an online site for people interested in acting. 
During his interview with A Book Of, the emerging star confronted his admiration for the actors who can portray an on-screen character in such compelling ways but never thought of himself being in the same spot. "I thought it was a fairytale and that it couldn't be achieved.", he added. 
Newcomer Martinez made his television debut as an actor in 2017 after appearing on an episode of the comedy-drama series Shameless where he played the role of Scott. On the first day of shooting, he felt an unshakable excitement rush through his body which made him realize that he finally found his genuine passion, acting in front of the camera. 
"The first day of shooting, an unshakable feeling rushed through my body all at once. "This is it", I thought to myself. For the first time in my life, I had found a love so strong for something. I had found a purpose and a dream."
The next project he signed in 2017 was a Criminal Investigation Series, NCIS: Los Angeles, where he played the character of a club kid in one episode. 
Martinez's breakthrough role was in the Netflix mystery-drama Riverdale, where he portrayed the role of Malachai, the leader of Ghoulies and a dangerous drug dealer. In the TV Show, he appeared in four episodes during 2017 and 2018.
The emerging actor's biggest career venture to date is the rom-com drama, Good Trouble, where he plays the bisexual character named Gael Martinez. In the Freeform series, he appeared in thirty-four episodes since 2019. In an April 2019 Interview with Access, the 28-year-old revealed that he was "technically homeless" before getting cast on the much expected The Fosters spin-off. 
Martinez's character, Gael, is a bisexual Latino man trying to find his place in the creative world while trying to shape perspective with his amazing creations. The performer finds his on-screen role pretty similar to his own life and tries to feel Gael's struggle to bring his character to life. He believes that his bisexual role will create a positive change and shed light on society's important topics.
"As a Latino man myself, I can only try to feel the struggles that Gael goes through in this story, and it's incredibly important to put on TV." 
One of the most awaited TV Shows of Free Form is recently back, with its third season premiered in February 2021. Martinez uploaded the poster of the third season; Good Trouble Speak Up. Speak Out. on his Instagram in January 2021, showcasing the perfect side profiles of the cast, and informed the fans about the premiere date. He captioned it, "Y'all ain't ready, We comin in hot on February 17." 
The model turned actor also has the short movie Through My Eyes (2019) credited to his name. One of his upcoming projects is titled Mission Street, where he'll play the role of Sonny. Directed by Taj Stansberry and written by Joseph Niko Doherty, the movie is currently under pre-production.
During the 2018 interaction with A Book Of, when asked about his favorite type of role to play, Martinez responded that he's still exploring himself as an artist as he began. However, he unveiled he would love to portray a dark character in psycho thrillers and become his "own psycho." 
"As an actor who's just starting off in this industry, I'm still exploring myself and the roles I'd like to play. But I have always loved psycho-thrillers. I'm hoping to sink my teeth into a dark story and become my own psycho."
Personal Life and Relationship
The youth star is in a relationship with fellow Riverdale co-star Adeline Rudolph since 2018. Rudolph is best known for her role as Agatha on the Netflix series, The Chilling Adventures of Sabrina. Although they have not disclosed their relationship's beginnings, they confirmed it on Instagram on December 10, 2018, with a cute couple selfie. He captioned it " My Witch" as she plays a witch in the mystery series.
However, Rudolph was the one to share the pair's first Insta picture on December 3, 2018. She shared a beautiful Polaroid portrait of her and Martinez with arms wrapped around each other in color-coordinated white outfits and captioned it with a teddy bear emoji.
The couple continues to make frequent appearances on each other's Instagram posts, giving his followers major couple goals. Besides that, the pair also appeared together at the premiere of Good Trouble in January 2019.
Net-worth
While the exact net-worth of the Riverdale actor is not known, his modeling and acting career contribute pretty well to his self-made fortune. According to the reports of Indeed, the average salary of an experienced model in the USA is $30.45 per hour. And, taking into consideration that he's been in the business for over five years, Martinez must have earned a hefty amount through his modeling assignments.
As far as his acting career goes, it is reported by E! Online that the main cast of Riverdale earns approximately $40,000 per episode. However, the exact payment details of the supporting stars are not disclosed. 
Apart from that, the Venezuela native's brand endorsements with Coca-Cola, American Eagle, and many more also contribute to his net worth. 
Social Medias- Instagram and Twitter
The 6-foot-2 actor is indeed very active on the social media sites like Instagram and Twitter except for Facebook, where he doesn't have an account.
Martinez, age 28, has a verified Instagram handle under the name @tommymartinez. He is quite an Instagram Star with over 180k followers, where he shares insight into his personal and professional life with his fans. 
Similarly, he also has a verified Twitter handle with almost 7000 followers.