Diageo And Its Brands For 'Stop Hate For Profit' Campaign, Halt Facebook Advertisements For At Least 30 Days
Diageo has listed itself with other local and international businesses that have temporarily hold their ads on FaceBook and Instagram in support of the 'Stop Hate for Profit campaign.' Companies such as Adidas, Colgate-Palmolive, Habitat for Humanity, Levi Strauss & Co., Best Buy, Starbucks, Coca-Cola, Unilever, Reebok, Realty Works Group, Viber, and Puma also in the list of institutions that have been associated with the campaign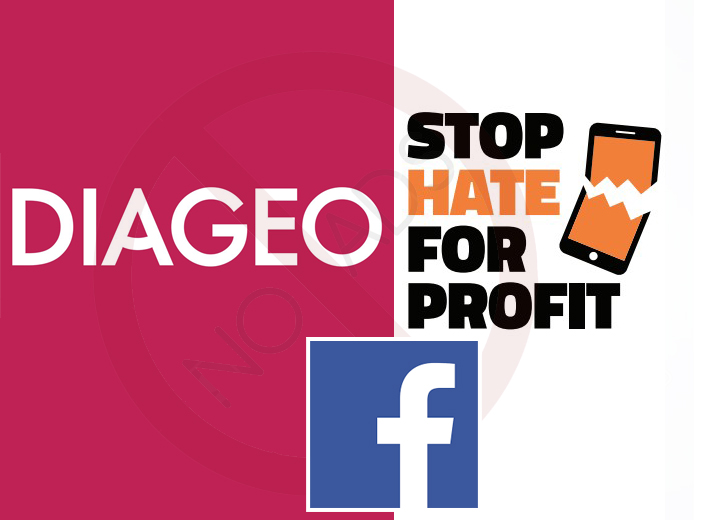 On June 28, 2020, Diageo PLC, one of the world's largest producers of spirits and beers, released a statement on its official twitter account announcing that it would "pause all paid advertising globally on major social media platforms from July 1."
The move by the world's second-largest distiller was in support of the 'Stop Hate for Profit' campaign—which was initiated to discourage racial hate speech and "disinformation" on Facebook and other social media.  
In its statement, the multinational British distillery company insisted that the move was based on its aspiration "to promote inclusion and diversity." It concluded the statement promising that it would initiate conversations with "the media partners" regarding their methods of dealing with "unacceptable contents."
With the release, Diageo has listed itself with other local and international businesses that have temporarily hold their ads on FaceBook and Instagram in support of the 'Stop Hate for Profit campaign.' Companies such as Adidas, Colgate-Palmolive, Habitat for Humanity, Levi Strauss & Co., Best Buy, Starbucks, Coca-Cola, Unilever, Reebok, Realty Works Group, Viber, and Puma also in the list of institutions that have been associated with the campaign
The 'Stop Hate for Profit' campaign was launched on June 17, 2020, with an advertisement in The Los Angeles Times. It was announced after six organizations—ADL (the Anti-Defamation League), the NAACP (The National Association for the Advancement of Colored People), Sleeping Giants, Color of Change, Free Press, and Common Sense—came together to form a broad coalition against online hate speech, which is also known as "cyberhate." 

'Stop Hate For Speech' advertisement and campaign statement against hate speech on social media (Photo source: Anti Defamation League )
In the advertisement, the six companies asked all businesses to stand in solidarity with American values of freedom, equality, and justice.
NHMC (the National Hispanic Media Coalition), Mozilla, and LULAC (the League of United Latin American Citizens) also later joined the coalition. 
The campaign had started the initiative 'Hit Pause on Hate,' urging advertisers to pause their spending on Facebook and Instagram ads for at least 30 days starting from July 2020.
The initiative also asks consumers to demand change by signing the petition to "#StopHateforProfit." 
By requesting companies to join the cause, the campaign is seeking to hold Facebook and other social media accounts for disinformation, hate, extremism, and incitement that is rampant in its platform. 
Mainly focusing on Facebook, the campaign is demanding social media platforms to adopt its recommendations to stop online hate speech and harassment.

'Stop Hate For Profit' advertisement and business operation recommendations for institutions (Photo source: Stop Hate For Profit)
The campaign states, "99% of Facebook's $70 billion is made through advertising.
Let's send Facebook a powerful message: Your profits will never be worth promoting hate, bigotry, racism, antisemitism, and violence.
 "We have long seen how Facebook has allowed some of the worst elements of society into our homes and our lives. When this hate spreads online, it causes tremendous harm and also becomes permissible offline," said Jonathan Greenblatt, ADL CEO.
According to ADL's 2019 survey of Americans using social media, almost 60 percent of American Facebook users have reported experiencing most hate and harassment on the platform. 
Talking to Jewish Insider, The Anti Defamation League CEO Jonathan Greenblatt expressed his concerns about the current state of measures taken against harassment and hate speech on social media platforms such as Facebook, discussion forums, and streaming services. 
"Our media environment for decades and decades was very carefully built with protections in place for consumers. And the online arena, which has literally been built in the last 10-15 years, has none of those protections in place," he said.
Diageo Brands & Social Indexes
Diageo PLC is the global leader in beverage alcohol with over 200 local and global brands sold in 180 countries in all capacities and varieties to meet consumers' demands. The world's best-selling Scotch Whisky' Johnnie Walker', vodka 'Smirnoff,' stout 'Guinness,' liqueur 'Baileys,' rum 'Captain Morgan' and gin 'Gordon' are all among the Diageo's outstanding collection of brands.
The firm lead by CEO Ivan Menezes has made its name as an institution with a strong commitment to diversity and inclusion. It has been listing amongst the top 25 most diverse and inclusive companies for four consecutive years since 2016 in the 'Diversity & Inclusion Index.' It is also included in the 2020 Bloomberg Gender-Equality Index (GEI).
The multinational organization headquartered in London, United Kingdom, was formed by the merger of Grand Metropolitan and Guinness Brewery in December 1997.