'Come Party with Ari:' Madame Tussauds Hollywood Immortalizes Ariana Grande with a New Wax Figure
Ariana Grande looks stunning!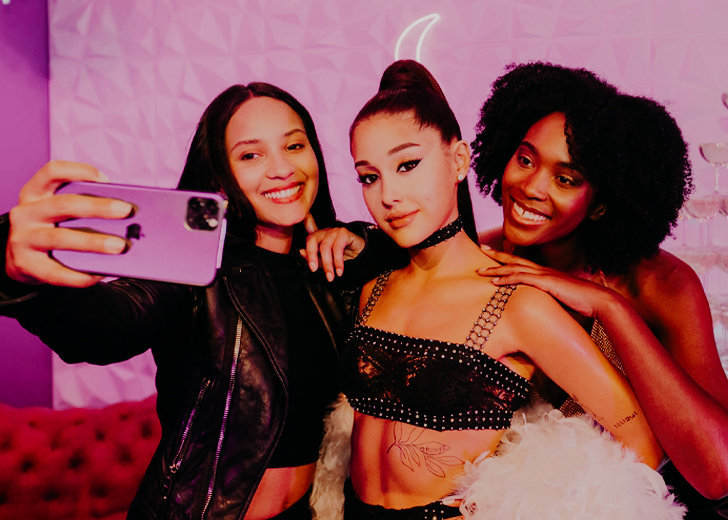 If you were looking to popping bubbly with pop icon Ariana Grande, Madame Tussauds Hollywood is where you should be. The popular wax museum announced the arrival of its newest attraction via Twitter on May 6, 2021. 
"The gloss? Poppin. Bottles? Bubblin. Come party with Ari at Madame Tussauds Hollywood," the museum's Twitter invite read.
Party With Ari Overlooking Hollywood
In the same tweet, they announced that the wax statue would be placed across the street at The Hollywood Roosevelt hotel for an exclusive experience for Arianators before being installed in the museum.
The accompanying snaps and clip featured wax Grande donning a party-ready black lace two-piece set with a white feather jacket draped over her shoulders and glittery platform pumps. With a black choker and her signature ponytail, she is ready for a photoshoot session with the fans. 
According to Billboard, fans can book the hotel's A-list room to host a party with their friends if they want to spend time with the Grande's wax figure. The figure has been posing by the hotel's pool and on the penthouse roof overlooking the Hollywood Walk of Fame. 
This Was Not Her First Wax Figure
Prior to this, Madame Tussauds London had debuted its wax figure of Grande back in May 2019.
Their rendition of the 'Positions' singer had nailed the oversize sweatshirt and thigh-high boots, even the stylized nails.
What they did mess up though, was the face, and as expected, the stans were less than pleased.
Even the pop star commented, "I just wanna talk," to a news post reporting the reveal. The fans were a lot less subtle. "Tell that wax figure to move so I can see Ariana's wax figure," one person wrote.
Another quipped, "I look more like Ariana Grande than this wax figure of Ariana Grande." Some even went as far as to say that the wax model looked like her brother Frankie in a wig or Deena Nicole Cortese from Jersey Shore. 
So, the fans were extra excited about the announcement on Twitter this time around. One fan wrote, "you seem so proud of this. as you should be. easily one of the best wax figures. it actually looks like her." Others followed suit and greenlit the newer statue.
Grande Ranked #1 On Billboard Hot 100
Grande recently made headlines alongside The Weeknd when their collaborative remix of 'Save Your Tears' hit #1 on the Billboard Hot 100. The remix, originally released on April 23, 2021, became the sixth number one record for both Grande and The Weeknd. 
The songstress put up a tweet on May 4 to celebrate this milestone and show gratitude for her Canadian collaborator. This news was even bigger for The Weeknd as he positively made history. 
This week's Billboard rankings made him the first male artist in history to achieve three #1 hits on Billboard Hot 100 from the same album in three different years. Before this, his tracks 'Heartless' and 'Blinding Lights' had ranked #1 in 2019 and 2020, respectively.