Is Dave Bautista DCEU's Next Batman Villain Bane?
In 2019, Dave Bautista jokingly tweeted that he had accepted the role of iconic Batman villain Bane.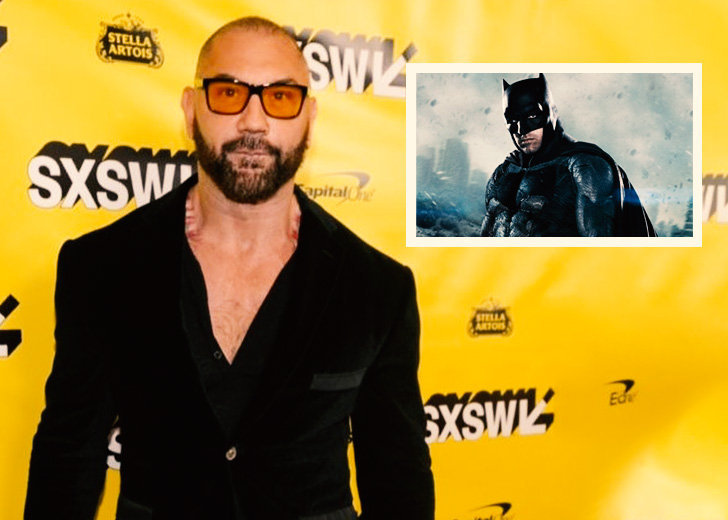 It is not uncommon for professional athletes, especially wrestlers, to make a leap to the big screen. After they gain fame and success in the ring, they branch out into acting, and with their experience in performing wrestling and fit bodies, they make the perfect stars for action movies. 
Former WWE star Dave Bautista has made quite the splash with his transition into acting and appearing in films like the MCU franchise, Guardians of the Galaxy, and James Bond. Since beginning his acting career, he has portrayed diverse characters lauded by audiences and critics.
While we can all agree that Bautista is exceptionally talented, he also chases after what he wants relentlessly. It is no secret that he has always had his eye on the coveted role of Batman villain Bane and in 2019, he even jokingly tweeted that he had accepted the role of iconic Batman villain Bane. 
'I Want to Play Bane So Bad'
On April 19th, Bautista made an appearance during the 'Spotlight on Dave Bautista' segment of Justice Con to promote his starring role in Zack Snyder's Army of the Dead. The wrestler turned actor was asked about his dream role "Oh, it would be Bane all day long, I've made no secret about this. I want to play Bane so bad," he replied. 
He added that he was so determined to bag the role he pitched to both Warner Bros and DC. 
I went to Warner Bros., had an appointment with them, had an appointment with DC, walked in the door, and said, I want to play Bane.
In a recent tweet, the actor confirmed that all of this was true, and although he was unsuccessful, he was content that he had given his dream a fair shot and stated that he was still going to continue fulfilling his dream. 
There is nothing wrong with manifesting, and who knows, Bautista might just see his dream come true, considering Bane is such an essential character that his reboot or relaunch could happen.
Hopefully, if DC and Warner Bros decide to reimagine Bane's story, they will remember Bautista's perseverance and allow him to audition for the role.
DC Might Not Have Plans to Cast Bautista, but Zack Snyder Had Other Plans for Him in the DCEU
Although Bautista was met with rejection when soliciting for Bane's character, the script for Zack Snyder's Army of the Dead came his way, and it was exactly what he wanted. He had initially rejected the role because he wanted to do something more dramatic and intense.
But as he read the script for the lead hero in Army of the Dead, he realized that the role was a lot deeper and had more layers than he had expected. He agreed to work with Zack and turned down the opportunity to star in James Gunn's The Suicide Squad. 
When Gunn was fired by Disney, Bautista was the staunchest Gunn supporter and openly threatened to leave Guardians of the Galaxy Vol.3 if Gunn was not reinstated as the director. It must have been difficult for Bautista to pass working with his friend.