WWE Diva Alexa Bliss's Cheeky Workaround against WWE's Tattoo Restrictions
Alexa Bliss certainly knows how to pursue her passion for tattoos while keeping her employers happy.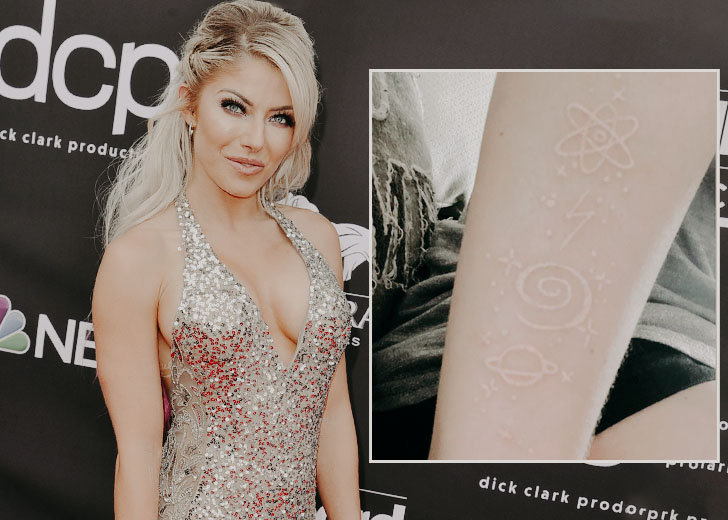 Lexi Kaufman, who goes by the moniker Alexa Bliss, is one of WWE's most popular female talents. As a 5-time WWE Women's Champion, she gained adorations from both fans and critics with her polished in-ring skills and immaculate character work. 
She portrays an evil demonic character with her villainous 'Wicked Witch' gimmick and maniac giggles and manipulation. Her aura is perhaps intensified with the myriad of white trademark tattoos she has all over her body. 
While in the ring, she appears not to have any tattoos, but upon closer look and revelations, we can see that her tattoos are actually mostly made of white ink. Preferences aside, Bliss is astutely sidestepping WWE's tattoo policy. 
Bliss Is Just Following The Rules
WWE might be a dream job for many independent wrestlers, but it definitely comes at a price. As members of the biggest wrestling promotion in the world, one must adhere to several rules. Most of these rules were kept under wraps, but with the advent of social media and wrestlers doing interviews, the secret is harder to maintain. 
WWE female superstars have to receive permission from the company before getting new tattoos because WWE owns the image rights to all of their superstars. Although the restrictions are good for WWE's business model, one cannot help but feel like it is an infringement on personal freedom.
Bliss's white tattoos allow her to abide by the rules and follow her passion for getting tattooed because her tattoos can be easily covered up with a little makeup if required. 
Bliss and Her Matching Tattoo with Fiance
Bliss kept both her employees and her fiancé, Ryan Cabrera, happy when she recently got a tattoo as an ode to her fiancé. The WWE superstar uploaded a photo of her tattoo on Instagram consisting of her fiancé's song lyric, alongside an image of a man strumming the guitar.
She iterated in the captions that the tattoo was in Cabrera's handwriting and that the picture was edited to make it more visible. 
Bliss also took to Twitter to share a tattoo that Cabrera had gotten of her. He had a portrait of her in her signature Firefly Funhouse pigtails inked on his arm.
Bliss Has Lost Count of Her Tattoos
Bliss's tattoo tribute for her fiancé is just one of the many meaningful tattoos she has. In April 2020, the champion displayed two new tattoos from her ever-growing collection on social media with photos and the caption, "I've lost count at this point."
As a Disney fanatic, she added the quote, "If we listen to each other's heart," from A Goofy Movie and some simple astrological symbols with another Disney connection. You can even see the hidden Mickey Mouse that Bliss revealed in the captions if you look closely. 
A year ago, Bliss also showed off her back tattoo with a detailed explanation of its meaning in the caption. Her tattoo was a reminder of her recovery from an eating disorder that she suffered from.