Zack Greinke and Wife Emily Greinke Are Expecting Their Third Rainbow Baby
Congratulations to the Greinke family!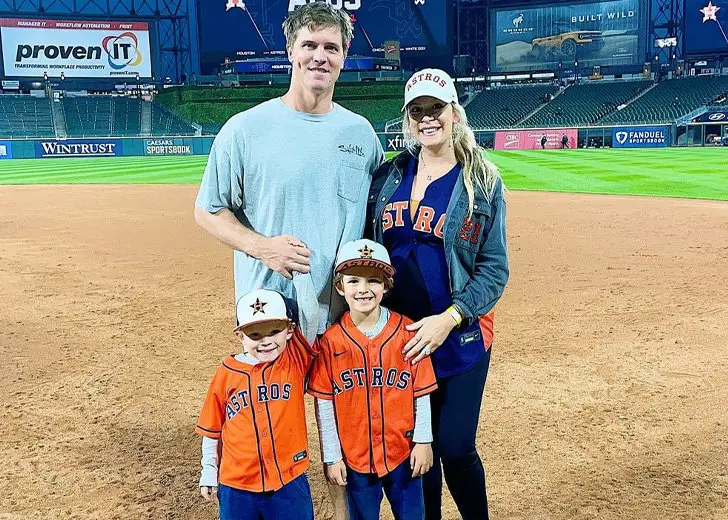 Donald Zackary Greinke, better known as Zack Greinke, is an American professional baseball pitcher. He is currently linked with the Houston Astros of Major League Baseball (MLB). 
He had previously pitched for Milwaukee Brewers, Los Angeles Dodgers, and Kansas City Royals, among others. The athlete is very successful in his professional career, evident by all the accolades he has won to date. 
One of the reasons for his success is because he has the best support system in the world, his wife, Emily Greinke. The pair have been married for 12 years and share two kids, Bode Nicholas Greinke and Griffin Greinke. 
However, there soon will be an addition to their family in Fall 2021. 
Baby #3 For The Greinkes
In May 2021, Emily announced on her Instagram that the couple was expecting their third child. She posted a picture of a letterboard that said that their baby#3 was due in the fall.
The board was accessorized with a beige onesie, a beige rainbow, and two ultrasounds of her baby. She expressed her gratitude for having "three rainbow babies" who make her days better. 
Zack and Emily welcomed their first child, a baby boy named Bode, in 2015, whereas they were blessed with their second child, Griffin, in 2017. They also have a pet cat named Wilsy and are devoted to her. 
Emily refers to herself as Wilsy's mother and often posts pictures of them on her Instagram. Similarly, she constantly shares a lot about her personal life and her husband's professional career.
She is always posting photographs of her children on social media, and the family of four is frequently seen vacationing and spending quality time together.
In addition, she uploads pictures of her family during Zack's games, posing on the field, congratulating and supporting her husband. The athlete takes his sons to attend his game as much as possible since he enjoys having them at the ballpark. 
The best thing about being pitching in his late 30s is bringing his children to games. It strengthens his bond with his children because they can watch games and work out in the clubhouse.
Zack also mentioned that it makes him, the other players, and the kids happy. As a result, he makes every effort to engage Bode and Griffin in his endeavors.
Zack Greinke and Emily Greinke's Love Story 
Zack and Emily's love story started when the pair were in high school. The couple attended Apopka High School in Orlando, Florida. Like an adorable Wattpad story, Zack was a famous baseball player, and Emily was a library assistant. 
The baseball player approached her, and the couple soon became good friends. Soon, their friendship turned into love, and the pair started dating. Eventually, the duo got married on November 21, 2009. 
Currently, Emily is busing being a baseball wife and mother to her kids, but she had a successful career as a cheerleader and a model back in the day. She became a cheerleader for the Dallas Cowboys shortly after graduating from high school.
She was a cheerleader for a few years before switching to modeling. As a model, she has competed in various pageants. She was crowned as Miss Daytona Beach USA and later competed in Miss Florida USA.
Unfortunately, she did not win the competition. Regardless, she lives a content life with her husband, two sons, and a cat while expecting baby #3.