Zachary Levi Makes Public Appearance with Rumored Girlfriend at ESPYS
Zachary Levi's reported new girlfriend, Caroline Tyler, attended the 2021 ESPYS with him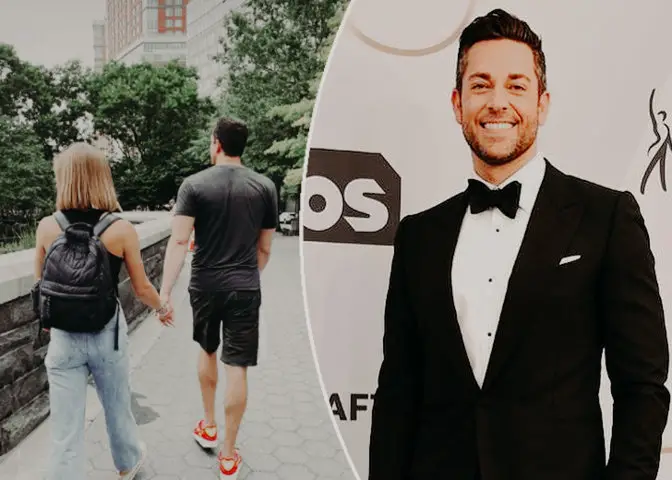 Zachary Levi surprised fans when he walked the red carpet with his alleged girlfriend, Caroline Tyler, at the ESPYS 2021 on July 10, 2021.
The two posed together for the paparazzi with big, bright smiles on their faces. The actor looked dapper in a brown suit paired with a crisp white shirt, brown loafers, and a matching tie. 
His rumored girlfriend, Tyler, who also goes by the name Carrie, chose a fitted gleaming white gown. Her silky blonde shoulder-length curls and natural makeup completed the appearance and drew focus to her stunning face.
Who Is Zachary Levi Dating?
Levi seemed to have confirmed relationship speculations when he shared Tyler's Instagram story of them holding hands in a New York City park before attending the program and honoring the Los Angeles Dodgers with the Best Championship Moment award.
What's more fascinating is that Tyler's Instagram account is private, adding to the mystery surrounding their supposed relationship. Moreover, the Chuck star has also posted a group picture with Tyler in May 2021. 

During an interview with Access Hollywood in 2019, the actor revealed his dating status momentarily. He said, 
You know honestly, I've been in this really kind very good, healthy moment of just, I don't know, being with me, loving myself, working on myself.
Levi further explained that he was working on being stronger and healthier while waiting for the ideal woman to come into my life.
He noted he wasn't sure where his right partner was at the time, but he was optimistic that things would work out.
As of now, fans would have to wait and see if he has found his right partner or not and where the rumored couple will head. 
Zachary Levi Was Briefly Married in the Past
Levi was married to Reaper actress Missy Peregrym for a brief duration from 2014 to 2015. 
The former couple exchanged wedding vows in a surprise wedding ceremony in Hawaii in June 2014. Although they had dated in the past, their rekindling was kept under wraps for a long time. 
However, the incredible hoodie photo with "Mr and Mrs" gave it all away. 
Speaking to E! about his wedding in July 2014, the Shazam! star said that it was nice to have their own little personal, very small wedding.
He also expressed his disappointment that many of his friends and family members could not attend, and he felt bad about it. 
Called It Quits In Less Than Six Months
According to April 2015 reports from TMZ, Peregrym filed for divorce in Los Angeles and the filings indicated their split would be amicable. The date of separation was cited as December 3, 2014, by Peregrym.
During the same time, People reported Peregrym filed a divorce petition on April 6, 2014, in California's Superior Court, citing irreconcilable differences.
She also requested that her last name be officially changed to her maiden name and a division of joint assets.
Levi revealed to reporters in February 2014 that marriage had been difficult for him. He stated, 
With dating you can be 'Hey, it's not working out,' and you're out. But marriage, you make a commitment. The easy outs you don't have anymore. You're responsible for another person's life as they are yours.
The pair, who married in June 2014, had only been in a conjugal relationship for few months when the papers were filed and didn't have any children.