Yung Miami Still Mourning Her Baby Daddy Jai Wiggins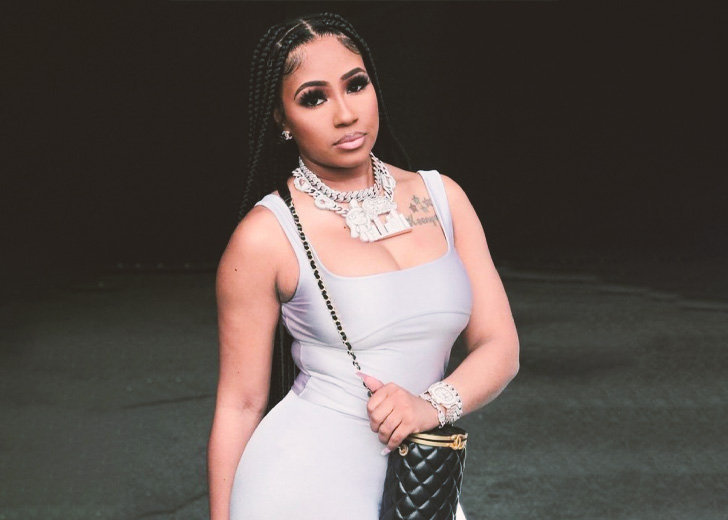 Caresha Romeka Brownlee, popularly known as Yung Miami, is still mourning the loss of her baby daddy, Jai Wiggins. She took to Twitter to express her sorrow to her fans and followers on November 14, 2021. 
"I'll give up everything to have my baby daddy here with me again!" she wrote on her first tweet, adding a crying face and a pleading face emoji. In the next post uploaded seconds later, Yung Miami walked down memory lane, recounting how they had been through everything together.
She even mentioned Wiggins wanted her to be happy before heralding him as the "most genuine person" she had in her life. Then in the third tweet, the musical artist expressed she was "so sad" for his loss.
Still not over my baby daddy dying whenever I think about it I get sick to my stomach literally 😓 — Yung Miami (@YungMiami305) May 18, 2021
Her sadness and grief reflected when she tried performing in a show with her City Girls partner, JT, at the revolt summit the same day. The 27-year-old wasn't able to perform over two songs and, as a consequence, her team had to cancel the show abruptly.
Later, when an entertainment website, The Neighborhood Talk, shared a clip from the show on Instagram, fellow rapper K Goddess empathized with the rapper. She stated how dealing with a loss could be challenging, especially when the lost one is someone you were very close to. 
Wiggins had died on June 15, 2020, after sustaining life-threatening injuries during a shooting.
And she says that the day of his death was one of the hardest days of her life. She was admittedly filming a music video for one of her songs when he was on his death bed. 
Yung Miami's Relationship with Late Baby Daddy 
Yung Miami was in a rocky relationship with Jai Wiggins for years. They gave birth to their child, son Jai Malik Wiggins Jr., in 2013. 

Miami's son Jai Malik Wiggins Jr. standing in front of her late baby daddy, Jai Wiggins's posters. (Photo: Instagram)
Two years later, Miami ended her relationship with her baby daddy because of his apparent violent behavior. He had allegedly pulled the Florida native out of a car and punched her in the face and head. 
Considering the violence, the young mother filed a long-term protective order against Wiggins and won the sole custody of their son. Meanwhile, Wiggins completed a domestic violence batters' course and parenting classes. 
The sessions helped, and the two started co-parenting their son. In the meantime, they also moved on in their life.
The musical artist started dating her producer boyfriend, Joshua Howard Luellen, famously known as Southside. 
Yung Miami and Her Second Baby Daddy Have a Daughter
Yung Miami and Southside dated briefly and welcomed their daughter, Summer Miami Luellen, on October 16, 2019.
However, the relationship with her second baby daddy didn't progress well, and the rapper parted ways with him. 

Miami's second baby daddy Southside and daughter Summer Miami Luellen. (Photo: Instagram)
Moving on, she got romantically linked with fellow rapper Sean Combs, known chiefly by his stage name Diddy.
The speculation regarding their dating started after they were spotted holding hands at Control Music CEO Pierre "Pee" Thomas's birthday party in June 2020. 
Then, the 'Twerkulator' rapper added fuel to the fire with an Instagram post in August 2021. She was seen kissing a bottle of tequila while sitting on Diddy's lap in the now-deleted picture.
That being said, neither Yung Maimi nor Diddy have broken the silence of their relationship status yet.