Yung Baby Tate Slams Ayesha Howard over Body Shaming Remarks
Yung Baby Tate has so much to say to her haters that she is releasing a song about it.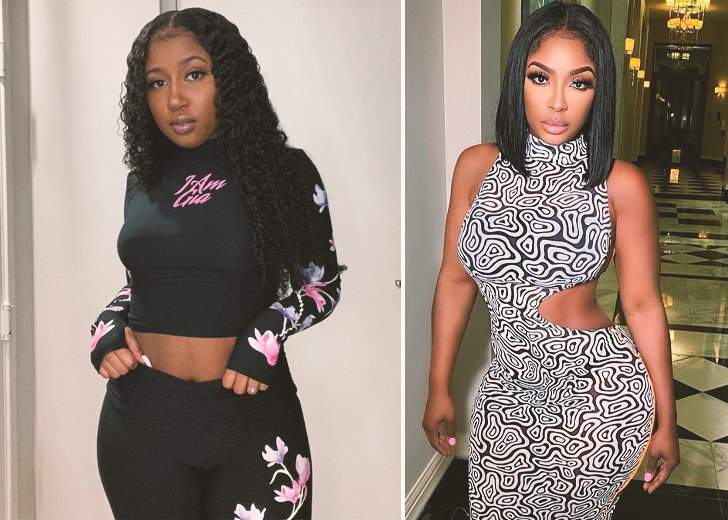 Rapper Yung Baby Tate wasn't staying silent after being body-shamed online. 
Yung Baby Tate Faces Body Shaming
Over the weekend, Tate took the spotlight at Atlanta's AfroPunk Festival wearing a leopard print cut-out bodysuit and matching trench coat. She let her midsection shine with confidence and followed up by uploading photos and video clips of her performance on social media. 
Unfortunately, not everyone had positive things to say about her confident post and they started body-shaming her. Criticisms about her belly not being "ideal" or flat enough started pouring in her comment section. One of Tate's critics wrote, "She can lose 10 pounds," while another stated that she "should work that belly off."
Tate, who did not take those fat shaming comments lightly, clapped back at her haters on Twitter with a picture of her midsection, noting "this is so iconic" in the caption. She also lashed out in the comment section and replied to all her haters who were fat shaming her.
In one of the replies to a nasty commenter, Tate asked her to mind her own business and focus on working hard so that she could stop relying on synthetic wigs. She also told another to focus on her kids and husband instead of her stomach.
But as Tate was defending herself, a famous social media influencer and the mother of rapper Lil Baby's eldest son, Ayesha Howard, responded to Yung Baby Tate's picture which turned into a beef.
I really been going off on bitches for 2 days straight. It's always people with the least going on with the most to say. MY BODY is MY BODY to work on or NOT! pic.twitter.com/iSy0zjRI4P — babytate (@yungbabytate) September 29, 2021
Ayesha Howard Comments On Yung Baby Tate's Photos
As much as critics commented on Tate's body, some equally supportive women commended the rapper for being open and honest. Tate has long been actively involved in creating a space for young women to embrace their curves freely through songs like 'I Am' and 'Girls.'
But Howard seemed to have a very different opinion. She iterated that despite being an advocate for natural bodies and self-love, "black women" needed to stop defending their bad eating habits and added that Tate's body was not natural but a result of poor eating habits, structure, and discipline.
She added that Tate, as a performer, needed to be healthy, so she needed to change her lifestyle. 
Her statements triggered many people who commented that it was hypocritical of her to talk about being natural when she had undergone surgery. She then defended her statement, saying she was not body shaming but was only asking Tate to eat healthily, and then ended off her response sarcastically, saying, "I'm sorry y'all let's go to McDonald's."
Tate, who wasn't into the fat-shaming, responded to Howard's comment by subtly shading her. Tate shared that she would give Howard a pass because her life was a mess due to all the baby drama with Lil Baby. She also responded to Howard, asking her if she saw what she ate. 
It appears this matter will not die down soon as Tate uploaded a TikTok and announced her new single 'PEDI' was coming out. In the video, she had a text overlay saying, "when girls with small implant [breasts] talks [bad] about my body."
We will have to wait and see how this feud will pan out.