Are Yasiel Puig and Girlfriend Andrea de la Torre Still Together?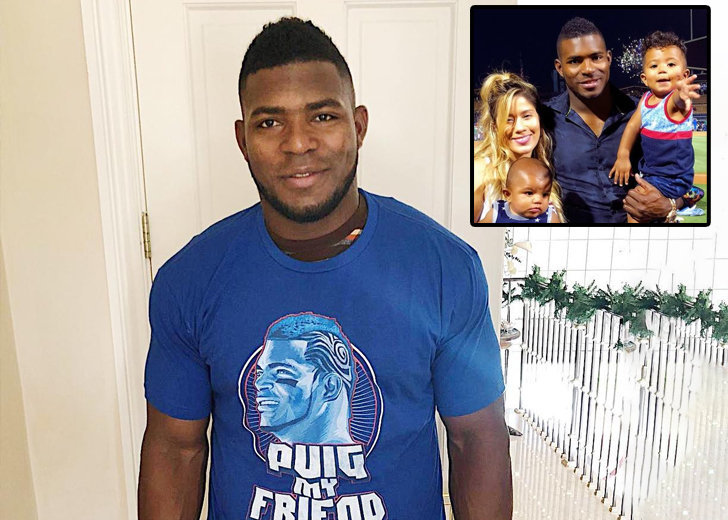 The Angeles Dodgers' right fielder, Yasiel Puig, and his girlfriend, Andrea de la Torre, are parents of two children.
Puig is also a father to a son who he had with his former girlfriend, Nicole Chavas, the daughter of Philadelphia Phillies' pitching coordinator.
The two began dating sometime between 2012-13. They separated by the end of 2013, after the birth of their son, Diego Alejandro.
Puig then moved on to his next girlfriend, Andrea, and the two are still together despite some turbulence in their relationship.
Yasiel Puig and His Girlfriend's Relationship
Puig began dating Andrea, who is an internet celebrity, shortly after his separation from Nicole. They were first seen together in early 2014, shortly after Puig became a parent.
Puig subsequently revealed in 2017 that he had a second kid with his girlfriend, Andrea, a boy. He used Twitter to announce the birth of Daniel Sebastian on February 2, 2017. 
In August of that year, the baseball star and his girlfriend, Andrea, conducted a gender-reveal ceremony at Dodger Stadium before a game.
They welcomed another little one into their life on July 19, 2020.
Despite only knowing Puig for a short time, she has taken on the responsibility of looking after Puig's first kid, Diego, as if he was her own.
Is Yasiel Puig Married?
Despite being a father, Puig has never been married to a wife.
The prospect of Puig making Andrea his wife looks even bleaker. It looks like things are not going well for the couple.
Andrea posted on her Instagram about being a "single mom" to the three kids.

Yasiel Puig's Kids posing for a picture (Source: Andrea's Instagram)
"Damn this single mommy thing has gotten super REAL for me," the mother of three wrote. "Dealing with 3 boys under 4 is NO joke, but you know what!? I wouldn't change it for a damn thing!"
In the same post, she thanked the year 2021 for making her stronger and wiser and looks forward to owning 2022.
The turbulence in their relationship might be a result of the lawsuit filed against Puig.
Yasiel Puig Accused of Sexual Assault
The former Major League Baseball player was accused of sexually assaulting two women in January 2017, and he secretly settled the case with both of them that same year.
The first victim, who resided in Los Angeles, said she met Puig at a nightclub after connecting with him on Instagram. He allegedly tried to rape her.
She said that her cries caused him to stop, but that he then tried to compel her to give him oral sex, which she also refused. She said Puig then fled the scene when she resisted again.
A second woman went to a police station in Southern California, a few days after the first incident, to report what she characterized as a sexual assault.
She claimed she met with Puig two days earlier, after the Los Angeles Dodgers' FanFest, and said that during consensual intercourse, he grew overtly excited and struck, choked, and bit her until she nearly passed out.
Puig spoke about the lawsuit in an Instagram post on October 30, 2021.
He announced he had settled the case against him. He maintained he did not touch the women in an inappropriate manner on any occasion.