Wolfgang Puck Attended Harvard Without A High School Education
Inspired by LA Reid's memoir 'Sing to Me,' Wolfgang Puck voiced his desire to attend Harvard. Thankfully, the right set of ears picked up.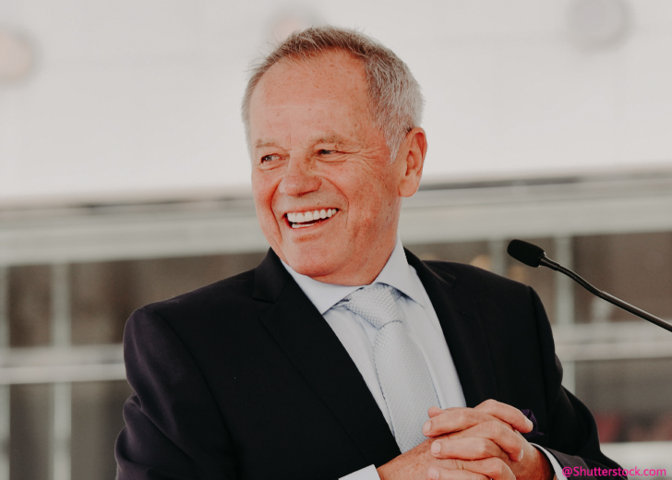 Wolfgang Puck, a celebrity magnet and the owner of a global culinary bistro chain Spago, came from humble beginnings. Having left home at the tender age of 13 to land headfirst into the food industry, he never had the chance to pursue education. 
Even so, fate found a way, and the celebrity chef, who has served names like Pablo Picasso and Elizabeth Taylor, eventually got to go to one of the most reputable educational institutions in the world: Harvard University. 
Getting into Harvard 
NY Post reported that Puck was Inspired by LA Reid's memoir Sing to Me, where the music executive shared his experience of going to Harvard at 35. Puck brought it up when he sat down with the Wall Street Journal. 
Word got around, and the dean of the business school reached out to Puck and offered him a spot.
Puck, while initially skeptical, having never gone to high school, later found out that he was still eligible for the Owner/President Management program because he was running a business. 
The chef opened up about his experience of going back to school with the NY Post. He said that he was nervous because he didn't know how to use a computer. 
"I have my assistant who does that," he said. Still, his son and daughter-in-law, both Harvard alums, tried to get him accustomed to using a computer before his program started. 
Apparently, it was a difficult thing for Puck to get the hang of. In the end, he decided to go back to basics and showed up in class with a yellow pad and a pen.
Regardless of the medium, the chef called it a "great learning experience." 
A Rough Childhood
Puck grew up in a low-income family in the Austrian countryside, albeit he did not know that at the time.
He confessed to the outlet that he had no electricity, no plumbing in the house, and if one had to use the toilet, they'd have to walk about a hundred feet. 
He grew beside his mother, who was also a chef, and a stepfather, who he claimed was physically and emotionally abusive.
Just as he turned 14, his mother got him an apprenticeship 50 miles away in a hotel, hoping that he would be better off there. 
Sadly, the appointed mentor was no better than his father, in that he was irrational and abusive to Puck.
He recalled an instance when their establishment ran out of potatoes. His supposed mentor tossed young Puck out. 
Overwrought by the circumstances, he even contemplated jumping into a nearby river. Thankfully, he decided otherwise.
He went back to the restaurant, that kicked him out, as nothing had happened. 
The owner was still adamant that he leave. But, as Puck so proudly claimed, he was a very persistent lad and wouldn't take no for an answer.
Eventually, Puck got sent to a smaller hotel with a different chef. 
Finding a Mentor
At 17,  unsure if he should pursue a career in the food industry, Puck moved to France. He decided to stick around the scene for a couple of years more. 
But then when I was 19, I went to a three-star restaurant in the South of France. And there I found my mentor … He was the first one who trusted me.
He had secured a spot under Raymond Thuilier's wings, the chef at L'Oustau de Baumanière in Provence.
During his time in Thuilier's kitchen, Puck saw some of the world's biggest names dining, and he too got a taste of what it meant to be a chef. 
In due time, he moved to the states and started his first restaurant Spago, and the rest, as they say, is history!