Meet Willem Dafoe's Artistic Wife Giada Colagrande — Director, Actress and Songwriter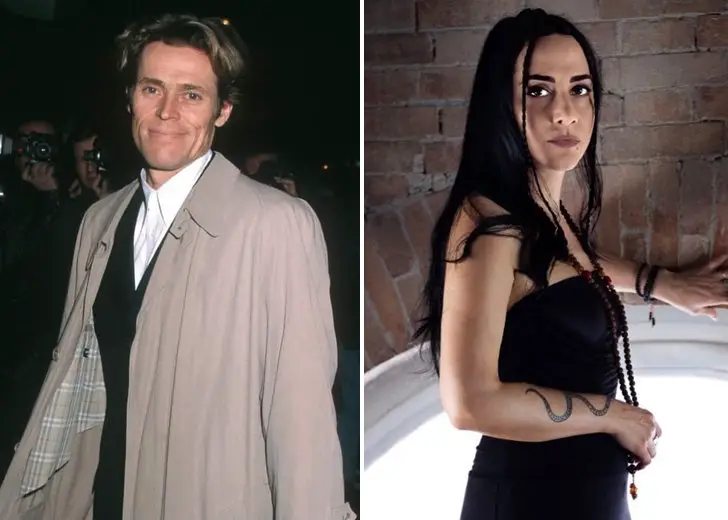 Willem Dafoe married Italian actress, director, and screenwriter Giada Colagrande on March 25, 2005. 
The two first met on the street in Rome in 2004, the year he split from his longtime partner, Elizabeth LeCompte.
Dafoe shared he knew her because he had seen some of her works and they had some mutual friends. And though it's not known how they got together, he has talked about how he took Colagrande as his wife.
He said the decision was very impulsive and romantic. "We were having lunch, and I said: 'Do you want to get married tomorrow?'"
"I called up City Hall, and they said: 'If you get here in the next couple of hours, you can register and then you can get married tomorrow.' So we ran down there."
Their marriage only had two witnesses, his manager and her editor.

Willem Dafoe with wife Giada Colagrande in an interview (Source: YouTube)
Since then, though the pair has welcomed no children together, they have collaborated on many projects.
Here's a look at Dafoe's relationship with his wife, and his son from his previous relationship.
Who Is Willem Dafoe's Wife?
Colagrande is an actress, director, and writer best known for her works in Open My Heart (2002) and Padre (2016).
She studied in Italy, Switzerland and Australia. In 1995, she moved to Rome, where she began making video art and documentaries on contemporary art.
Over the next few years, she joined Project VOLUME and made three short films — Carnaval (1997), Fetus - 4 Brings Death (1999), and n.3 (2000).
In 2001, Colagrande wrote, directed, and starred in her first feature film, Aprimi il Cuore (Open My Heart). The film premiered at the Venice Film Festival in 2002 and was later selected by other international film festivals.
Open My Heart brought much success to Colagrande, winning her the Prix de l'avenir at Paris Cinema 2003 and landing her a nomination for Best New Director at the Silver Ribbon 2003.
Colagrande directed her second feature titled Before It Had a Name in 2005. She starred in the movie alongside her husband, Dafoe.
This was the first project the two worked on together. Since then, they have partnered multiple times for some of her other works.
Some of her other feature films in which Dafoe has starred in are A Woman (2010), Bob Wilson's Life & Death of Marina Abramovic (2012), and Padre (2016).
Willem Dafoe and Wife Giada Colagrande Don't Have Any Children
Dafoe has been together with his wife for almost two decades. However, the husband and wife have welcomed no children together.
The Spiderman actor is father to just one son with his previous partner, LeCompte. Dafoe began his relationship with LeCompte in 1977.
Five years after they got together, the two welcomed their first and only child together, son Jack Dafoe, in 1982.
After welcoming their son, they stayed together all the way until 2004, but never tied the knot. He opened up about why during an interview with The Guardian.
"We never got married because to her marriage represented ownership, and I respected that," he said. "But after a while, I was more interested in getting married than she was."
His son, Jack, has stayed out of the limelight and not much is known about him. According to Hollywood Life, his son was previously listed as a Senior Policy and Research Associate in a video.
He was also the host of New York City Apollo Alliance, an organization that promotes clean and sustainable living.