Vanessa Ray Has Had More Good Years than Bad with Husband Landon Beard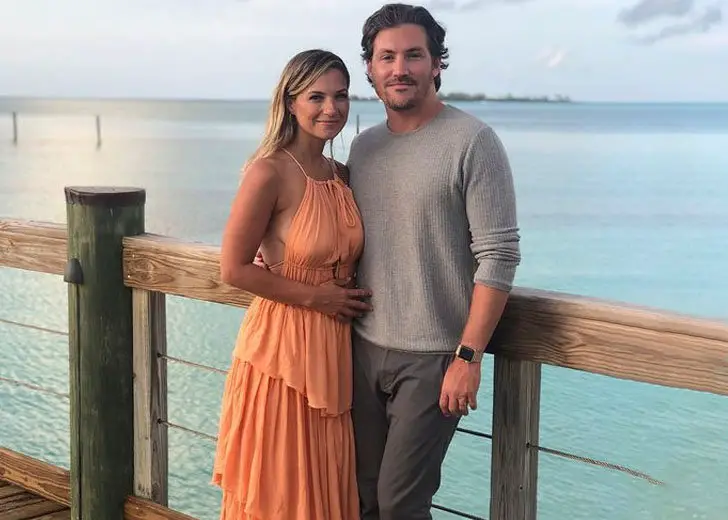 Vanessa Ray has been with her husband Landon Beard for over a decade now. The couple first started going out right after her previous relationship ended.
The couple married more than six years ago, and their marital life has been great — except for one year, or so she says.
Vanessa Ray Has Had a Mostly-Pleasant Life with Husband
Vanessa Ray celebrated her sixth year of being married to musician husband Landon Beard on June 14, 2021.
Even though Beard didn't make an anniversary post this year, Ray put together a photo dump with a sweet caption commemorating their wedding day, all those years ago.
Ray posted a bunch of pictures of them together from an event they attended. The couple looked stunning in the pictures.
The Blue Bloods actress wore a charcoal black-appearing satin dress with a piece of minimalistic jewelry on her neck and carried a handbag as an accessory.
As for Beard, he was all about dark colors as well. He sported a charcoal black suit outside a black t-shirt with a pair of dark black sunglasses hooked on the tee.
The caption described how their marital life had been.
"5-1," it read, implying the number of years they had been married, how many of them had been good, and how many not-so-good. She didn't, however, go into the details of the one bad year.
She also joked that they had made it to 1st grade again reiterating how old their marriage had become.
Finally, she gushed about how her husband "Don Don" made him laugh and ended the caption with a few heart emojis wishing him a happy anniversary.
Vanessa Ray's Amazing Engagement Story and Wedding
The husband-wife duo met in 2009 during a rehearsal. This was right after her divorce with ex-husband Derek James Baynham, with who she was married since 2003.
After dating for six years, Beard finally mustered up the courage to ask her to marry him. The proposal was sweet but effortless.
On one of her "lazy" day-offs, he asked her to go on a walk with him to one of their favorite spots. It was a freezing cold day in Manhattan.
Upon reaching their spot — Pier 84 on the Hudson River — he got down on one knee and pulled out the ring.
She started asking questions immediately after. "He pulled out the ring, we cried, and I started asking a million questions. 'Did you ask my parents? My brother? Does Kelly know? Does she like the ring?'" she confessed to Hola Magazine.
Not only did he tell Kelly Sullivan (her best friend) about the January 23 proposal, but he flew her over from L.A. to be there when he took the ring out.
Dressed as a tourist, she captured the whole proposal.
Then came the wedding.
Ray and Beard took their vows at the Condon Nest Ranch in Pala, California on June 14, 2015.
On that particular Sunday, Ray wore two dresses from designers Shareen and Carol Hannah. They were not traditional wedding dresses.
Beard accompanied her with a blue Dolce and Gabbana suit and shirt. He topped off the look with a tie his father handed him down from 1981.
The musician capped off the night playing an amazing set alongside his band Harbor Party for the guests present for the occasion.
Soon after her real wedding, her on-screen wedding, too, happened. Her character on Blue Bloods, Eddie Janko, married Will Estes's character, Jaime Regan.