"What Happened to Val Kilmer? 'Val' Paints an Intimate Portrait of the Actor's Life, Career and Struggle with Cancer
"Now that it's more difficult to speak, I want to tell my story more than ever," Kilmer said in the documentary.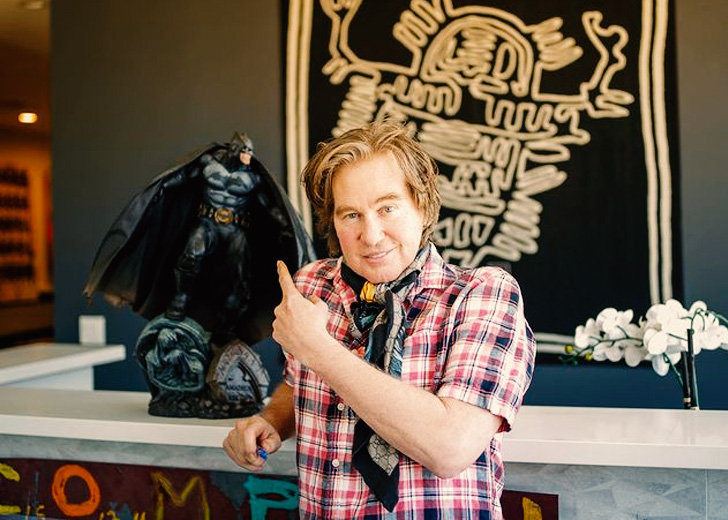 Val Kilmer is a Hollywood veteran with over a hundred acting credits to his name. However, after a tragic cancer diagnosis and the following medical procedures, the actor simply fell off the radar. 
Now that he is cancer-free, the 61-year-old actor wants to share his story, a story that his fans never got the chance to hear, through a new Amazon Original Documentary, Val.
What Happened to Val Kilmer?
The actor, best known for playing legendary musician Jim Morrison in the movie The Doors, was diagnosed with throat cancer in 2015. He had to then endure the radiation and chemotherapy sessions that followed. 
Only after the doctors removed a part of his throat, in a procedure called a tracheostomy, the actor made it through with a new lease on life. However, in the process, he lost a part of himself — his voice. 
The voice that once breathed life into one of the most iconic superheroes ever created was rendered thin and raspy, barely audible or understandable. Still, now more than ever, he wanted his story heard, and hence, Val the documentary was engineered. 
A Never Before Seen Frame
In the documentary co-directed by Leo Scott and Ting Poo and produced by Kilmer, his son Jack, 26, and his daughter Mercedes, 29, offers fans an intimate look at the veteran actor's personal and professional life, including how he battled and recovered from the potentially deadly illness. 
"I obviously am sounding much worse than I feel," Kilmer narrated with his raspy voice in the film. Expounding on his condition, he added, 
I can't speak without plugging this hole [in his throat]. You have to make the choice to breathe or to eat. It's an obstacle that is very present with whoever sees me.
Today, the actor fed himself through a feeding tube. 
'Val' Is More Than Cancer
The story is not all about the morbid tone of cancer. Instead, it is a careful documentation of Kilmer's life, shot over the last sixty years of his life. The actor was apparently a cinematographer at heart.
The actor turned in thousands of hours of 16MM footage, home movies, Beta, DVs, and every other format to the directors so that they could bring together the wonderful portrait of the actor's life. 
The footage dates back to his early years in Arizona, living with his family. Other memorable instances include his earliest acting appearances at school, including the prestigious Julliard, where he was the youngest acting student (at 17) ever admitted.
The documentary also gave fans an exclusive look at some of his greatest works including, Top Gun, Top Secret!, The Doors, Batman Forever, and Tombstone.
There is even an audio excerpt of a confrontation between Kilmer and The Island Of Dr. Moreau director John Frankenheimer. The director can be heard repeatedly telling the actor to put his camera down, which obviously he did not.
Kilmer's son also narrates his father's words from the 2020 bestselling autobiography I'm Your Huckleberry, in the documentary, from time to time. The brutally honest movie even outed the actor describing, nay lamenting, how his life had resorted to him selling his past.