Tony Shalhoub's Kids Are All Grown Up — Now He's a Grandfather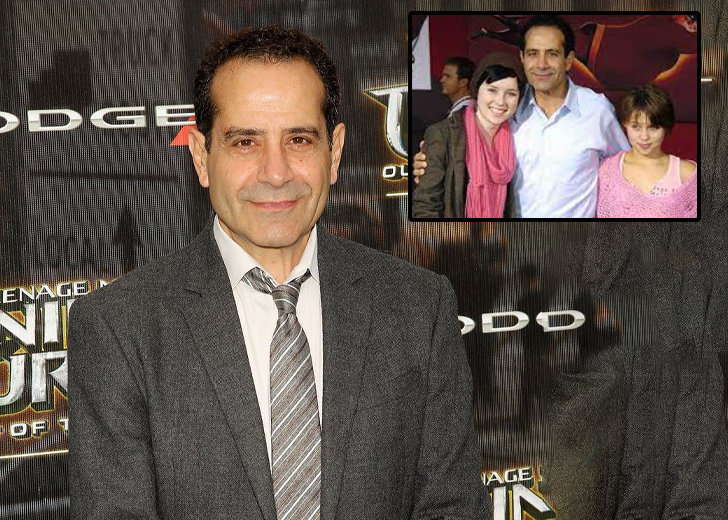 During the Amazon Studios Golden Globes Afterparty in January 2020, Tony Shalhoub, who raised two kids with his wife Brooke Adams, announced he was becoming a grandfather for the first time.
He spoke with People at the time and further stated that his oldest kid, daughter Josie Lynn Shalhoub, was expecting her first child.
"I'm going become a grandfather this year for the first time," he excitedly told the tabloid. "I play one on the show, but now I actually get to be one. My oldest daughter is having a baby boy in the summer."
Rightly so, Josie gave birth to a baby boy, Tucker Anthony Tischio, with her husband, Traver, in June 2020.
She later took to Instagram to announce the birth of her kid and Tony's grandson, sharing a snap of herself along with baby and baby daddy.

One of Tony Shalhoub's kids with her husband and their newborn son. (Photo: Instagram)
In the post, she also implied that the little one was born on June 25, 2020, two weeks earlier than the due date. "Everything everyone said was true: there is no greater love than this," she added in her caption.
Tony Shalhoub's Excitement on Being a Grandfather
While Shalhoub was announcing he would be a grandfather, one could feel he was over the moon.
During the previous event, he even shared that he was in awe of the news of one of his kids welcoming a little one into the family.
Not just him but his co-star and on-screen wife, Marin Hinkle, who was present with the actor at that time, also shared her excitement over Shalhoub's announcement. She revealed she found out the news recently as well.
"This is the moment I hear this!" the actress exclaimed, before adding, "A little baby boy, you're going to have to bring him to set."
That said, Tony has remained tight-lipped on the topic since then and hasn't shared much about his grandson. But his fans could have a look at his daughter's child on her social media.
His daughter Josie occasionally shares pictures of her child on Instagram.
Tony Shalhoub Raised Two Kids with Wife
As stated earlier, Tony, who played Abe Weissman on Amazon's The Marvelous Mrs. Maisel, raised two children with his wife, Brooke, an actress known for her film roles in Days of Heaven and The Dead Zone.
Their two children [both daughters] are Josie, born in 1989, and Sophie Shalhoub, born in 1993.
However, both of their children are not their biological children.
As per online reports, Brooke adopted their older daughter Josie in 1989, and when she and Tony married in 1992, the actor adopted her daughter.
Likewise, following their wedding, in 1993, the couple went on to adopt another child, Sophie, together.
Afterward, they never had their own child, but focused on their respective careers while providing a good upbringing to their two adoptive children.
At present, their daughter Josie is a writer by profession, as well as a committed wife and mother. On the other hand, their other daughter Sophie stays away from the spotlight.
But she once tried her hands at acting, as she played the role of Lola in the TV series All Downhill from Here.