Tony Goldwyn Stole Wife Jane from His Best Friend on Their First Date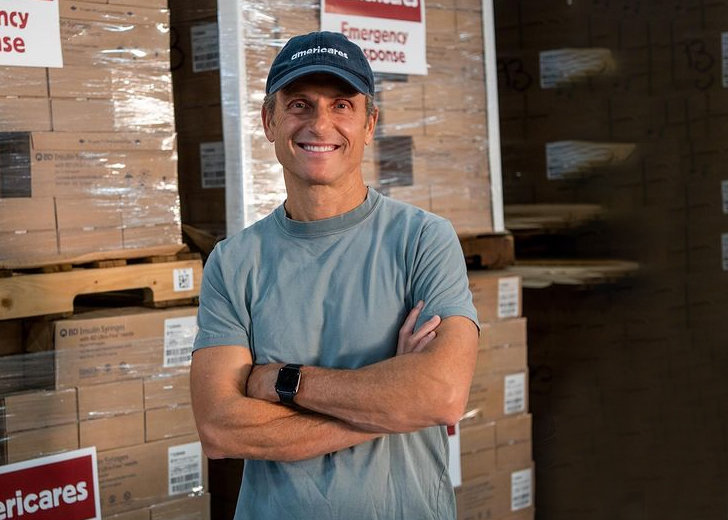 Tony Goldwyn has been married to his wife Jane for almost 35 years as of this writing. That in and of itself is a lifetime of love on its own, but then when drawn against the fact that it's a Hollywood marriage, it's almost unreal. 
However, what isn't often discussed is how this life of love began; how Goldwyn met his wife for the first time. 
Jane Was Supposed to be a Friend's Date
During an interview on LIVE Kelly & Ryan, the veteran actor recalled the first time he met his wife and how their seemingly everlasting relationship found expression. 
Breaching the topic not so gently, Ryan Seacrest outright announced he would never ask Goldwyn to tag along on a date before the talk show host set the premise for Goldwyn's story. 
It turns out, the first time Goldwyn met his wife, it was supposed to be a date between Jane and a very dear friend of Goldwyn, and he was supposed to be the wingman. 
Tony Goldwyn Was Supposed to be the Wingman
This incident dates back to when Goldwyn was still in college and worked at a great summer theatre, the Williamstown Theatre Festival. 
In his time there, he'd made a friend whom he claimed was now the godfather to his children. Circling back to the story, this friend was supposedly obsessed with a girl—Jane, and this girl was super into running. 
Having been brought up in Queens, this friend was not exactly a runner and hence didn't own any running shoes. In fact, on his previous date, he had run bare feet and had bruises on his feet. 
So, he asked Goldwyn if he could borrow a pair of running shoes. Of course, Goldwyn complied. 
This friend, whose name remained undisclosed, went on to invite Goldwyn to run with them. The threesome ended up running to a beautiful pond when the idea of going skinny-dipping started forming. 
Tony Goldwyn & His Wife Kept Running
Now this friend was concerned that there were "living things" in the water and refused to get in, but gave Goldwyn and Jane the green light to get into the water if they wanted to, and they did. 
That was day one. Moving forth, this friend who initially introduced Goldwyn and Jane stopped running, but they never did. 
"Jane and I, kind of, kept running. We're still running, you know," he said sheepishly. 
The Secret to a Lasting Marriage
During an appearance on Today's Talk, Goldwyn spilled the secrets to how he and his wife managed to keep their marriage alive even after all these years. 
He broke it down into three simple reasons.
Reason #1:
Jane is just the most incredible human being that I know. She is just a very salt-of-the-earth person. I knew, when I was 21, when I met her, I better hang on because I will never come across this again.
Reason #2:
It wasn't that their marriage didn't have problems. However, as the actor explained, every time they had a problem, they would look at their significant other and ask, "Are you willing to work on this?"
Every time the answer to that question was a yes, a wrinkle in their marriage was ironed out. 
Reason #3:
Goldwyn has immense respect for Jane. Because he respects her so much, he never lost interest in her. 
Simple enough!