Know about Tom Berenger Children, Present Spouse Laura, Net Worth, Age and Height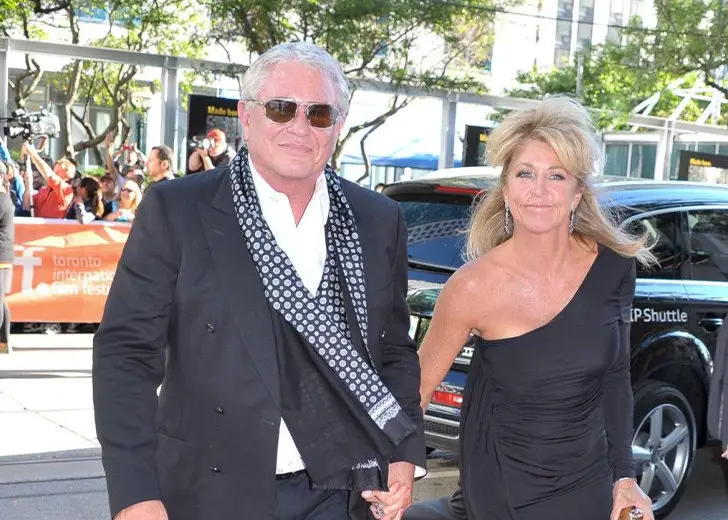 Black Warrant actor Tom Berenger is married to his wife, Laura Moretti. She is his fourth spouse, and they tied the knot on 8 September 2012.
Berenger and his wife do not have any children together. However, she is a step-mom to six of his children from his three previous marriages. Similarly, the actor is a step-father to his spouse's daughter, Julia Spurlock.
Read the full article to know about Tom Berenger's children, present spouse Laura, net worth, age, and height.
Tom Berenger and His Wife maintain a high level of Privacy
Though Berenger and Moretti have been together for nearly a decade, the actor has revealed very little about his wife.
The Platoon star is not very active on the internet and his Instagram account is managed by his son, Patrick Moore. There, a few posts with Berenger and his spouse can be found.
In September 2021, the account made a throwback post of the 2012 Primetime Emmy Awards, where Berenger won an award under the category of Outstanding Supporting Actor for his role in Hatfields & McCoys.
The post included a picture of the actor alongside his spouse at the event. Berenger was also photographed showering his wife with affection at the Emmys.
The 2012 Emmys is just one of the many public events Berenger has attended with his wife.
Together, the couple had also attended The Big Chill reunion in 2013, 30 years after the release of the hugely popular movie.

Tom Berenger with wife Laura Moretti at the 'The Big Chill' reunion (Source: Instagram)
Tom Berenger has been Married four-time and has Six Children
Before Berenger got together with Moretti, he was married thrice. His first marriage was with Barbara Wilson, whom he married in 1976.
Together, Berenger and his first wife welcomed two children — Allison Moore in 1977 and Patrick Moore in 1979.
Not much is known about Allison and Patrick except for the fact that the latter is managing the actor's Instagram account.
Berenger and Wilson divorced in February 1984 and the two have not spoken about why they decided to go their separate ways. 
He remained unmarried for the next two years and later moved on with Lisa Berenger. The two tied the knot on 19 July 1986 and stayed together for 11 years.
During this time, Lisa gave birth to three children, all daughters. Their first daughter, Chelsea Moore was born in 1986.
Their family expanded further two years later in 1988 when daughter Chloe Moore was born.
Berenger and Lisa welcomed their last daughter together, Shiloh Moore, in 1993. Four years after that, the actor split with his spouse in 1997.
Berenger remarried a year later on 23 January 1998, with Patricia Alvaran. They welcomed daughter Scout Moore in the same year.
Berenger's Divorce with Patricia Alvaran
Berenger filed a legal-malpractice lawsuit against Dean Bell, a lawyer he had hired back in 2005 to represent him while amending his and Alvaran's prenuptial agreement.
According to The Sun, Berenger alleged Bell of advising him to sign the amendment proposed by Alvaran's attorney, without making or suggesting any changes.
The premarital agreement had previously capped alimony at $50,000 if the couple divorced.
However, after the amendment, the actor claimed Bell's alleged legal malpractice cost him more than $100,000.
The outlet also reported that Berenger was seeking actual and punitive damages.
What is Tom Berenger's Net Worth?
According to Celebritynetworth, Berenger has an estimated net worth of $4 million. 
How old is Tom Berenger?
Born as Thomas Michael Moore on 31 May 1949 (age 73), Tom Berenger comes from a Catholic Family of Irish ancestry. 
His father was a traveling salesman and a printer for the Chicago Sun-Times. His great-grandfather and grandmother had moved to Chicago and blended in well because of a high-profile connection. 
"My great-grandfather came over to Chicago and became what else? a cop, a precinct captain in Chicago. My grandmother during the depression, when it was very hard for people to get work, got a job in the Chicago police department because her best friend at school was Mayor Daly's wife, and as you know Mayor Daly was the dictator of Chicago for a long, long time," he shared 
What is Tom Berenger's Height?
Berenger stands at the height of 5 feet and 11 inches.