Thierry Henry Found Love Soon after Divorce from Ex Wife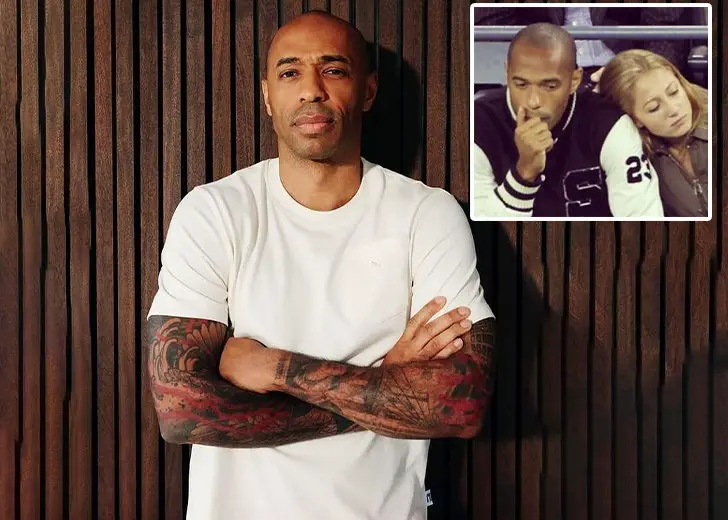 Thierry Henry was formerly married to his ex-wife Claire Merry from July 2003 to December 2008.
The current French soccer coach announced he would divorce his wife shortly after his transfer to Barcelona in September 2007.
At the time, the decree nisi was granted to them, and eventually, their divorce was finalized after he paid her divorce settlement close to her requested sum of more than $13 million.
However, the divorce wasn't the end of the road for the former soccer player. After separating from the English model, he soon found love in Andrea Rajacic.
Thierry Henry's Love Life after Separating with Wife
According to the Independent, Henry and Rajacic began dating in December 2008. It was the same month the French soccer coach finalized his divorce.
He reportedly met her while she was in Barcelona to visit her elder sister. But both of them kept their meeting a secret.

Thierry Henry and his potential wife Andrea Rajacic watching a soccer match. (Photo: Instagram)
The two were finally spotted together in public for the first time enjoying a break in the Maldives — it was around the same time as Henry's divorce. They were reportedly photographed together several times after that instance.
Speaking of Henry's partner, she is a Bosnian native who worked as a model when she and Henry initially met.
Rajacic is also the daughter of a well-known plastic surgeon, originally from the Bosnian capital Sarajevo. Her parent operates a clinic in Kuwait.
Is Thierry Henry Married to Andrea Rajacic?
So far, no such details have come out in public, confirming Henry and Rajacic's marriage. Hence, it would only be fair to stay away from their marriage rumors and believe that they are just happy partners.
And time and again, the two have even shown that they are happily living together.
For instance, The Sun reported that Henry and Rajacic attended soccer player Cesc Fabregas and his wife Daniella Semaan's wedding in Ibiza together in July 2018.
At the time, the tabloid mentioned Rajacic as Henry's partner — and not a wife.
Meanwhile, don't expect Henry or Rajacic to drop some kind of couple goals pictures on social media, as the former soccer player does not have Instagram.
On the other hand, his partner presently manages a private Instagram handle.
Thierry Henry Is a Caring Father, Too!
A great soccer player and committed partner to Rajacic, Henry is also a caring father.
He welcomed his first child, daughter Tea Henry, in May 2005 with his first wife, Merry.
Henry even dedicated his first goal following his daughter's birth to her by holding his fingers in a "T" shape and kissing her after scoring in a match against Newcastle United. He played for Arsenal at the time.
Henry had his second child, son Tristan Henry, with his now-partner in 2012.
According to several outlets, he also has a third child, daughter Tatiana Henry; however, no information about his baby mama is known.
Thierry Henry has stepped down as head coach of MLS side CF Montréal for family reasons.

He explained the decision was "extremely difficult", however due to the Covid-19 pandemic he has been unable to see his children.

He will move back to London to see his kids. pic.twitter.com/RVP61NE89K — ARSENAL (@tomgunner14) February 25, 2021
In February 2021, he again showed how much he cared about his children by stepping down as Major League Soccer side CF Montreal coach.
He explained he wanted to spend time with his family, especially his children since he was separated from them due to the COVID-19 pandemic.