'The L Word: Generation Q' Season 2 Gets Juicier
Season 2 is almost here. Let's catch up on the drama!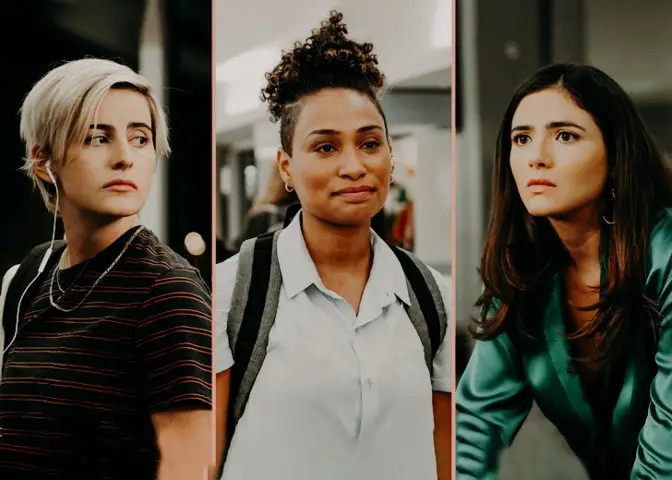 Warning: Spoilers and plot details for The L Word: Generation Q Season 1 follow.
The first trailer for the sophomore season of The L Word: Generation Q dropped on June 30, 2021, and by the looks of it, the popular lesbian drama amps things up for an even juicier season 2. 
As if the trailer wasn't enough of a hypemonger, the cast teamed up for a season recap just days before the release date of season 2, on August 8, 2021, at 10 pm ET/PT on Showtime. 
Picking Up the Pieces
As season one came to an end, Jennifer Beals' character Bette was recovering from the loss of her mayoral race in Los Angeles while her ex-wife, Tina, played by Laurel Holloman, got remarried. 
While there has been no word on her professional life, at least the trailer established that her romantic life is still pretty eventful. She was seen kissing Sepideh Moafi, known on-screen as Gigi.
Gigi's ex-wife Nat, real name Stephanie Allynne, on the other hand, was getting back together with Alice, aka. Leisha Hailey, leaving room for Gigi to mingle. 
Next up, Sophie, played by Rosanny Zayas, her fiancée Dani, or Arienne Mandi to the uninitiated, and Sophie's friend slash flame Finley played by Jacqueline Toboni, have their own chemistry brewing. 
By the last episode, viewers saw Sophie on her way to the airport to meet someone. It was fair to assume that she was either racing to marry Dani in Hawaii or stop Finley from skipping town after their hookup. 
The Secret Marriages
In the trailer, Dani was on the run, and the audience only caught glimpses of Finley and Sophie. So, whoever Sophie ends up with in season 2, one of either Dani or Finley would be left to pick up the pieces. 
In the final fold, the last few episodes of the previous season, Shane, portrayed by Katherine Moennig, confessed to Tess, played by Jamie Clayton, that she had a fling with a married woman while Shane was coming back from her divorce. However, in her defense, she did not know that the woman was married. 
Sadly, Shane wasn't the only one. Leo Sheng's character Micah also split with his boyfriend in the season finale when he discovered that he was married. Not just that, he confided in a stunned Dani that he had slept with a woman whilst all this was going on. 
Fans Can Expect More Episodes
As the drama unfolds with season 2, fans can expect guest appearances from Rosie O'Donnell, Donald Faison, Griffin Dunne, and Vanessa Williams. They will also get to see a lot more of Jordan Hull, who played Bette and Tina's daughter, Angie, as she has been promoted to a series regular. 
And to add to the excitement, Culturess reported that the second season of the much-awaited show would have an expanded episode order. Meaning, season 2 will come in ten installments, two more than that first season's eight. 
The L Word: Generation Q has been revived from The L Word, a six-season-long drama that premiered on Showtime in 2004. The reboot retained much of the original cast whilst adding a few more characters to up the ante.