Here Are the 5 Surgery Addicted Social Media Stars Who Aspire to Look Entirely Different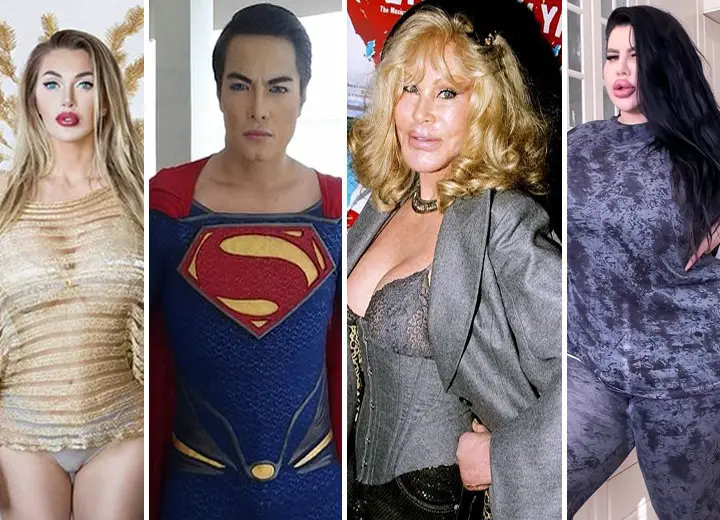 Plastic surgery is very common in Hollywood, but many A-Listers have a keep-it-to-yourself policy.
While some go under the knife because they are medically necessary, others use plastic surgery to improve the aesthetics of their physical features.
But a rarer few use surgery to achieve a certain look and take these enhancements to the next level. 
These individuals have made headlines for their transformation and addiction to plastic surgery. The intrigue surrounding their looks has also resulted in a large fan following, making them surgery addicted social media stars.
1. Pixie Fox
Pixie Fox, popularly known as the "living cartoon," underwent surgery to look exactly like the cartoon Jessica Rabbit from the movie Who Framed Roger Rabbit?
During a special on Channel 4 called Plastic and Proud, Fox described herself as her "own work of art." 
She underwent several procedures, including four breast augmentations, four nose jobs, surgery to make her ears more elvish, liposuction to achieve the inflated cleavage, and doll-like facial features.
But her most shocking surgery was when she had six of her ribs removed to shrink her waist to a record-breaking 14 inches. 
She has spent over $100 000 on all the surgeries and nearly lost her life after one surgery ended with a complication. Fox has since reversed some procedures and now shares an honest and raw side of herself with her followers.
2. Herbert Chavez
One look at Herbert Chavez, and you will know he is aspiring to look like Clark Kent from Superman. 
The Filipino star underwent 16 years of plastic surgery to transform into his favorite comic book hero. 
He has gotten a few nose jobs, skin whitening, lip liposuction, jaw realignment, pec implants, and even abdominal implants, which cost 300,000 pesos or over $14,000.
The real life, Superman shared he would stop the surgeries if his body could not handle them. 
"When my body says it can not endure it anymore or when my doctor says that my body can not handle it because of age, then I will stop," said Chavez.
3. Jocelyn Wildenstein
It is clear why surgery addicted Jocelyn Wildenstein is known as Catwoman. 
Wildenstein spent millions of dollars on plastic surgeries to look like a cat for her cat-loving husband, Alec Wildenstein, who died in 2008
She began her plastic surgery journey with canthopexy, a procedure that elevates the eyes to give them a cat-like appearance.
According to experts, she has had upper and lower eyelid surgery, a brow-lift, face-lift, lip-plumping injections, chin augmentation, fat grafting, and/or cheek implants.
Despite the massive difference in her appearance, Wildenstein denied getting any surgery during an interview with the Daily Mail. 
4. Rodrigo Alves
Many are trying to look like the Kell doll, but no one is as famous as Rodrigo Alves. 
He has achieved a surreal, plastic-like resemblance to the doll, but it came with a hefty price. 
During an interview with Daily Mail, Alves revealed that he might be left with a hole in his face. He added his nose may collapse because of tissue damage from multiple rhinoplasties. 
"Each time is riskier than the last and I'm worried that doctors will not be able to fix my nose permanently," said Alves.
He added that the surgeries have now become a need. 
5. Natasha Crown
The Kardashians are famous for their bodacious derrière, but none of the Kar-Jenners can beat Natasha Crown when it comes to size. 
With a six-foot wide bottom, Crown thinks her buttocks are not that big and aims to make them bigger with surgery. 
She was 20 when she first got the procedure, and admits she is addicted to surgery. 
Crown now makes a living selling her videos and photographs to big bum enthusiasts.