Steven‌ ‌Seagal‌ ‌Is‌ ‌Father‌ ‌to‌ ‌More‌ ‌than‌ ‌Half‌ ‌a‌ ‌Dozen‌ ‌Children‌ ‌—‌ ‌a‌ ‌Look‌ ‌at‌ ‌His‌ ‌Big‌ ‌Family‌
Steven‌ ‌Seagal‌ has been married four times.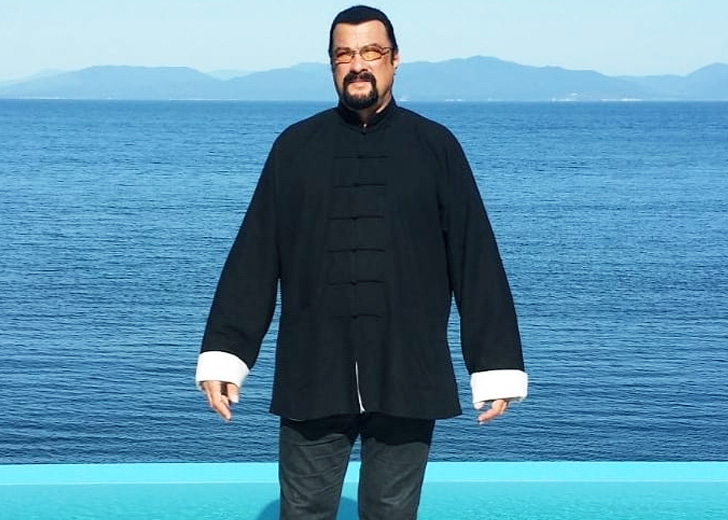 In the late '80s, action movies were top-rated. Everyone was crazy about the gunshots and fight scenes, and to give audiences what they wanted, Hollywood introduced them to Steven Seagal. 
Seagal took over the box office as a martial arts expert and dominated it for years with blockbusters like Hard to Kill, Above the Law, and Under Siege. His movies were so popular that his die-hard fan, Sheriff Harry Lee, invited him to train his force. 
The actor took a job as a police consultant in Jefferson Parish, Louisiana, to train the force in martial arts and marksmanship. He was eventually enlisted as a reserve deputy in 2009. He later took his cop act to TV with his 2011 action series True Justice. 
True Justice first aired in Spain before making its way to the American network. The show was renewed for a second season and ran for 26 episodes. Although he has receded from the spotlight, he had a massive fanbase from that era.
These fans have perpetually wondered, "who is Steven Seagal married to?" So here is a breakdown of the actor's personal life.
Steven Seagal's Ex-Wives and Kids
In his action films, the movie star was always a ladies' man, but he was also one in real life. 
As a dojo and aikido master, the actor went to Japan to teach the art. There, he met his first wife, Miyako Fujitani, the daughter of an aikido instructor. The two eventually got married. With Fujitani, Seagal had a son, actor and model Kentaro Seagal, and a daughter, writer, and actress Ayako Fujitani. 
According to Fujitani's book, Seagal's last words to her were: "You are crazy; I want a divorce." However, instead of getting a divorce first, the actor moved back to the United States and met Adrienne Larussa. 
The two began an affair and even got married before getting a divorce from Fujitani. However, their marriage was annulled after it was revealed that he had not yet completed his divorce from Fujitani. The ex-couple did not have any children. 
After that, he married actress and model Kelly LeBrock and had three children. Their oldest daughter Annalize was born in 1987, and their second kid, son Dominic, was born in 1990, followed by their daughter Arissa. However, in 1996, LeBrock filed for divorce from his spouse, citing "irreconcilable differences."
Steven Seagal's Current Wife
The actor is currently married to his then-personal assistant, Erdenetuya Batsukh, a Mongolian native known as Elle. 
Elle was trained as a dancer at the Children's Palace in Ulaanbaatar, Mongolia, from a young age. After graduating from high school and the Children's Palace, she became a professional dancer and won several dance competitions. 
She was an excellent ballroom dancer and was considered the top female dancer in Mongolia. She was also working as an interpreter during Seagal's visit to Mongolia. The two connected and started dating before getting married in 2009. 
The actor has been married to his Batsukh till now.