Inside Steve Carell's Life with Wife and Minions-Crazy Kids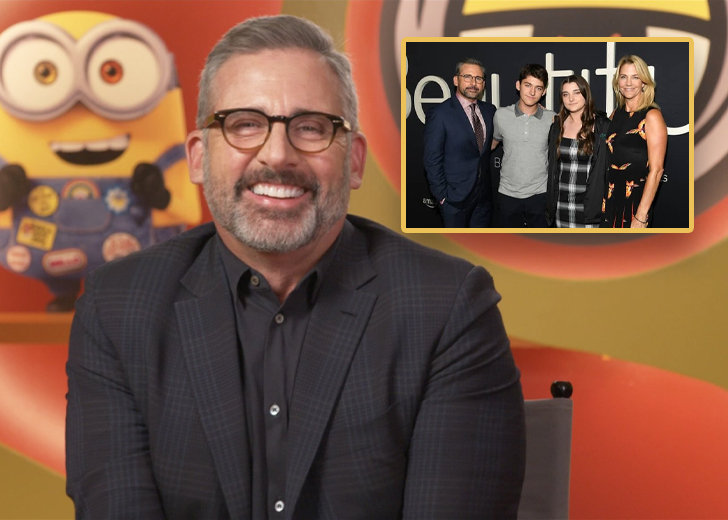 Steve Carell and his kids made headlines after The Office actor revealed their kids were crazy about Minions and attended the new movie, Minions: The Rise of Gru's. That was despite them being adults now.
This news, as well as his sweet anecdotes about his family at the movie's premiere, piqued people's interest in his personal life.
So, how is Carell's family life? And how does he handle his career and having a wife and two children simultaneously?
Steve Carell's Relationship with Wife Nancy and Kids
Carell's love story with his wife, Nancy Carell (née Walls), first began in what might be one of the most non-conventional ways possible. Their first meeting was in a classroom, and no, they were not classmates or high school sweethearts.
Instead, he was her teacher. It was the early 1990s and Carell taught an improv class at The Second City Training Centre in Chicago. She just "happened to be" in one of his classes and she "immediately attracted" him, as he would confess on his Guardian piece in 2013.
She worked across the street from where Second City was. So, he went there frequently and flirted for quite a while.

Steve Carell with his wife, Nancy Carell, at the 2010 Academy Awards. (Photo: Wikimedia Commons)
But things progressed slowly between the two. "I thought she hated me because she was very quiet around me," he wrote in his piece for The Guardian. "I later found out that she was just as nervous as I was and trying to act cool."
He was sure she hated him, but he was also sure she was THE one. Things, even if slowly, progressed, and they started dating, eventually getting married on August 5, 1995.
Then they did "the most important and best thing that [they] ever did" — They had children.
Their first kid, daughter Elisabeth Anne "Annie" Carell, was born in May 2001, and their second child, son John "Johnny" Carell, followed in June 2004.
Carell and his wife have a particular way of raising their children. They're stern but loving; they teach them about the real world while being present in theirs.
In that same piece, he wrote about how he and Nancy kept them grounded. "You're doing your kids a disservice if they do get everything they want because that's not the way life's going to go and I think kids have to have some reality," he wrote.
His children didn't "expect to get everything" and still listened to them and respected them. He considered those manners their "greatest achievement."
But, apparently, among the restrictions, watching the Minions and becoming crazy fans of the franchise wasn't one. Elisabeth is now 21, and John 18, but they did not take a second time convincing to attend the Minions: The Rise of Gru premiere on June 26, 2022.
"It's been a big part of our family," he said of his children's craze for the franchise. "I think it's nostalgic at this point. They love the characters and they love the franchise."
How Steve Carell's Approach to Life Changed after Kids
Carell had been doing not great but okay before 2001, career-wise. But it was after he had his daughter that he had a shift in his mindset about acting jobs.
In the same Guardian piece, Carell recalled how his career changed after having Elisabeth and specifically recalled the first interview after welcoming his little girl.
"I nailed it because I didn't care any more," he wrote. "Before that I hadn't had great success auditioning for TV shows, it was spotty at best but for that audition, it wasn't a life or death thing."
All he wanted to do thereafter was get home as soon as possible to be with his family. Reportedly, he even made everyone else on The Office cast show up early for work so they could go home early and spend time with their families.