Inside Steph Curry and Wife Ayesha Curry's 10 Years of Marriage
Steph Curry's wife Ayesha Curry shared pictures of her and her husband renewing their vows.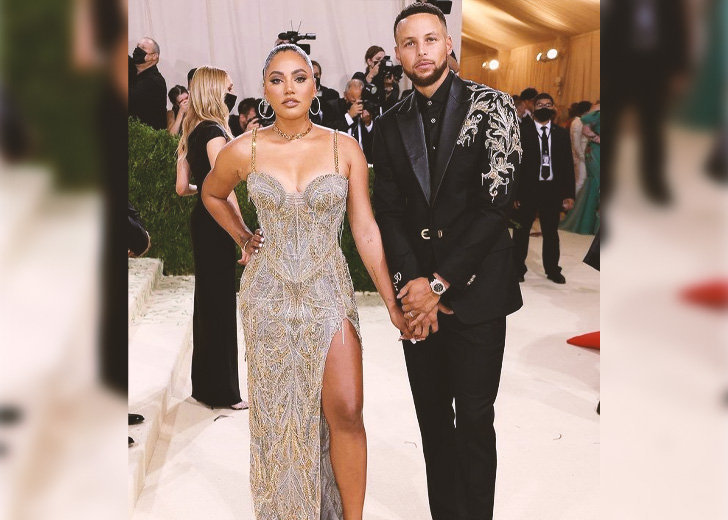 NBA Star Steph Curry and his wife Ayesha Curry renewed their vows, surrounded by friends and family. Ayesha took to Instagram to mark the occasion and express her happiness at the celebration.
Ayesha posted a sweet picture of her and her NBA superstar husband exchanging vows while their eldest daughter Riley officiated it. The pair's other two children, daughter Ryan and son Canon could also be seen watching the exchange from a few steps away.
The actress revealed Steph had surprised her with the ceremony a few weeks ago and had even picked out the dress for her. She also made another post with a picture of her and the Golden State Warriors point guard and captioned it, "Smitten."
Steph and Ayesha have been married for over a decade, and together, they are parents of three children. Here's a look at their relationship timeline.
Steph Curry And His Wife Met At A Church
Steph and his wife met at a church in North Carolina for the first time. The NBA star was 15 years old at the time, and Ayesha was 14. They were fond of each other from a young age, but they only started dating each other after reconnecting as adults.
Ayesha had also revealed that she wasn't allowed to date at the time and joked, saying she and Stephen were both focused on God at the time.
Reconnected At An Awards Show
Ayesha began pursuing her acting career in Hollywood and ran into Steph at an award show he was attending. The two began dating shortly afterward, and she moved to Charlotte, where he was playing college basketball at Davidson College.
Their Marriage
On July 30, 2011, Steph and Ayesha took their relationship to the next level by tying the knot. They welcomed their first child, daughter Riley, in July 2012.
On July 10, 2015, their family expanded once again when the duo welcomed their second daughter, Ryan Carson Curry. Ayesha took to her blog to announce the good news.
The gift of life is truly an indescribable thing. We were fortunate enough to experience it all over again Friday night! Our beautiful little Ryan Carson Curry arrived perfectly healthy and happy.
Ayesha also revealed that she had given birth to her second baby slightly early after a three-hour labor. Ryan weighed six pounds one ounce at birth and was born naturally.
Three years after giving birth to Ryan, Steph and his wife welcomed their third child and first son, Canon W. Jack Curry, in July 2018.
Celebrated 10th Anniversary
Steph and Ayesha celebrated their 10th marriage anniversary on July 30, 2021. She took to Instagram a few days later to share a picture of the celebration cake.
She also posted a picture of a crab and her husband on a boat while captioning the post, "Celebrations, ghost crabs and Stephen on a boat."