What Happened to SkyDoesMinecraft? Ex Girlfriend Elizabeth Gets Him Exposed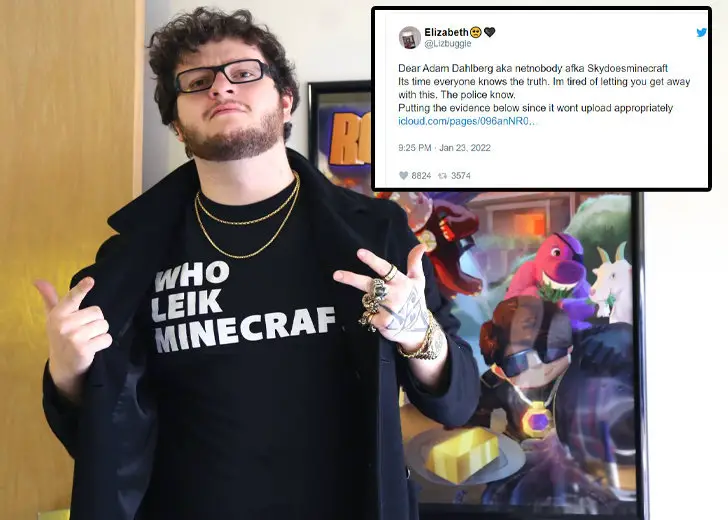 Adam Dahlberg, popularly known as SkyDoesMinecraft, finds himself in legal trouble after his former girlfriend Elizabeth's allegations of trauma, abuse, and assault against him.
On January 23, 2022, Elizabeth took to Twitter to release a statement on the social media site in the form of an Apple Document.
"Dear Adam Dahlberg aka netnobody afka Skydoesminecraft....It's time everyone knows the truth. I'm tired of letting you get away with this. The police know," she wrote in the tweet.
Baby and I are going to spend time with my boyfriend tonight so Im turning off my phone notifications for now. Adams mom, the one who gave me full support in all my decisions, now switched up and Im over their bs right now. Im gonna go have a good night, I hope yall do too — Elizabeth🥺🖤 (@Lizbuggie) January 24, 2022
She added, "Putting the evidence below since it won't upload appropriately," before attaching the document.
In the document, the former girlfriend explained her relationship with the YouTuber while also sharing a few instances of abuse and assault she experienced during their time together in a relationship.
Not just that, she backed her allegations with photographic evidence and official police statements to strengthen her claims.
Allegations against SkyDoesMinecraft by His Former Girlfriend
At the beginning of her more than five pages lengthy personal statement, Elizabeth stated that she would do her best to be the voice to reveal Dahlberg's truth.
"You hurt, you abuse, you manipulate and you lie," she said, accusing the YouTuber. "You are a sick man. I spent months and months loving you with my whole entire being."
She then opened up about the constant trauma she endured throughout their relationship.

A Facebook picture of SkyDoesMinecraft a.k.a. Adam Dahlberg. (Photo: Facebook)
Her allegations exposed that Adam forced her into uncomfortable situations, such as pressuring her to get pregnant and proposing to him against her wishes.
SkyDoesMinecraft also shared that she was afraid to leave him because he possessed a great power that came from his popularity.
"Why didn't I leave? Why didn't I run as fast as I could? Because I was scared. You treated me and everybody as peasants and would use your popularity against us," she shared.
Allegations against SkyDoesMinecraft for Mistreating His Ex-Wife
Apart from the abuse and ill-treatments she claimed she received from Dahlberg, Elizabeth also exposed that the internet personality had done something similar to his ex-wife Alesa.
Dahlberg's former girlfriend further alleged that he manipulated the public context to portray his wife as the bad one even though she was very supportive and caring in their marriage.
"You made the internet hate Alesa... You used your platform to try and ruin Alesa's life," she wrote.
And through her statements, Elizabeth exposed that Alesa had also undergone the same trauma as she did.
Rightly so, SkyDoesMinecraft, his ex-wife Alesa, and the custody of their child were the topics of discussion in 2017.
At the time, he had accused Alesa of cheating multiple times, which created a rather negative image of Alesa in public.
People Praise SkyDoesMinecraft's Ex Girlfriend for Speaking Out
Those who read Elizabeth's statement are praising her for speaking out and bringing the truth about him in public. They fully support the way she exposed him.
"Years. I've stood by and watch Adam as a child, laughing, crying from his stories and videos..it seems like all lies..Now, I see all of this. People's stories. It's disheartening, depressing," one wrote.
Another chimed, "so proud of her for coming forward with this."
Meanwhile, Dahlberg is yet to make any comments on the same.