Inside Simon Baker's Silent Split from His Wife Rebecca Rigg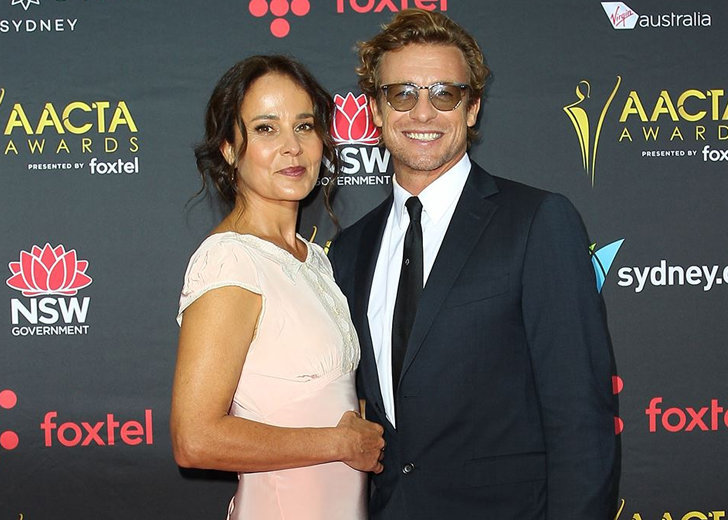 The Mentalist star Simon Baker quietly split with his wife of over two decades, Rebecca Rigg, in April 2020.
However, they kept the news under wraps for eight months before finally going public with it in January 2021.
The pair released a joint statement that read, "We remain close friends and our children will always be the most important focus of our lives."
So far, neither Baker nor Rigg have revealed the reason for their split. However, in December 2019, the actor had shared with Wow Watchers that no relationship ever got easy.
"Every relationship is challenging and difficult," he said at the time. "And no one is everything to another person."
Though people thought little of his words back then, after the news of his and Rigg's split came out, many speculated that he was referring to his failing marriage.

Simon Baker with estranged wife Rebecca Rigg (Source: Instagram)
Simon Baker and Rebecca Rigg
Baker and Rigg met for the first time in the early 1990s. It's not clear when or how they got together, but they later starred in the Australian soap opera, E Street.
After five years of living together, the pair finally tied the knot on October 2, 1998. He later revealed on The Ellen DeGeneres Show that they had two weddings, one of which was held on the beach at Carmel.
When talking to People in 2018, Baker shared he was happy with his 20-year marriage. He also added that they wouldn't be celebrating their anniversary and explained why.
"We've never really been big on it [anniversaries]," he said. "Because I think we put too much pressure on it. It's not like that with us. We're a team. Most of the time, 99% of the time, we're really great friends. So I don't need to mark it with great things."
They Have Three Children
Together, Baker and Rigg are parents of three children — two sons and a daughter.
They welcomed their first child together, daughter Stella, in 1993. Their family of three grew larger in 1998 when Rigg gave birth to son Claude.
Baker and his spouse welcomed their third child, son Harry, three years later in 2001.
Their daughter Stella has followed in her parents' footsteps. She is an actress who made her TV debut in 2014 by appearing in one of the episodes of The Mentalist.
Some of Stella's more recent works are Tell Me Your Secrets (2021), Highway One (2021), and The Republic of Sarah (2021).
Aside from acting, Stella has also shown interest in other fields related to filmmaking. She co-wrote and produced the 2018 short titled Candace, which she also starred in.
Are Simon Baker and Rebecca Rigg Getting a Divorce?
Though Baker and Rigg have been separated for almost two years, there has been no news of the two getting a divorce. It's also unclear if they plan on getting a divorce or if the process is already underway.
Following his split with Riggs, Baker was romantically linked with Laura May Gibbs. They were spotted together on several occasions and sparked rumors of moving in together in April 2021.
It was revealed that Baker and Gibbs had called it quits in November 2021.