Scottie Thompson's Married Wife Jinky Serrano after Pau Fajardo Split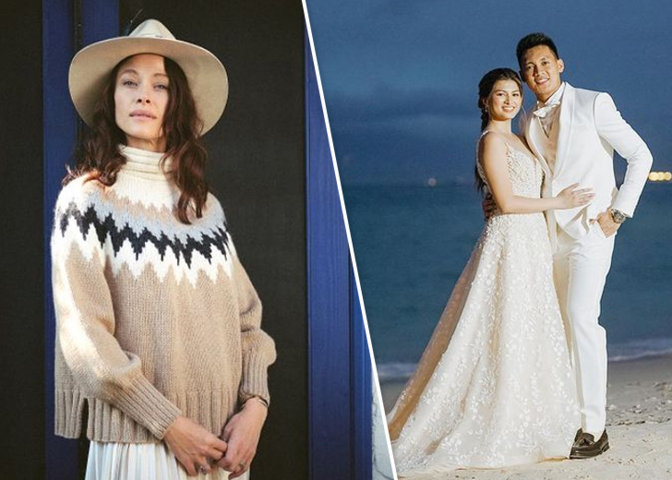 In December 2021, professional Filipino basketball player Scottie Thompson and his wife Jinky Serrano renewed their wedding vows during a private ceremony in the player's home province of Davao del Norte.
During the wedding ceremony hosted in a beach location, the husband and wife exchanged their vows in their native Filipino language.
Thompson released a montage of their wedding on his official Instagram account.
Scottie Thompson and Wife Jinky Serrano's Wedding
In the said video clip, the husband and wife were seen in their traditional white wedding outfits.
Serrano arrived in a chartered helicopter which had a banner that read, "HERE COMES THE BRIDE."
The basketball player's family members, close friends, and agent Danny Espiritu were all present for the wedding.

Scottie Thompson with his wife Jinky Serrano on their wedding day. (Photo Credit: Scottie Thompson/Instagram)
According to Inquirer, Thompson's wife Serrano is a flight attendant from Pampanga in the Philippines.
The couple officially tied the knot in June 2021 in the Filipino city of Las Pinas.
In October 2021, prior to their grand wedding ceremony, the basketball player posted a picture of himself and Serrano enjoying a vacation at an undisclosed resort.
Jinky Serrano's Husband Was Previously Engaged
In June 2021, Thompson's name began trending on social media after rumors of his secretive marriage with his long-time partner and ex-fianceé Pau Fajardo surfaced.
According to gossips that made rounds on the Internet, Thompson and Fajardo got engaged in the New Year's eve of 2020.
While the athlete showed no interest in addressing the claim, Fajardo later broke her silence and said she had decided to move along with her life.
According to ABS-CBN, Thompson and Fajardo were understood to be in a relationship for eight years before their breakup.

Pau Fajardo's statement (Photo Credit: Pau Fajardo/Instagram)
"It has been a difficult time for my personal life," Fajardo said in a lengthy statement.
She further hoped the gossips would finally be put to an end as she wished to maintain a private life.
Initially, Fajardo did not feel the need to release any statement since she didn't see herself as "some sort of public figure" or a celebrity.
Fajardo opted to keep her agony away from the media, hoping it would end with the help of her family members and friends.
Fajardo said she was deeply hurt by the actions of her then-to-be-husband and said she ended a long-time relationship with someone she was ready to spend the rest of her life with.
"To say it has been heartbreaking is an understatement," Fajardo wrote in her statement posted on her Instagram account.
Further, Fajardo said she previously kept her silence not because she was insensitive or indifferent but because the issue regarding her relationship was a "very much personal matter."
"As a private person, I just did not see the need to escalate the matter publicly," wrote Fajardo.
In the concluding sentence, Serrano said she wouldn't be commenting on the said issue any further and asked everyone to respect her decision.