Samantha Hoopes Celebrates Son's Second Birthday — See the Celebration
Samantha Hoopes' son turned two and had a dinosaur-themed celebration.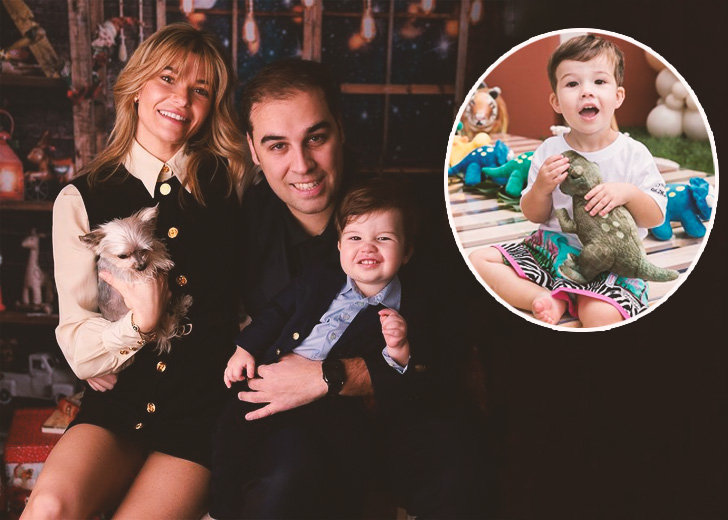 It felt like yesterday that Samantha Hoopes welcomed her first child, son George William Palella, but on August 29, she and her husband Salvatore Palella celebrated George's second birthday. The Sports Illustrated model took to Instagram to give fans a glimpse of her son's birthday party. 
She uploaded a carousel of family photos from her son's dinosaur-themed party. However, her newborn daughter was not in the pictures. The parents were beaming while George looked fascinated with presumably the dinosaur decorations he loved. 
In the caption, Hoopes wrote a heartfelt message for her son. She shared that he made her dreams of becoming a mother come true, and since he was her first child, he taught her many lessons. 
The father of the birthday boy also took to his Instagram and uploaded a carousel. He kept the message in the caption brief and noted he loved his son. 
Samantha Hoopes' Baby Girl 
After having George, Hoopes and Palella welcomed their baby girl in August this year. Although she did not announce the birth of her baby, she took to Instagram to share the news of her husband's company, Helbiz, going public and subtly dropped the news of her girl's arrival. 
Helbiz became the first micro-mobility company to be listed on NASDAQ. In the caption, she gushed about how hard her husband worked and overcame challenges and obstacles that only people behind the scenes like her had access to. 
She added he inspired her to know that anything was achievable and noted that this was just the beginning. She also thanked him for being the best role model for their kids and ended off saying she was a proud mother and wife.
In a later post, she uploaded a photo with her daughter, and the two of them were twinning in the same dress. She revealed she did not rely on a nanny and was a full-time mom because she wanted to focus on her kids entirely. 
And like any normal mother, she admitted that after the birth of her second child, she struggled with splitting her attention between her children. However, Hoopes advised that mothers should do their best even though it won't always be perfect. 
Samantha Hoopes' Engagement 
In 2018, Hoopes got engaged to Palella after proposing to her in a room filled with roses. 
The two had met in 2017 in the quaint village of Portofino on the Italian Riviera and hit it off immediately. The couple had gone back to where they met to celebrate their first anniversary, but Palella had other plans. 
Surrounded with 381 roses representing the number of days they had been together, Palella got down on one knee in the luxurious Bulgari Hote Milano and asked Hoopes to be his happily ever after. 
The couple shared photos from the proposal on their Instagram, and it truly looked beautiful.