Why Sam Mendes's Relationship with Wife Alison Balsom Works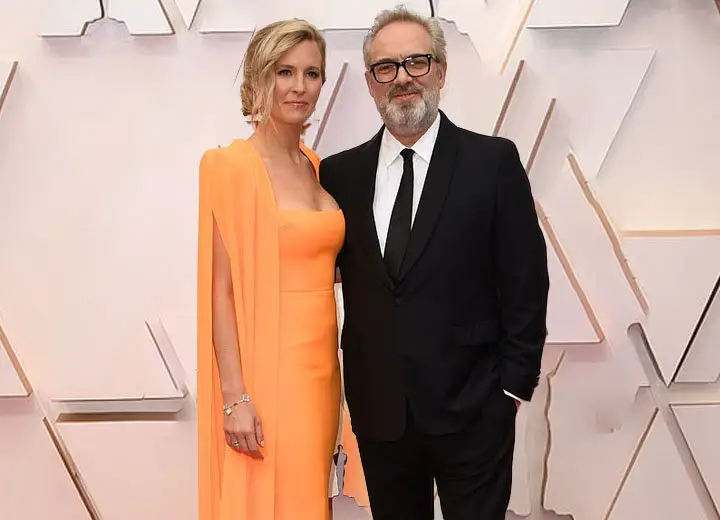 Sam Mendes has had a few relationships over the years. His public dating life became a topic of interest after his relationship with Kate Winslet in 2001.
Since then, he has tried his hands on a few more relationships, but it was not until he met and married his wife, Alison Balsom, that his romantic life stabilized.
That was also when he realized why his previous relationships had never worked out.
Sam Mendes and His Wife's Relationship Works Because She's Not an Actress
Mendes met Balsom, a renowned classical trumpet player, just two weeks after his 2012 hit Spectre came out. He was 50 years old at the time; Balsom was only 37.
However, they clicked, and after dating for over four years, the couple married in January 2017. September that same year, they welcomed their daughter, Phoebe, which made him a father of two children

Sam Mendes with his wife, Alison Balsom. (Photo: Instagram)
A year after his marriage, he finally opened up about the difference in how his current relationship functions compared to how his previous ones did, including his two years with actress Rebecca Hall.
During a September 2018 interview with The New Yorker, he said his relationships with Hall and other actresses, like Jane Horrocks, Calista Flockhart, and Rachel Weisz, did not work out because he could not "let go" of control.
Being a director, he was used to having influence over the situations he was in. But he later realized that power dynamics did not work well in real-life romance.
"I was absolutely unwilling to surrender," he said. "It wasn't that I pushed those women away. I was attracted to them, then found myself deeply uncomfortable in a relationship where I was really trying to solve them."
He compared situations within a relationship with situations on a drama rehearsal or a movie set.
"The best thing you can do in a rehearsal is solve the problem," Mendes said. "It's the most unhealthy thing to do in a relationship. It took me a long time to understand that."
Another thing he understood only after years of unsuccessful relationships was that directors and actors do not make a good couple. The power balance between the two never made for a stable romance, and he always felt like he was giving less in his personal life than in his professional one.
And this is where Balsom's profession comes in. She was not an actress, and their worlds did not really collide, except when he took her to award ceremonies.
Both of them respect each other's careers and achievements very much, and they were both cautiously obsessed with perfection and excellence and similarly ambitious.
"Without a shadow of a doubt, it's the best relationship of my life," he told the magazine.
Sam Mendes's Past Relationships and Dating History
Mendes and Winslet, who was his first girlfriend in public, met in 2001 through work. In two years' time, they were married.
The former pair tied the knot "on a whim" in May 2003, when they were on a holiday together in Anguilla. She was pregnant with their baby at the time and lived half the time in their family home in Cotswolds and the other half in an apartment in New York.
Their son, Joe Alfie Winslet Mendes, was born on December 22, 2003, in New York City. Their marriage also made him a step-father to Winslet's daughter, Mia, from her previous marriage with Jim Threapleton.
After a decade together, Mendes and Winslet called it a day in March 2010, announcing they were divorcing. Their divorce, while reported to be amicable at the time, might have had an uncomfortable reason.
Mendes met Hall in 2006 while casting her in Starter For Ten. After their first collaboration, he called her back for two more plays.
This move, as Daily Mail reported in April 2013, "infuriated Miss Winslet." And a year after their divorce, Mendes went public with his relationship with Hall.
They dated for around two years, during which Hall gave a few interviews. In one of those with InStyle (via Daily Mail and Evening Standard), she said she had no hand in breaking up Mendes and Winslet despite the public speculations and that she was not dating the Oscar-winning director for fame.