Disclosing How Ryan Michelle Bathe's Husband Won Her Over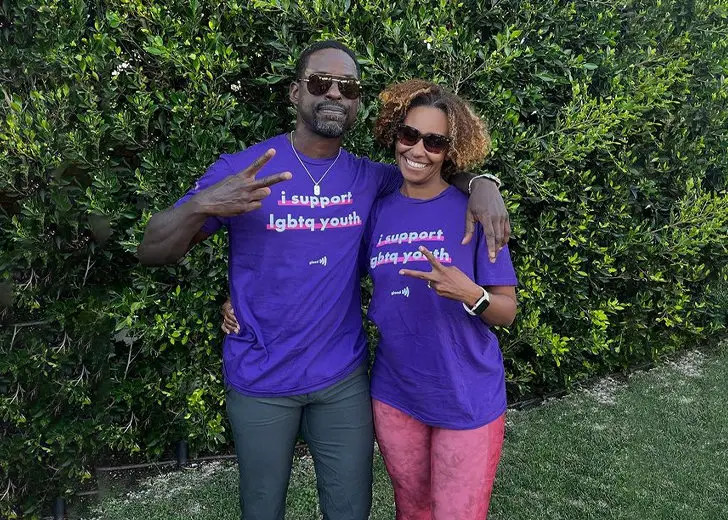 Actor Sterling K. Brown and his wife Ryan Michelle Bathe have been married for over 15 years. The two have a happy family together and are very open about their love for one another.
Throughout the years, Brown and Bathe have shared many stories about their lives, including how she got him to chase her through Koreatown to secure a date with her.
Ryan Michelle Bathe and Husband's Relationship
Bathe and her spouse met for the first time when they were both students at Stanford University.
Both of them were 18 at the time and had acted in school productions. They also lived in the same dorm during their freshman year.
When talking to ET, Bathe previously shared she was mesmerized by him after watching him audition for Joe Turner's Come and Gone.

Ryan Michelle Bathe with husband Sterling K. Brown (Source: Instagram)
Brown continued the story of how they eventually got together.
"She got cast in the play as well, and we would ride bikes to rehearsal, and we would just talk," he shared.
"We found out that we were both from St. Louis… our parents went to rival high schools. We were born in the same hospital. Like, we were friends."
Bathe was dating someone else at the time, so the two started as friends. They eventually got together, but dated on and off for several years.
And some reasons for their break-up are quite unusual. When sharing their story with Oprah Winfrey Network's Black Love, she revealed she had once broken up with Brown because her mother and grandmother had an ominous premonition.
"It still sounds crazy," she said. "The vision was, 'He is this horrible person, you need to be deathly afraid of him, he's evil.'"
They got back together after a short while but split once again, this time for three and a half years.
Her Spouse Ran across Koreatown to Get Back with Her
After three and a half years apart, Brown realized she was the love of his life. But when he tried to tell her about it, she shrugged him off as she was working out.
"I go to her apartment, I tell her, and she's like, 'Well I'm working out right now,' and I was like, 'No, I can see that–I'll just talk to you while you're on the treadmill,'" he recalled.
"And she's like, 'Well, I feel like going outside. So I'm gonna go on a run.' So I'm like dressed [in a suit] and she starts running through Koreatown, and I start running along with her."
Brown said he had to work to get back together with his spouse but that the efforts were worth it.
They Have Two Children Together
After many years of dating, Brown and Bathe finally tied the knot in June 2007. They have since started their family, welcoming two children together — son Andrew and son Amare.
While he doesn't share much about their children, he has posted a few pictures with his son on his Instagram.
In October 2021, he uploaded a snap of himself with his kids as they rooted for Los Angeles Chargers.