Inside NFL Player Ryan Kelly and Wife Emma Zieverink's Relationship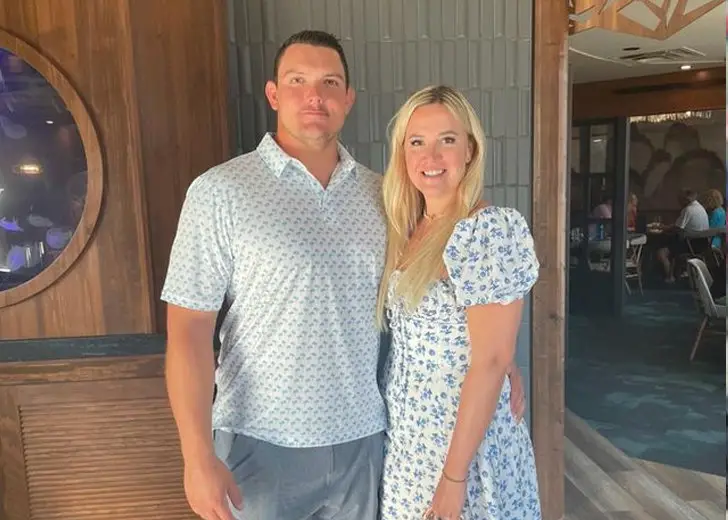 NFL player Ryan Kelly and Emma Zieverink met each other at a bar in Atlanta.
Having been from the same hometown, Ohio, with their parents living five minutes from each other, the two only met in Atlanta, coincidentally, when Kelly was in town for a wedding.
The couple shares their bond with a tiny Yorkshire terrier, Jake. Jake was a gift from Zieverink's mother.
Although she was not thrilled about the puppy at first, she gave him a chance - shortly after, he stole her heart.
How Ryan Kelly Met His Wife
After Zieverink moved to Atlanta for a job, she had to leave her "best friend" with her parents in Ohio.
The job required her to travel frequently, which made it hard for her to take Jake with her.
However, life was about to hand Zieverink another surprise.
A big man entered her life when she was missing her little man back home in Ohio.
Colts center, Kelly, and Zieverink decided to catch up after they met each other. And the rest, as they say, is history.

Ryan Kelly and his Wife Emma Zieverink at their wedding. (Source: Ryan Kelly's Instagram)
After a year, Zieverink moved to Indianapolis to be with Kelly, and reunite with her beloved Jake. The three have shared a perfect bond ever since.
"I didn't think I was going to be a small dog guy," Ryan said. "But he came to live with us and we became besties," said Jake (as per For The Shoe).
At first, Zieverink was unsure if Ryan and Jake would like each other. She put her worries aside after the two bonded immediately.
"Every time Ryan and I would go to my parents' house, Jake would lose it." She told Colts News.
The couple decided to adopt Jake as a permanent resident in their home after Jake wouldn't stop crying whenever Zieverink left him in Ohio.

Ryan Kelly and Wife Emma Zieverink with Jake (Source: Emma Zieverink's Instagram)
Ryan Kelly and Wife's Miscarriage
It hasn't always been a fairytale dream for Kelly and his wife. The couple has gone through some tough times together as well.
Zieverink was 19 weeks pregnant with the couple's first child, Mary, when she learned that her daughter's "tiny heart suddenly stopped for reasons unknown" and that the baby would have to be delivered.
Kelly shared the news on Instagram alongside a series of images, including one of Mary's small handprints and another of the pair holding their newborn.
At first, Zieverink was angry that she had to deliver the baby, but later realized it to be the biggest blessing to come out of the nightmare.
As per People magazine, she was grateful that the couple got the opportunity to hold Mary Kate, their "little Saint," before they could say their official goodbyes to her.

.