A Look Into Rupert Grint and Georgia Groome's Relationship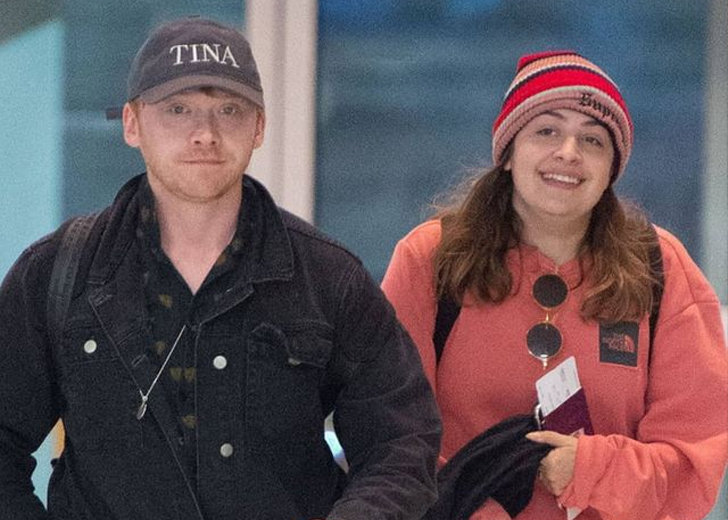 Rupert Grint and Georgia Groome became proud parents to a daughter in 2020.
Ever since he was a kid, Grint has stolen the hearts of his fans as Ronald Weasley from the Harry Potter franchise.
And today, like an ode to time flying by, he has a kid himself.
He has been with Groome for over a decade, and their love is still going strong. Looking at their relationship now, it seems like they will be together for a long time. 
Soon enough, Grint might also be calling Groome his wife. Similarly, they only have a daughter now, but they might be ready to welcome more children in the future.
Here is all about Rupert Grint and Georgia Groome's adorable relationship. 

Rupert Grint and Georgia Groome photographed together. (Source: Twitter)
Rupert Grint and Georgia Groome's Relationship
Like Grint, Groome is also an actress. She is best known as Georgia Nicholson from the 2008 cult classic Angus, Thong and Perfect Snogging, and Joanne in London to Brighton. 
There is little to no information about Grint and Groome, since they have kept their relationship relatively private.
As a result, many did not even know that the pair had been in a relationship for years. 
It is unknown when they met and started dating. However, it is reported that they started dating in 2011. 
There have been a few paparazzi pictures of the couple, but their relationship had never garnered attention. It was not until 2018 that people knew about them.  
That year, a grainy picture of the couple went viral on Twitter. The couple smiled at the camera, and Groome had her hand wrapped around her boyfriend. 

The viral picture of Rupert Grint and Georgia Groome. (Source: Twitter)
After that picture, many came to know of their relationship, and speculations started surfacing. Many thought the pair were simply dating, while some thought Groome was Grint's wife. 
There were two questions on everyone's mind - "is Rupert Grint married?" and "is Groome Grint his wife?" But, as usual, neither of them addressed it.
Then, two years later, their relationship made headlines after they welcomed their daughter, Wednesday. Recently, in April 2021, it was reported that Groome was the Servant star's wife.
But according to Capital FM, the pair's representatives quickly denied the rumors.
In a January 2021 interview with Glamour, Grint talked about maintaining a long-term relationship with his girlfriend. 
He said that Groome was his best friend, and they were "kind of the same person." They "think the same way," and that is the secret of how their relationship has lasted over a decade. 

Rupert Grint's first picture with his daughter, Wednesday. (Source: Instagram)
Rupert Grint and Georgia Groome's Daughter 
Before welcoming his daughter, Grint had mentioned wanting children. In a 2018 interview with The Guardian, he opened up about his love for children. 
He had just turned 30 then, and he confessed he does not "know what the future holds." However, he said he would like to settle down and have children soon. 
Merely two years later, he welcomed his first baby with Groome. It was announced that the couple was expecting in April 2020, since Groome was photographed with her baby bump.
A month later, in May 2020, they have a statement to People confirming the birth of their daughter, Wednesday. Alongside their announcement, they asked for privacy for their family. 
In November 2020, Grint and Wednesday broke the internet after the actor posted a picture of the two.
It was his first time joining the platform, and he broke Jennifer Aniston's record of reaching one million followers the fastest.