Meet Rupert Friend's Paralympics Athlete Turned Model Wife Aimee Mullins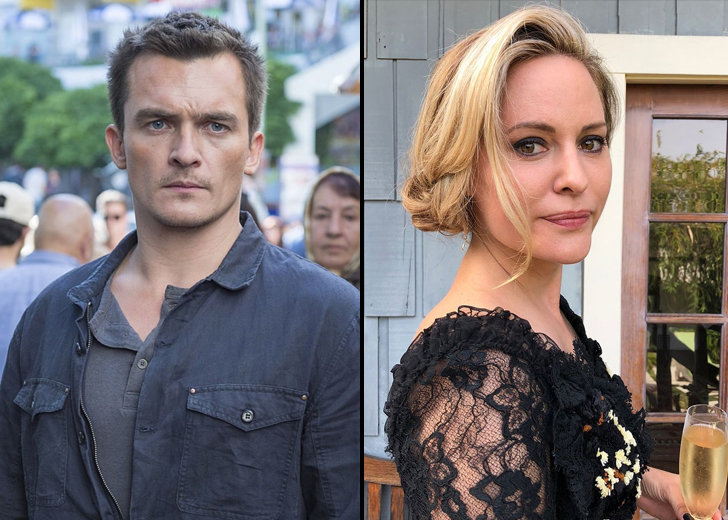 Rupert Friend chose to have a secret wedding with his wife, Aimee Mullins. They developed an immediate spark when they met but took their time to get married.
The secret wedding made sense as the couple has never been one to make a big deal about their personal life.
Rupert Friend and Wife Aimee Mullins' Relationship
Friend and Mullins reportedly first met in 2013. The Homeland actor was previously in a relationship with Keira Knightley until 2011.
The relationship that started in 2013 turned into an engagement in May 2014.
But the couple kept that a secret until the last minute of a fashion event they were attending in December 2014.

Rupert Friend with his wife, Aimee Mullins, at a movie premiere in 2019. (Photo: Aimee Mullins/Instagram)
While attending the L'Oreal Paris's Women of Worth awards, she introduced one of the night's honorees and only talked about her engagement when her presentation began.
People reported at the time that Mullins had kept it hush-hush because she did not want to take the spotlight away from the honorees.
Then came the wedding, two years later, which they also kept lowkey.
They had eloped, and there were just four people present at the ceremony, including them.
They got married on May 1, 2016. His oldest friend, who also got ordained for the occasion, married them. Another friend named Betony Vernon was their witness.
Their wedding venue was a comport shed at a farm as it was raining. Mullins wore a cap-sleeved ivory gown designed by Olivier Theyskens, and Friend wore a plain black suit for the occasion.
The then-newlyweds had an afterparty, where they played pool, in Manhattan, New York.
But this was all in secret. They revealed they were husband and wife only a month later.
"Today is the one-month anniversary of being happily married to @AimeeMullins," Friend wrote on his announcement post.
Mullins' one-month anniversary post was a bit longer, where she revealed the details of the wedding while calling her husband her best friend.
Who Is Aimee Mullins?
Friend's wife Mullins is an impressive woman who has conquered many things in life. She began with sports and paved her way to becoming a model and actress.
The athlete was born on July 20, 1975, and was missing fibula bones from her birth. So, a year into her life, both her legs below her knees had to be amputated.
The doctors told her family that she would likely be in a wheelchair forever. But by the time she was two, she had learned to walk with prosthetic legs.
She attended Georgetown University and competed against non-disabled athletes in the NCAA track and field events, becoming the first amputee in history to do so.
Then, she competed in the 1996 Atlanta Paralympics in a 100-meter sprint and long-jump in the T42-46 class.
After her retirement in 1998, she got into philanthropy and advocacy. She wanted to bring everyone's attention towards building better prosthetic legs.
She did her first TED Talk in 1999 and modeled for Alexander McQueen that same year, which began both her public speaking and modeling careers.
In February 2011, she became the face and the global ambassador for L'Oreal Paris.
As for acting, Mullins' first acting role came in 2002 on Cremaster 3. Since then, she has starred in Stranger Things alongside Winona Ryder, Quid Pro Quo alongside Vera Farmiga, and Crossbones alongside John Malkovich.