Rooster Teeth's TV Anime Project 'RWBY: Ice Queendom' Is Announced for 2022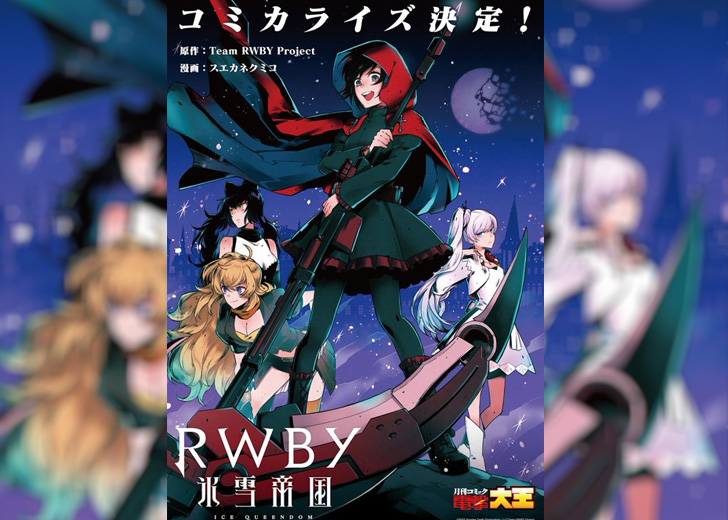 Rooster Teeth Productions' popular animated series RWBY is getting an anime adaptation.
The company announced in March 2022 that studio Shaft was producing an anime series titled RWBY: Ice Queendom (RWBY: Hyousetsu Teikoku).
Crunchyroll briefly reported that RWBY: Ice Queendom would premiere in the summer of 2022 with both English and Japanese audio. However, the article has since been removed.
According to Crunchyroll's removed article, many members of the original English cast and Japanese dub will reprise their roles for the new RWBY TV anime.

New graphic released for 'RWBY: Ice Queendom.' (Source: Twitter)
The same article also gave a synopsis for the upcoming anime. It read:
"RWBY: Ice Queendom presents RWBY in beautiful 2D anime visuals. RWBY imagines a world filled with horrific monsters bent on death and destruction, and humanity's only hope is dependent upon powerful Huntsmen and Huntresses."
Cast & Crew
Toshimasa Suzuki, who has worked on other titles such as Lagrange - The Flower of Rin-ne and The Prince of Smiles, is directing RWBY: Ice Queendom. Tow Ubukata, the writer for hugely popular Psycho-Pass 2, is writing and directing the script.
For the Japanese audio version, the opening theme song will be 'Beyond Selves' by Void_Chords feat. L while the ending theme song will be 'Awake' by Saori Hayami. 
So far, there has been no information regarding the opening and ending themes for the English audio versions.
Additional details about the anime will be released during the Team RWBY Project event at Anime Japan 2022 on March 26 at 9:30 AM Japan Time.
The new "Team RWBY Project" presentation will live-stream on the web for free!!
The stream starts from Mar 26th, 2022 9:30am JST!!

â– YouTube Live (with English audio translation)https://t.co/kKATvoMpEN

â– Twitter Live (Japanese audio only)https://t.co/SbcS90hXGa#RWBY — "RWBY Ice Queendom" Official (@TeamRWBYPrj_en) March 18, 2022
Fans' Thoughts on the New 'RWBY' TV Anime
The original RWBY is a computer-animated web series that became a viral hit as soon as the first few episodes were released in July 2013.
Following the first season's success, Rooster Teeth released the second volume of the series in July 2014. The eighth volume premiered on November 7, 2020, and the ninth is in production.
RWBY has a dedicated fan following all over the world, and the announcement regarding RWBY: Ice Queendom has garnered a lot of attention.
Many fans are excited about the anime, especially because the original is an anime-influenced web series. However, because of how little is known about it, there has been a lot of confusion about it.
Several theories have popped up suggesting the anime might be based on an alternate universe that deals with a darker timeline. Many are in favor of this theory because Ubukata wrote and directed the script.
Ubukata's previous works, such as Psycho-Pass 2 and Mardock Scramble, are well-known for having darker plots.
Others have speculated that RWBY: Ice Queendom might be a retelling of the original RWBY that starts from the beginning.
This conjecture has similarly gained traction as it would attract many people who could not watch the original web series because of its janky animation to delve into the world of Remnant — the world RWBY is based on.