Romesh Ranganathan's Wife Doesn't Mind Being the Subject of Her Husband's Stand-up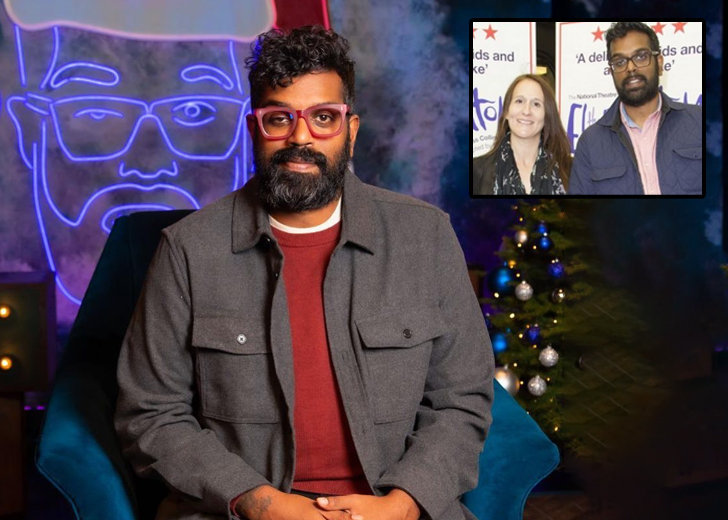 Many of the materials Romesh Ranganathan uses for his comedy come from his family, primarily from his wife, Leesa Ranganathan.
Ranganathan has made jokes about his life with his spouse, not just in stand-up but also in his writings. 
And though many of his jokes intrude upon their private life and would make most people uncomfortable, Ranganathan shares that his wife is unfazed by it.
"People often ask me if she minds me talking about her," he wrote in a column in The Guardian. "But she genuinely sees it all as just comedy, and therefore meaningless."
Romesh Ranganathan and Wife Leesa Ranganathan
Ranganathan first met Leesa while working at Hazelwick School in Crawley. There, he was a math teacher, and she was a drama teacher.

Romesh Ranganathan with his wife Leesa Ranganathan (Source: Instagram)
They tied the knot in 2009 and have three sons together — Theo, Alex, and Charlie.
Though he jokes about their relationship frequently, the comedian has been open about how much he appreciates her.
When talking to Marie Claire, he revealed he wouldn't have been in his current profession without her support.
"When I started doing stand-up, I resigned from my job as a maths teacher and, three days before I was due to leave, my dad passed away," he said.
"I wasn't able to focus on work. We couldn't pay the bills and our car was taken away, but Leesa never showed a lack of faith."
Romesh Ranganathan's Wife Also Jokes about Their Relationship
Though Ranganathan does stand-up for a living, he isn't the only one making jokes about their relationship.
Leesa has also showcased her humor, which isn't much different from his. When writing about herself and Ranganathan, she joked she wasn't having an affair because she was too lazy.
"He has got it spot on about being too tired to have an affair. The thought of shaving my legs and not being able to be myself in front of someone new just seems like a lot of effort," she wrote.
The two often go back and forth with their jokes, and the comic had previously joked about how he wouldn't hesitate to throw Leesa under the bus if put in a tough spot because of his tattoos.
In a column in The Guardian, Ranganathan recounted he and his wife had agreed to get tattoos of their children's names.
However, after he carried through with their agreement, she bailed out on him. While he said he would make use of her backing out of their promise later on, he didn't mind it much as he later became obsessed with tattoos.
He got his first and second son's names tattooed on his body soon after they were born.
Ranganathan got several more tattoos after that, getting Richard Pryor, Nas, the Roots, and the Transformers' Autobot logo inked on him.
The comic even got the Albanian flag tattooed on him while filming a travel show for BBC Two in 2018.
But even years after his third son was born, he hadn't gotten the kid's name inked on his body. 
Ranganathan joked about what he would do if his son ever asked why his name was missing. "I will simply point at my wife's unblemished body as evidence that she doesn't really love any of them, at all."